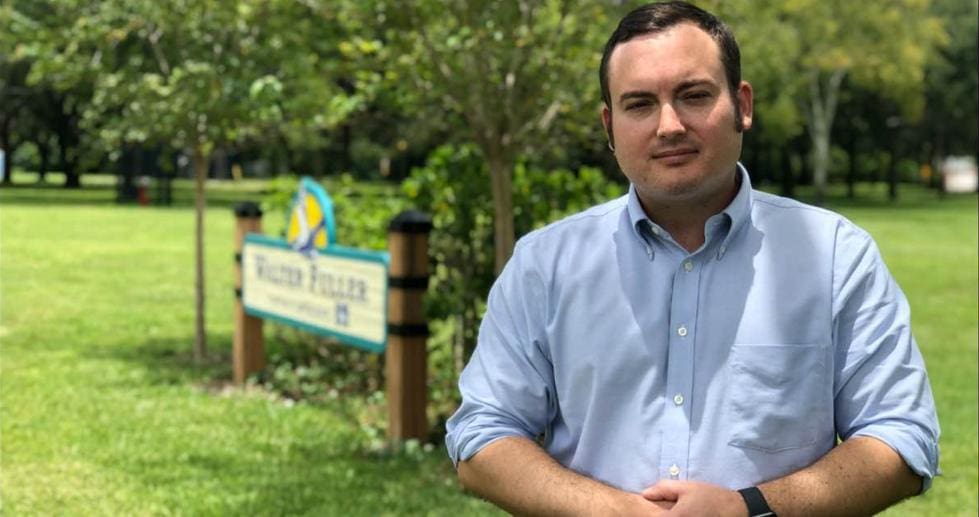 Kriseman deferred to Gerdes' endorsement rather than making his own.
St. Petersburg City Council candidate John Hornbeck earned a key endorsement this week and another not-quite endorsement from the city's mayor.
Mayor Rick Kriseman opted not to directly endorse a candidate in the District 1 race, but in a move he's never made before, endorsed someone else's endorsement.
City Council member Charlie Gerdes emailed his endorsement and Hornbeck announced it at a campaign forum Wednesday night. The winner in Hornbeck's race against Robert Blackmon will replace Gerdes who is leaving office due to term limits.
"I have concluded that John Hornbeck is the candidate I will be voting for in City Council District 1 in November. Not only is John a St. Petersburg native, he is a West Side of St. Petersburg. John's lifetime residing in District 1 makes him the best candidate to preserve and nurture the quality of life in his community and his City," Gerdes wrote.
Later, Kriseman weighed in on the race on Facebook saying he was not currently planning to endorse a candidate in the race, but that he supports Gerdes' endorsement.
"I do, however, have some concerns about Mr. Blackmon's lack of knowledge and involvement in west St. Pete as he has only lived in the district long enough to qualify to run, but I also do not know John Hornbeck that well," Kriseman wrote.
"Because I have faith and trust in our Council Chair Charlie Gerdes, who has, for many years, represented that district and our city with distinction, I would tell voters that they too should trust Chair Gerdes, who has stated that he believes Mr. Hornbeck is the best choice to keep our city moving in the right direction."
The dual nods are a crucial win for Hornbeck who has so far failed to gain traction in his race. Prior to Gerdes and Kriseman weighing in, the only other endorsement Hornbeck received was from the Stonewall Democrats. Meanwhile, Hornbeck's opponent has earned several endorsements including from four incumbent City Council members.
Hornbeck has also been sluggish in raising funds for his campaign. As of the end of August Hornbeck had raised less than $5,000, much of that coming from his own personal funds or family members.
Blackmon raised more than $35,000. During Wednesday night's forum with the Council of Neighborhood Associations, Hornbeck said he had contributed another $12,000 to his campaign, but those reports are not yet available.
Both Gerdes and Kriseman had endorsed attorney Scott Orsini in the District 1 race, but Orsini dropped out of the race earlier this year after getting caught up in Twitter controversy involving previous statements that were seen as insensitive to minorities and the LGBT community.
Orsini and Hornbeck are both Democrats while Blackmon is a Republican, though City Council races are non-partisan.
Gerdes staked some of his support for Hornbeck on his career as an attorney.
"John's legal education and law practice provide him with the critical analytic skills to dissect issues and problems, and to craft solutions and pathways to success for our beloved City," Gerdes said.
Kriseman agreed with that sentiment.
"I do believe it is helpful to have someone with a legal mind on council, and John Hornbeck is the only candidate running for council who is an attorney," Kriseman wrote.
Gerdes is also an attorney.
The general election is November 5. While District 1 represents west St. Pete, the race is open to voters citywide.