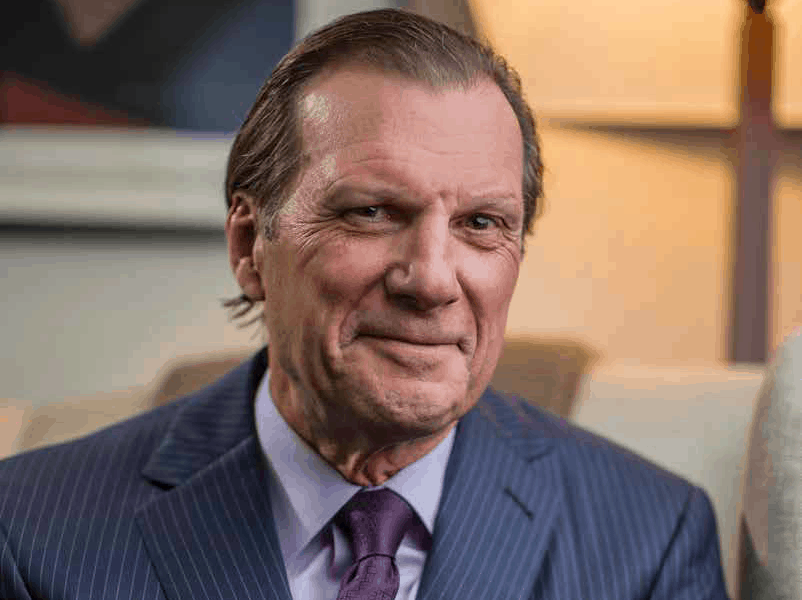 He's beefed with Alabama while boosting Democrats and Republicans alike.
Hugh Culverhouse Jr and the University of Alabama may have ended a summer-long spat, but he's not done irritating pro-lifers. The Sarasota businessman just gave $250,000 to Planned Parenthood for a Birmingham abortion clinic in a state that's come as close to any other to outlawing the practice.
"If a Legislature told men what to do with their body, there would be a revolution," he said.
"I've always had some conservative beliefs, some liberal beliefs, some independent. But one area I've never wavered, women have the right to decide what to do with their own body."
He's defending that right to choose with his normal weapon of choice, his checkbook.
It's the same way he's lifted a bipartisan coalition of political leaders and become one of Southwest Florida's most influential rainmakers.

And from his cloud, what are his thoughts on politics today? He's pissed off as ever.
More Than Stature
Figuring out the politics of Culverhouse remains the great speculation game in Southwest Florida. But it may be a futile mission. He's a pro-choicer who's close to pro-life pols like state Sen. Joe Gruters. He's a developer bitter at former Gov. Rick Scott for dismantling the Department of Community Affairs. And he's someone who donated to a candidate weeks ahead of switching allegiance to another, as he did recently in Florida House District 72.
But questioning him on his decision-making doesn't necessarily illuminate anything.
Sitting in an expansive Palmer Ranch office with Toni Braxton's "Sex and Cigarettes" humming in the background, it's clear the man likes comfort. He clearly values influence, yet also likes to disappear into the anonymity of crowded Miami.
Some believe him a gambler betting on candidates like horses at the track. But while his decisions confuse partisan loyalists, his actual approach rings more of reason than political calculation.
One could attribute frustration at the decisions of his father, one-time Tampa Bay Bucaneers owner Hugh Culverhouse Sr. The elder didn't grow up with money; his father worked the railroads in Alabama. But the self-made millionaire ultimately left his children with formidable debt.
"Everybody thinks I was a guy who inherited everything, that [I'm] a spoiled guy who drives a Ferrari," he said.
"You know, if I was a kid in the ghetto, I would have been $300 million richer the day my Dad died if I'd never met him," Culverhouse said.
After the Culverhouse Sr. died, the younger Culverhouse recalls having to convince trustees selling the Bucs made more sense than unloading properties like his Palmer Ranch property in the middle of a recession. Part of it was he knew there had to be a buyer.
"There's always an egomaniac with a poor economic social background who is envious of owning something he feels makes him higher on the social scale," Culverhouse said. He knew because his father had once been that guy. But he also knew the situation wasn't that unusual.
"I knew I could find someone who, in the middle of the Recession, would pay off a hell of a lot of that $300 million."
So the Culverhouse estate sold the Bucs to the Glazers in 1995.
The experience explains how this Culerhouse ended up developing land rather than building a sports franchise. But why does the son of an NFL owner now put his money in the sport of politics?
"It's a lot cheaper than lawsuits," he said.
Upending Precedent
It took being on the losing end of the influence game to increase Culverhouse's political engagement. "A lawsuit is like financing one bullet," he said.
Culverhouse's experience as an attorney came primarily in federal court, home to about 80 percent of the cases he ever tried. But it was in circuit courts where he suffered his most startling personal blow.
In 2015, Judge Peter Dubensky threw out a hefty jury decision in Culverhouse's favor. The case involved a suit against developers Randy Benderson and Henry Rodriguez, Sarasota area developers Culverhouse believed had conspired in a decision with Sarasota County Commissioners.
Culverhouse testified Benderson, in the midst of a private negotiation, once told Culverhouse he could kill a whole project, according to Sarasota Herald-Tribune coverage of the case. At one point, Benderson held up three fingers to represent votes he owned on the Sarasota County Commission, a majority.
Benderson in court denied the account. But a jury bought it and awarded $20 million in damages to Culverhouse. Dubensky reduced that amount to just over $150,000.
Culverhouse still feels bitter over the fact Dubensky retired months after the controversial ruling. That was part of a trend started under Scott's eight-year tenure as Governor.
"Scott got every judge he could who was thinking about retirement to retire early so he could appoint a judge, because historically, no one will run against an incumbent." Culverhouse said.
But why get mad when you can get even? Clverhouse helped finance a run in 2018 by Maria Ruhl to unset Circuit Court Judge Brian Iten, Scott's pick to replace Dubensky. Ruhl clocked the incumbent, taking 57 percent of the vote and seizing his place on the bench.
Breaking Party Lines
Culverhouse also engaged tremendously in recent years in legislative politics. He didn't like when a mysterious political committee started funding attack ads against Gruters in 2016, so he offered thousands in assistance through contributions. Gruters ended winning a seat in the state House after beating Republican Steve Vernon in a primary by just 385 votes. Gruters since made a successful leap to the state Senate, and this year became chairman of the Republican Party of Florida.
But Culverhouse makes clear he's no conservative ideologue. In 2018, he supported Sarasota Democrat Margaret Good. She made national headlines when she flipped a district President Donald Trump took by 4 percent in 2016 but Good won by 7 percent.
That victory came over Republican James Buchanan, son of U.S. Rep. Vern Buchanan and a sort of Sarasota political royalty. But later, Culverhouse donated to James in a neighboring House district. Today, the younger Buchanan occupies a seat in the state House alongside Good.
More recently, Good decided to seek higher office, and will challenge the elder Buchanan for his congressional seat. Culverhouse made clear from the start he will continue to back Margaret's campaign. "I've sent her $30,000," he said. "That's what I would say is damn meaningful support."
Yet he wonders if Good's talent would be better spent building the Democratic caucus in Tallahassee. He's happy to see different parties controlling each chamber of Congress and wishes Florida enjoyed the same parity.
He doesn't mind Good going after Vern Buchanan, though, and he's done with James as well.
After James Buchanan made clear he planned to support Miami Rep. Daniel Perez over Bradenton Rep. Will Robinson in the Florida Speaker race for 2024, Culverhouse was done with the Venice Republican.
"[James Buchanan] told me he was going to vote with the West Coast. He didn't," Culverhouse said. "I don't understand it other than they [Buchanan and Perez] are drinking buddies. That's not a reason to forget where you come from. He certainly won't get my support. He burned his bridge."
Now, Culverhouse wants a primary challenge for Buchanan in deep red District 77. He's even tried to recuit someone in a neighboring district Buchanan knows too well.
Culverhouse surprisingly donated to two different Republicans running for Good's seat. After talking with both camps, though, he's ready to side with Naval Academy grad Fiona McFarland.
When talking with Donna Barcomb, the other candidate in the race, he encouraged a new path.
"I said, 'Look, I wish you the best, and I really wish you would run against James Buchanan," he said. "I'd back you really big."
Barcomb, for what it's worth, said she's sticking with her District 72 race. On her way to a Vern Buchanan fundraiser Firday, she said she has no beef of her own with James.
The Bigger Picture
Culverhouse splits time these days between an office in Palmer Ranch, a community he developed in south Sarasota, and the home he owns with his wife in Coral Gables. But he's long eschewed Miami politics.
"In Miami, if you don't have bags of cash, you might as well just forget it," he said.
Culverhouse has, however paid some attention to happenings in Tallahassee.
He's befuddled as to why former U.S. Rep. Gwen Graham doesn't live in the Governor's mansion. Culverhouse considers Graham's father Bob Graham and the late Lawton Chiles to be the great Florida governors during his life.
He's irritated state Democrats instead nominated Tallahassee Mayor Andrew Gillum last year. It's part of why he calls donor Tom Steyer "disgusting," someone who ruins the image of wealth.
"I look at Steyer and George Soros, and I mean, I'm sorry man," he said. "If I want the perfect candidate, I will get the black man who looks white and talks white. Then everybody loves him. You're not going to get Martin Luther King elected. You are not going to get a black man who hasn't worked on elocution and made sure his features are defined so he might as well be white."
That said, he's not unhappy with Ron DeSantis, and appreciates the new Governor's pragmatic approach. He applauds DeSantis' decision to call back so many of former Gov. Scott's appointments, particularly on college boards. "I'd like him to reverse everything [Scott] did," Culverhouse said.
And Culverhouse suspects DeSantis secretly holds little use for Trump, a Culverhouse loathes.
"I don't like Trump," he said. "Trump ought to shut his mouth because nobody believes what he says. How can you? He contradicts himself. If he says he's going to war, in 12 minutes, he's going to say I don't want to go to war. The saddest thing in the world is, we're isolated. We don't have allies. We have no coalition. We've disavowed the United Nations. We haven't done anything to strengthen our relationships in the Pacific and we're doing nothing in South America."
Yet Culverhouse said he may skip voting for President on the ballot next year because Democratic frontrunners aren't much better.
He calls former Vice President Joe Biden "Sleepy Joe." "If he's the only guy who's white and in a suit and doesn't act like Bernie [Sanders], does that qualify him to be President? No."
That so many Sanders supporters in 2016 ultimately voted Trump tells Culverhouse all he needs to know there. Massachusetts Sen. Elizabeth Warren represents more partisan divide.
California Sen. Kamala Harris, he said, has disappointed him going after Supreme Court Justice Brett Kavanaugh over personal accusations the New York Times recently had to walk back.
It all leaves Culverhouse less interested in the Presidential election and more interesting in pulling the levers of power in Southwest Florida.
Decoding Culverhouse
Culverhouse clearly doesn't want influence so he can be invited to parties. He and his wife rarely even eat out, he said. In business, he's got plans to develop more in Sarasota County, which surely involved dealing with the County Commission.
The mogul keeps multiple monitors in his office on to follow Bloomberg reports, but says the volatility of stocks leaves him concerned and fearful a recession looms. Much of his worth remains in slow-growing but reliable cash.
His shelves are lines with cheap books he found through used vendors online. He's reading Living Philosophies right now, a collection of short works that opens with Albert Einstein's beliefs on the existence of God.
"He cannot explain why the world is," Culverhouse explains. "Using basically a mathematic and scientific approach, he comes back to, 'I've tried to explain it every other way. I can't. Therefore I believe there has to be a God.' It's something where you think, Albert Einstein said that?"
The spirituality of the ultimate man of science. That's what's on Culverhouse's mind today.
But the reading choice may also hint at the fruitlessness of trying to explain Culverhouse. Like the world, he simply is. It's complex and inexplicable yet somehow works perfectly. For that, there exists no need for greater explanation.