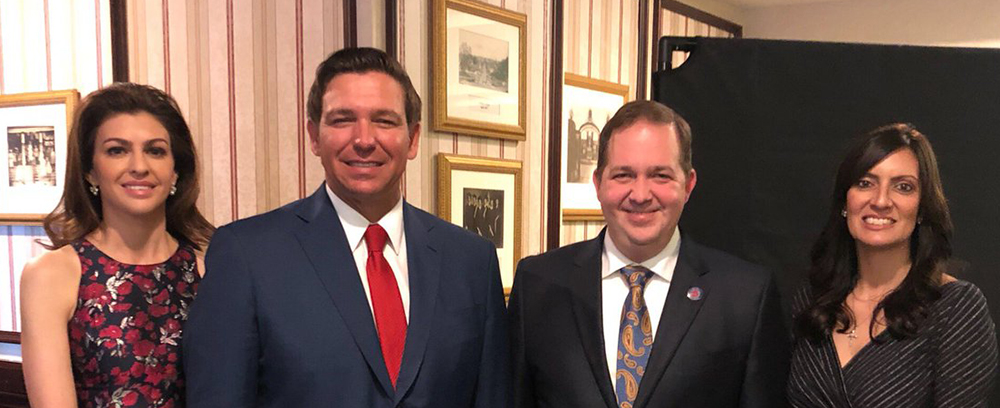 "This is a fight for the foundation of our republic."
Leon County Republican Party chair Evan Power on Monday announced he is running for National Committeeman in January "after much prayer and discussion with my family."
"I didn't want to run for another office," he said in the announcement, "but after watching Congressman Matt Gaetz and others fight so passionately to defend President (Donald) Trump and our constitutional republic, I feel that Florida needs a leader who will lead and fight with passion and intensity not just for President Trump, but for Gov. (Ron) DeSantis as well."
Power has led the Leon County GOP for five years, serving as the state Party's assistant treasurer for nearly three years. He also played a crucial role in helping the GOP to flip a Tallahassee congressional seat in 2016. Power briefly floated a bid for the Florida GOP chair, which eventually went to state Sen. Joe Gruters.
"The Democrats have made it quite evident they plan to fight to turn our Country radically left as fast as possible. I have been here before: when I was elected Chairman of Leon County, my Mayor was Andrew Gillum.
"I've seen how the Democrats fight dirty. Long before Gillum was a household name, I was fighting him on the front lines in my county. Day after day, I stood toe-to-toe with George Soros' hand-picked candidate.
"I landed body blow after body blow against him for his misdeeds. It all came to a head when he announced his intention to run for Governor and the front page was a split page: One side about him running for Governor, and the other side where he was forced to apologize for violating the public trust.
"It is this kind of intensity and leadership that I feel we need from our National Committeeman. We need someone who will be at the spearhead of defense for our President, Governor, and our Republican principles.
"This is a fight for the foundation of our republic. I have been here before, and I am willing to lead the fight again now. I hope to gain your support over the next few months, and I look forward to working and fighting beside you not just in 2020 but in 2022 and beyond."
The purpose of the Republican National Committee (RNC) "involves oversight of the presidential nominating process as well as supporting party candidates with research, polling and funding in races across the country," according to Ballotpedia.
Earlier this year, Power came out against Agriculture Commissioner Nikki Fired's use of her image on the state's gas pump inspection stickers.
"This looked like a campaign ad," he tweeted. "That's what made it stand out on a gas sticker."
"I just don't like the outward politicization of using an official action to promote somebody," Power added. While his tweet drew several supporters, a few people said it didn't matter.