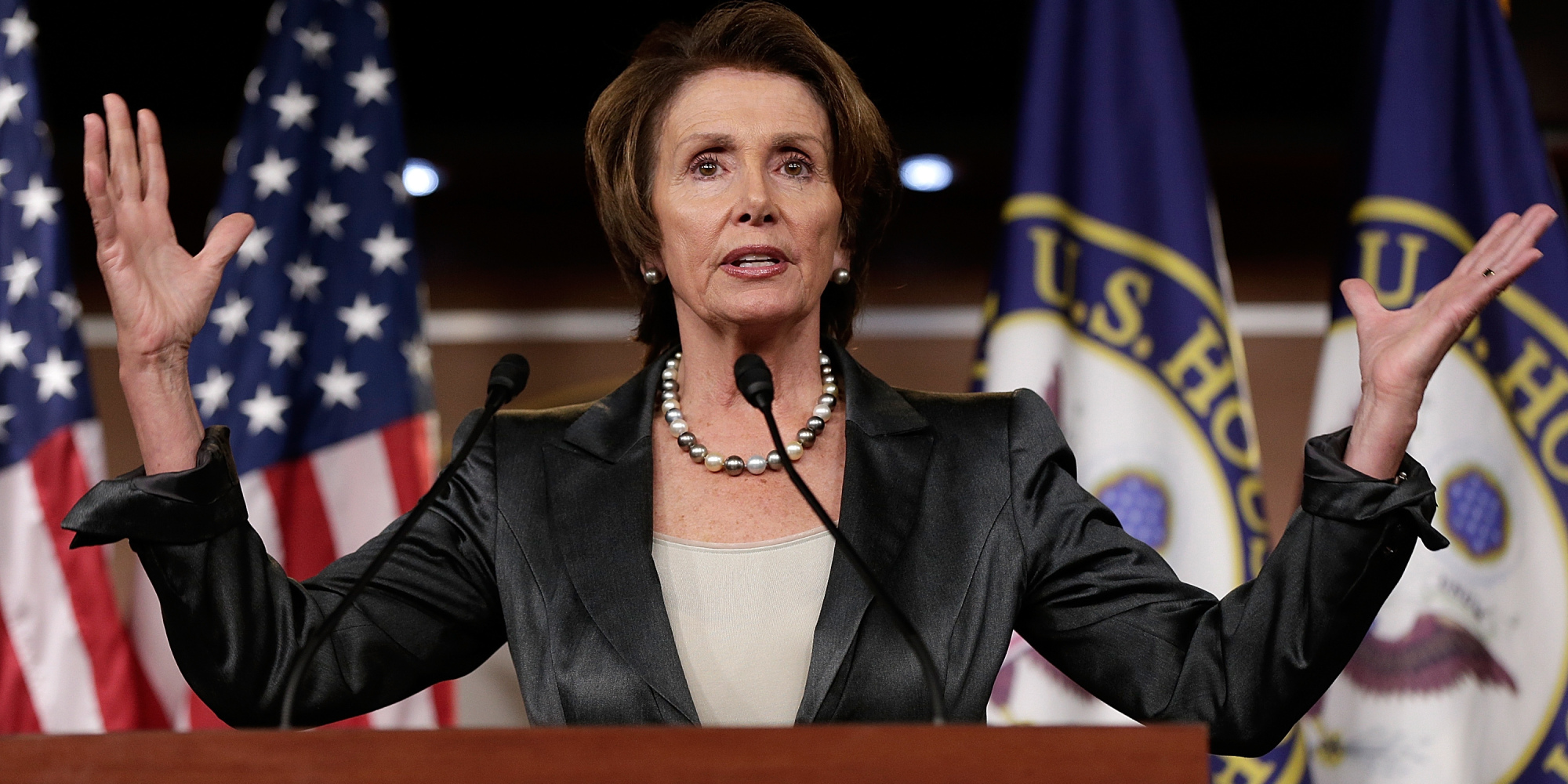 Among 13 Florida Dems in Congress, only Wilson holding out
With growing calls from her Democratic Caucus, including 11 of Florida's 13 Democratic members of the U.S. House of Representatives, Speaker Nancy Pelosi announced Tuesday she is launching an impeachment inquiry into President Donald Trump.
In a grave speech to the nation after a House Democratic Caucus meeting, Pelosi accused Trump of violating his oath of office, damaging the national defense and the integrity of American elections.
She further said she has directed the chairs of several key committees to continue inquiries they already had started, but toward the possibility of the House approving formal Articles of Impeachment.
"The actions to date by the President have seriously violated the Constitution, especially when the President says, 'Article II (of the Constitution) says I can do whatever I want,' " Pelosi said.
"For the past several months we have been investigating in our committees and litigating in the courts so that the House can gather all the relevant facts and consider whether to exercise its full Article I powers, including the Constitutional power of the utmost gravity: Approval of Articles of Impeachment."
She spoke for just five minutes and took no questions.
Trump countered that if Pelosi allows impeachment proceedings, "they all say that's a positive for me for the election," according to White House press pool reports.
"Who needs it? It's bad for the country. Then they all wonder why they don't get gun legislation done, then they wonder why they don't get drug prices lowered, because all they do is talk nonsense. No more infrastructure bills, no more anything … it's the craziest thing anybody's seen.
"… We have the strongest country in the world, the best economy we've ever had, and she's talking impeachment," the President added. "How can you do this and you haven't even seen the phone call? The whistleblower, they say, was second hand or third hand … It was a very partisan person."
"(But) we have the whole transcript of the call which will be released tomorrow," he said. "It was a perfect call."
All day Tuesday, Democratic Florida members of the U.S. House issued statements or posted tweets supporting impeachment efforts, or at least supporting impeachment investigations.
The new wave of support for impeachment comes in the wake of allegations that the President had tried to persuade Ukrainian President Volodymyr Zelensky to investigate his political rival, former Vice President Joe Biden.
Statements supporting impeachment inquiries, if not outright Articles of Impeachment, were released Tuesday by the following U.S. Representatives:
— Kathy Castor of Tampa.
— Donna Shalala of Miami.
— Lois Frankel of West Palm Beach.
— Debbie Wasserman Schultz of Weston.
— Charlie Crist of St. Petersburg.
— Debbie Mucarsel-Powell of Miami.
— Ted Deutch of Boca Raton.
— Darren Soto of Kissimmee.
— Alcee Hastings of Miramar.
— Stephanie Murphy of Winter Park.
— Val Demings of Orlando.
— Al Lawson of Tallahassee.
Some, notably Wasserman Schultz, Mucarsel-Powell, Deutch and Demings, have been calling for impeachment proceedings or inquiries for months.
There has been no word from two other Florida Democrats, however.
U.S. Reps. Frederica Wilson of Miami Gardens has not publicly stated her position, nor has most of Florida's Republicans since the Ukraine matter boiled over this week.
Republican U.S. Rep. Matt Gaetz of Fort Walton Beach tweeted, "The Democratic Caucus has formed a circular firing squad where the radical Left is taking incoming from more moderate Democrats who would actually like to see us get to work."
Republican U.S. Reps. Michael Waltz of St. Augustine Beach and Ross Spano of Dover also weighed in, criticizing the Democrats for their plan.
Pelosi said the House would be "moving forward with an official impeachment inquiry … I'm directing our six committees to proceed with no reservations under that umbrella."
The tipping point for many Democrats came in the past few days upon revelations that Trump ordered Acting Director of National Intelligence (DNI) Joseph Maguire to not release the DNI's Inspector General's report on a whistleblower complaint regarding Trump's call with Zelensky.
Federal law says that the DNI "shall" turn over such reports to Congressional leaders, according to Pelosi: "This is a violation of the law. This is a breach of his Constitutional responsibilities."
Maguire will have another chance to turn over the report Thursday, when he is slated to appear before the House Select Committee on Intelligence. Not doing so, Pelosi said, undermines the nation's intelligence apparatus and national security, as well as whistleblower laws.
*                    *                    *
Speaking at The Atlantic Festival in Washington earlier Tuesday, Pelosi blasted Trump, charging him with lawlessness and for "jumping the guardrails" of the U.S. Constitution.
She said  Trump would not have to have mentioned a deal – $391 million in American military aid that Congress had approved on a bipartisan basis, in exchange for a Ukrainian investigation of Biden and any pressure he might have attempted to bring on Ukraine three years ago. She said the timing of the block placed on the funds, days before the call, could make it self evident.
"The President is responsible for his actions," she said. "Whether he has any scruples or understands right from wrong, certainly he's made some decisions that call that into question."
Across the country, dozens of Democrats reportedly shifted from anti-impeachment to pro-impeachment Tuesday.
The six House committees that will investigate impeachment against Trump are Judiciary, Intelligence, Financial Services, Oversight, Foreign Affairs, and Ways and Means. Those committees are flush with Florida members of the House of Representatives.
Some of the statements Tuesday from Florida Democrats, whether they are ready to support impeachment or not include the following.
Castor: "Trump has violated his oath of office. He operates for himself, in his personal interest – and not in the interest of the American people. The impeachment inquiry should be put on the fast track and all of the facts made plain"
Frankel: "The latest allegations that the President pressured the President of Ukraine to investigate a political opponent and is blocking a whistleblower's complaint detailing those actions, if true, represent a clear abuse of power and impeachable offense."
Deutch: "The Judiciary Committee has been conducting an impeachment inquiry since March. It is time to finish the job. Americans have now seen with their own eyes the depth of this President's wrongdoing. Sadly, almost every elected Republican has remained silent in the face of the President's corruption, obstruction, and abuse of power. It is time to complete our investigation and draft articles of impeachment."
Shalala: "If the Acting Director of National Intelligence chooses to violate the law and not hand over both the report and complaint to Congress, together with any transcripts related to the allegations in the report, I have no other choice but to support beginning an impeachment investigation."
Wasserman Schultz: "I fear that our Rule of Law and Constitution will not survive such open hostility from this, or any future President. This President's reckless and habitual disregard for our laws leaves Congress no choice. Impeachment inquiry hearings must commence immediately. To do otherwise would be a betrayal of our democracy."
Hastings: "This continued insistence on undermining our democracy must be met with the full force and strength possessed by the United States Congress as set forth by our founding fathers in the Constitution, up to and including, Articles of Impeachment."
Murphy: "This is part of an ever-expanding body of evidence this President is violating his oath of office & abusing his power – putting our national security at risk."
"Similar to how a select committee was established during Watergate, the Speaker should appoint a bipartisan select committee to immediately investigate abuse of executive power," Murphy added. "We must uncover all the facts and provide answers to the American people."
Soto: "Ukraine just adds fuel to the fire for me, but it may be the final straw for other Members sitting on the fence."
Mucarsel-Powell, who had previously called for impeachment: "I have long been concerned about this Administration's obstruction of Congress' ability to perform its oversight duty. This President has engaged in behavior that we have not seen, nor would we have allowed, from the other 44 men who have occupied that office. These new revelations are outrageous."
Demings, who also had previously called for impeachment: "The President has broken the law by engaging in yet another criminal cover-up, this time at the expense of our national security and our liberty. Our democracy can only survive if our leaders put the national interest ahead of their own. Our nation can only stay safe if security decisions are made based on facts, not on whether the President personally benefits. President Trump has violated this sacred trust, abusing the power of the presidency for his personal gain. He has left us no other choice but to begin a full-blown impeachment inquiry before he can do any more harm to our freedoms, security, and rule of law."
Crist: "Today I join the people of Florida's 13th Congressional District in calling for the House to launch formal impeachment proceedings against President Trump."
"No one is above the law, including the President," Crist tweeted. "Our democracy is at stake and we must act."
Lawson: "I support a formal impeachment inquiry of President Trump. The President's recent admission that he engaged in unlawful conversations with Ukrainian officials is not only embarrassing, but undermines the integrity of our elections, the dignity of the office and threatens our national security."
Republican Waltz said: "The decision to launch an investigation before learning the entire set of facts and hearing from the Director of National Intelligence is reckless. This is clearly politically motivated and I am incredibly disappointed. The radical left has truly lost sight of the good of the American people."
Republican Spano added: "The latest calls for impeachment are nothing more than a distraction from important issues like strengthening our economy and helping our nation's veterans. We should be focused on bettering the lives of hardworking Americans. … How many times are we going to have to go through this?
"First it was the Mueller report. Now, after President Trump authorized the release of the transcript of his call with Ukraine's President, which led to the whistleblower complaint, the Democrats are launching the impeachment process ahead of seeing the full transcript. Enough is enough. The Democrats are playing politics and I am still not supporting their efforts to take down the President."