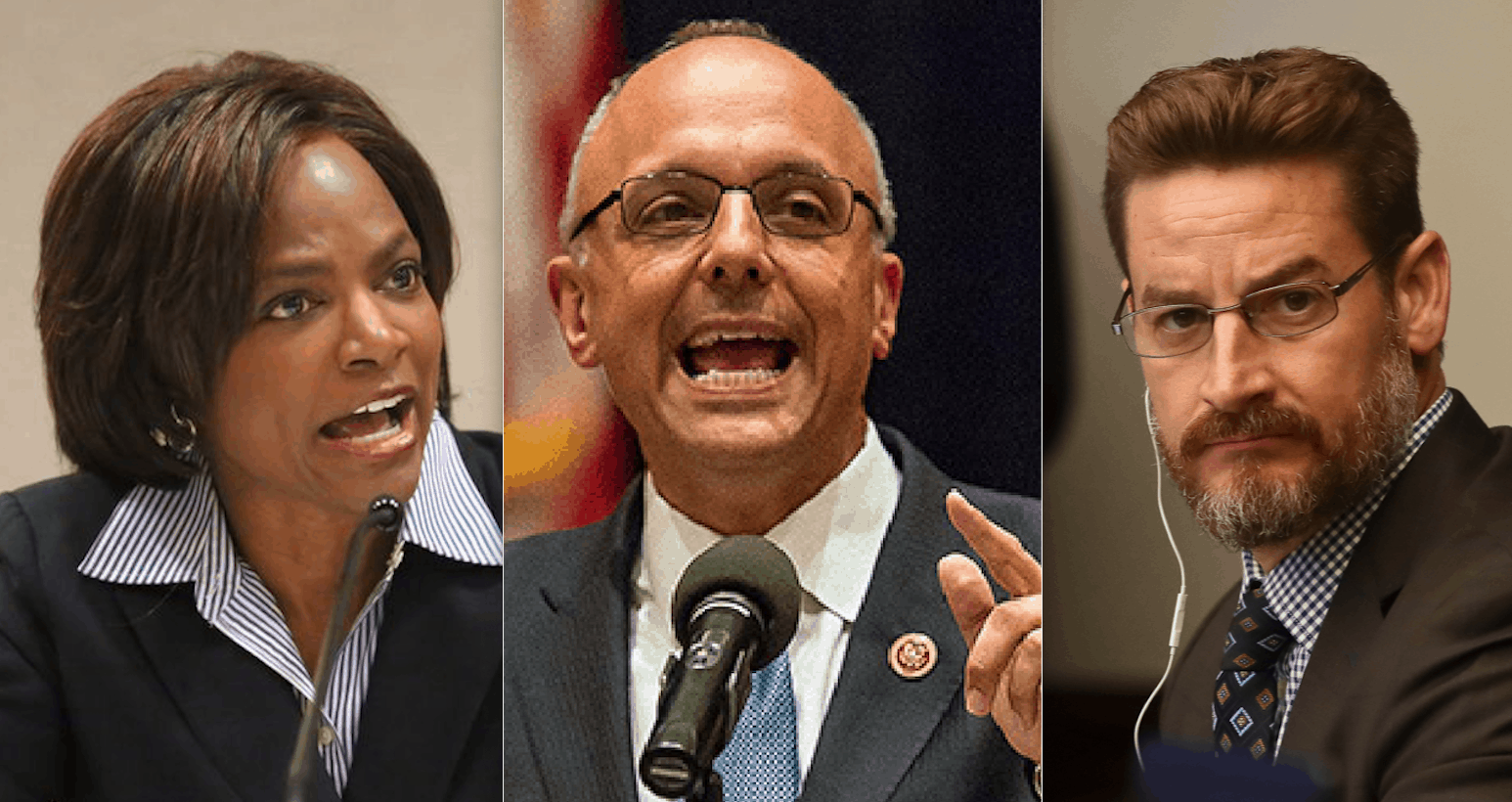 Val Demings, Ted Deutch, Greg Steube have front-row seats
As the U.S. House of Representatives officially begins its inquiries into possible impeachment of President Donald Trump, Florida's congressional delegation has key positions within the six committees that House Speaker Nancy Pelosi assigned to investigate.
On Tuesday Pelosi announced that the investigation would essentially be formal organization of already ongoing probes in six House committees: Judiciary, Intelligence, Oversight and Reform, Foreign Affairs, Financial Services, and Ways and Means.
Florida's congressional delegation has at least one member on each of those committees. Florida has five on Judiciary, which to date has been the most active and provocative congressional panel  in probing matters involving Trump.
Democratic U.S. Reps. Val Demings of Orlando and Ted Deutch of Boca Raton, and Republican U.S. Rep. Greg Steube of Sarasota all are on the Judiciary Committee plus one other impeachment committee, giving each of them potentially critical roles to play in the historic House proceedings.
Here is the breakdown:
— The House Committee on the Judiciary has 24 Democrats and 17 Republicans, and is chaired by U.S. Rep. Jerrold Nadler of New York.
Besides Demings and Deutch, Democrats also include U.S. Rep. Debbie Mucarsel-Powell of Miami.
Besides Steube, Republicans also include U.S. Rep. Matt Gaetz of Fort Walton Beach.
This is where much of the Trump pre-impeachment action has occurred this far, with all five Florida members playing high-profile roles, pressing such figures as former Trump Campaign Manager Corey Lewandowski and Special Counsel Robert Mueller.
Along the way, the committee's Democrats, including Demings, Deutch and Mucarsel-Powell, also became among the most militant in Congress calling for impeachment. Two weeks before Pelosi's decision, Nadler already was laying the framework for impeachment proceedings.
Gaetz has played the role of Trump defender, picking apart testimonies and Democrats' lines of questioning that appeared damaging to the President. Steube's role has been similar, though less bombastic and with fewer high-fives.
— The House Permanent Select Committee on Intelligence has 13 Democrats and nine Republicans, and is chaired by U.S. Rep. Adam Schiff of California.
Demings is the only Florida member on the committee.
Intelligence is where both the Ukraine matter and the new wave of Democrats' calls leading to Pelosi's decision emerged, allegations that a National Intelligence Director whistleblower had filed a complaint alleging Trump had inappropriate discussions with Ukraine President Volodymyr Zelensky about former Vice President Joe Biden.
That line of inquiry will continue immediately, with the committee's hearing Thursday, at which it expects to receive the whistleblower report, take testimony from Acting Director of National Intelligence Joseph Maguire, and deal with the transcript Trump has promised to release of a phone call with Zelensky. Mueller also testified here in July, behind closed doors. And his report on the Russia probe, international communiques, and such things as "deep fakes" internet materials alleged to have been used by Russia to influence American election all will be the province of Intelligence. Demings is one of the few members of Congress who have been allowed to read those materials.
— The House Committee on Oversight and Reform has 24 Democrats and 17 Republicans, and is chaired by U.S. Rep. Elijah Cummings of Maryland.
Democrats include U.S. Rep. Debbie Wasserman Schultz of Weston.
Republicans include Steube.
Oversight has been particularly pressing of Trump on issues ranging from Russian sanctions to his use of his private properties for federal business, to alleged violations of the Hatch Act, which bars federal employees from assisting political campaigns.
Yet it was Oversight's hearing with Trump's former personal lawyer Michael Cohen in February that set the tone for House Democrats in probing Trump. That hearing made Cummings both the symbol of Democrats' righteous angst and of Republicans' contention that partisan politics were after the President.
— The House Committee on Foreign Affairs includes 26 Democrats and 20 Republicans and is chaired by Eliot Engel of New York.
Democrats include Deutch.
Republicans include U.S. Reps Ted Yoho of Gainesville, Brian Mast of Palm City, and Francis Rooney of Naples.
Foreign Affairs may take much of the lead on the Ukraine matter, particularly whether that was a "shadow" foreign policy move by Trump. Though his committee has not yet held any hearings on it, Egel has been particularly active and outspoken in demanding information about what Trump said to Zelensky.
The committee also has held a couple of hearings so far on Russia, including one on "Russian Disinformation Attacks on Elections."
— The House Committee on Financial Services has 34 Democrats and 26 Republicans, and is chaired by Maxine Waters of California.
Democrats include U.S. Rep. Al Lawson of Tallahassee.
Republicans include U.S. Rep. Bill Posey of Rockledge.
To date, Financial Services has done little with regard to any allegations of wrongdoing involving Trump, except to jointly demand with Foreign Affairs [to no avail] a report on sanctions against Russia. With its oversight on banking and international finance, Waters' committee may be the one to "follow the money", should congressional Democrats deem such a strategy to be a part of the probe.
— The House Committee on Ways and Means has 25 Democrats and 17 Republicans, and is chaired by U.S. Rep. Richard Neal of Massachusetts.
Democrats include U.S. Rep. Stephanie Murphy of Winter Park.
Republicans include U.S. Rep. Vern Buchanan of Longboat Key.
The House's chief tax-writing committee is uniformly seen as powerful; yet it might seem an odd place for an impeachment probe, except for the prospect that Trump's taxes remain a source of controversy and suspicion among Democrats. The committee also has oversight over a variety of matters such as foreign trade.