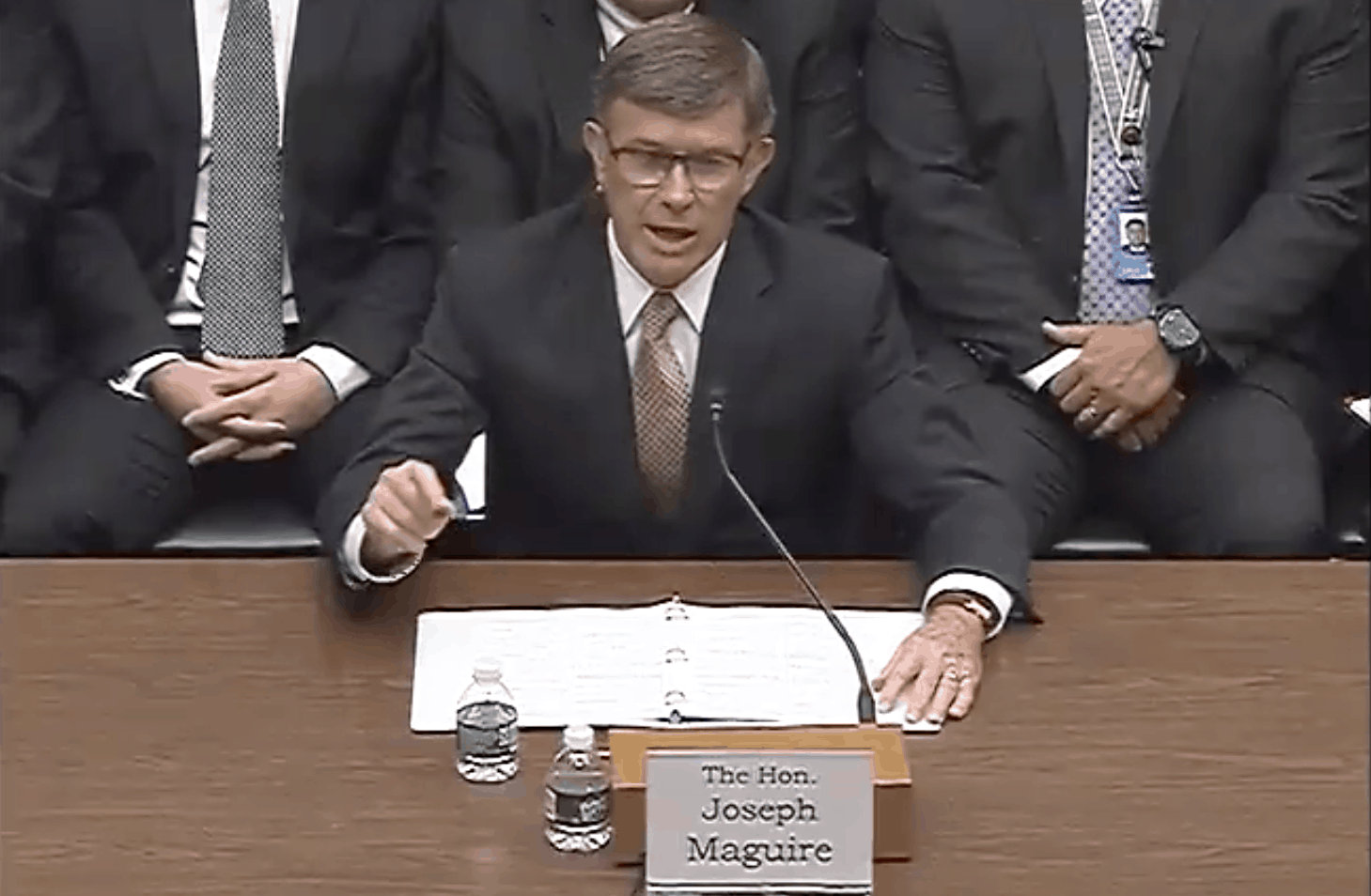 Schiff compares call to organized crime shakedown
The U.S. House of Representatives officially launched its impeachment inquiry into President Donald Trump Thursday as the House Intelligence Committee pressed the nation's top spy about a whistleblower report, with only a few members, notably Orlando's Democratic U.S. Rep. Val Demings, turning the focus on Trump.
For most of the more than three-hour hearing Thursday Acting Director of National Intelligence Joseph Maguire sought to explain how a whistleblower report found to be credible by the inspector general in its allegations against Trump, Attorney General William Barr, and Trump's private attorney Rudy Giuliani was held back from Congress until Thursday.
Only occasionally, though starting with the opening statements by Chair Adam Schiff of California and Ranking Member Devin Nunes of California, did Democrats do much to try to connect dots from that report to Trump, or Republicans do much to try to defend Trump from allegations that he had tried to strongarm Ukraine into digging dirt on Joe Biden.
Schiff began by defining the Democrats' view as, "Our President sacrificed our national security and our Constitution for his own personal, political benefit."
He said of the inspector general's report, released Thursday, "It reads like an organized crime shakedown."
Nunes responded by accusing Democrats, notably Schiff, of making things up and of working with their allies, the media, intelligence agencies and a "cabal of leakers", in an "information warfare operation" against Trump.
Yet Nunes put much of the focus on the inspector general's report and the transcript [actually a summary produced from notes] of a July 26 call between Trump and Ukraine's president. Many other committee members, Democrats and Republicans, pursued that line, trying to validate or discredit the report.
"In short what we have with this story is another Steele dossier," Nunes declared, referencing the documents leaked in 2017 making early allegations against Trump, an effort Republicans contend was underwritten by Democrats.
Demings, the only Florida member on the committee, was one of the few who returned the focus to the Trump-Ukraine transaction. She pressed Maguire to comment on the presidential ramifications, something he had been reluctant to comment on throughout.
Under her questioning, he allowed that Ukraine is heavily dependent on the United States, and that line of concern could have been assumed as Trump urged Ukraine President Volodymyr Zelensky to investigate Joe Biden, whether or not Trump mentioned the $391 million in military aid he was blocking leading up to that July 26 call.
"This [whistleblower] complaint outlines a scheme by the President of the United States, and I'm not quite sure what to call Rudy Giuliani these days, what his role is; maybe he's the new fixer, I'm not sure. Either way, it involves a scheme to coerce Ukraine, this country that you say is so very dependent on the United States to defend themselves, to coerce Ukraine to assist the President's reelection efforts in 2020," Demings said.
Maguire told Demings, as he had repeatedly told the committee throughout the hearing, that he believed the whistleblower had filed the complaint in good faith, and that the Intelligence Community Inspector General Michael Atkinson had investigated it in good faith and found it to be credible. So Maguire had no reason to believe otherwise.
However, he also said he had done no investigation of his own, short of seeking legal advice from both the White House and the U.S. Department of Justice on whether he should turn it over to Congress. Those contacts, to see if the White House considered the information protected under executive privilege and whether the Attorney General's office felt it met the legal standard of "urgent concern," were the focus of questioning for most committee members, but not Demings.
Another exception, for the Republicans' defense of Trump, was U.S. Rep. John Ratcliffe of Texas, who sought to offer a bigger picture, based on the transcript of the July 26 call, released Wednesday by the White House.
"The transcript is the best evidence of what we have. And so that the American people are very clear, what that transcript relates is legal communications.  The United States is allowed to solicit help from a foreign government in an ongoing criminal investigation, which is exactly what President Trump did in that conversation," Ratcliffe said.