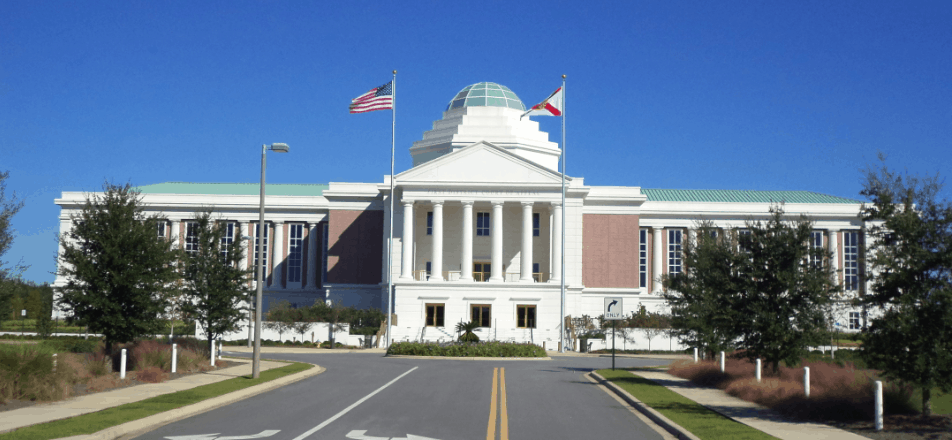 Volusia, Miami-Dade and Broward counties are among the most affected by Amendment 10.
Lawyers for Gov. Ron DeSantis and Secretary of State Laurel Lee argued they shouldn't be sued over a state constitutional amendment passed last year that requires certain county officers to be elected and not appointed. 
A three-judge panel at the 1st District Court of Appeal on Thursday heard the case brought by Volusia County against DeSantis and Lee, the state's chief elections officer. A circuit judge already granted a summary judgment against the county. 
"If the Governor and the Secretary of State drop out of this lawsuit, who's left?" asked Judge Scott Makar. 
"It seems to me (that) the official that could have the most involvement in this would be the County of Volusia's Supervisor of Elections because that's the county official responsible for actually certifying elections," Chief Deputy Solicitor General Edward Wenger, appearing for the Governor, told the judges.  
Makar later said that if the court decides DeSantis and Lee shouldn't be in the case, the previous ruling is a "nullity."
Martin County Clerk of Court Carolyn Timmann, as a member of the 2017-18 Constitution Revision Commission, filed the proposal eventually placed on the ballot as Amendment 10, which passed with 63 percent support. 
It requires that constitutional officers — Tax Collector, Sheriff, Property Appraiser, Clerk of Court, and Supervisor of Elections — be elected and not appointed in all 67 counties.
Like some other counties, Volusia abolished the tax collector (or other offices) as constitutional posts. Volusia did so in 1970 through a charter amendment, making tax collector an appointed position.
Volusia, Miami-Dade, and Broward counties are among the most affected by Amendment 10. The three pursued an unsuccessful court challenge last year trying to stop it.
The three counties lost when the Florida Supreme Court issued an opinion upholding a circuit court ruling that said if Amendment 10 was approved, the charter county votes would be overruled by the amendment to the Constitution requiring offices to be elected.
Broward also will have to create a new elected position and hold an election to fill Tax Collector. However, both Broward and Miami-Dade counties have a special provision in the amendment that allows them to delay implementation until 2024.
In Volusia and some other counties, the officers also are elected in non-partisan elections, a situation that is changing because of another court case, involving Orange County and its charter. 
In that case, the Supreme Court agreed with a circuit court decision that county charters cannot make constitutional offices non-partisan. Consequently, Volusia and other counties are faced with converting non-partisan elections for constitutional officers into partisan elections in 2020.
As is their practice, the 1st DCA judges – Chief Judge Stephanie Ray and Judges Scott Makar and Susan Kelsey – did not indicate when they would rule on the appeal.