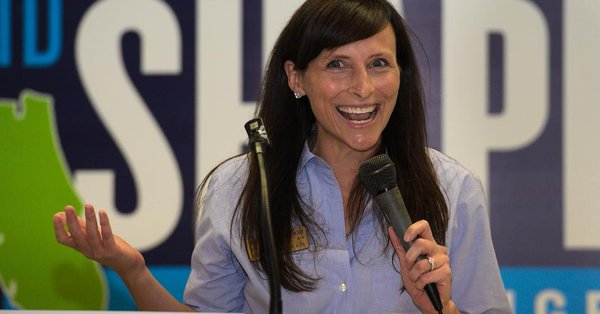 That's more than any Democrat ever raised in Florida's 16th Congressional District.
Sarasota Democrat Margaret Good reported a record haul in first-quarter funding for her bid to unseat U.S. Rep. Vern Buchanan.
The state Representative pulled in $450,000 in the third quarter of 2019, Good's campaign tells Florida Politics. The just-wrapped fundraising period is the first since she launched her bid for Congress in July.
That total is more than any Democrat has ever raised running in Florida's 16th Congressional District.
"Our campaign is powered by hard-working Floridians who deserve a representative who works as hard as they do," Good said.
"Every day, we focus on creating positive change in this district — it is clear from the support we have received that our message resonates."
Good received more than 2,600 individual contributions from over 1,800 individuals, she said. Of that, 72 percent of contributions came from people living within the Congressional District.
Good previously announced she raised $135,000 of that amount in her first day as a House candidate.
Buchanan has not yet released figures for the third quarter. He posted $372,000 in the second quarter before facing significant opposition for the 2020 cycle.
"We're still compiling our report," said Max Goodman, an advisor to Buchanan's campaign.
He also noted registered Republicans outnumber Democrats in the district by 48,588 and that Trump won this district by 11 percent.
The contest remains a challenging one for Democrats.
Buchanan in 2018 defeated well-funded opponent David Shapiro by about 10 percent. He's had closer races, famously coming into office after defeating Christine Jennings by just 369 votes in 2006. But he's faced a challenge every term since and won by comfortable margins.
Good, though, has pulled upsets before—against Buchanan resources for that matter.
She made national headlines when she beat James Buchanan, the Congressman's son, in a 2018 special election for state House. The win came held in a district President Donald Trump won by 4 percent, portending a national blue wave.
Good held onto the seat last November as well, besting former state Rep. Ray Pilon by a more modest 2-point spread.
But in rapid career, Good has shown a particular prowess for fundraising. That shows in her initial haul. By comparison, Shapiro raised $250,000 in his initial period, then about $401,000 in his first full quarter.
Good's total matches that of incumbent Democratic Rep. Debbie Mucarsel Powell in her first full quarter this cycle. It exceeds what incumbent Democratic Rep. Charlie Crist raised this quarter.
Good's campaign hope that shows she can make her challenge of Buchanan a serious one.
And Good expects voters in 2020 will be hungry for change.
"We deserve lower healthcare and prescription drug costs, clean water, and a healthy economy," Good said. "We deserve a representative who puts the people of this district first. That's where I am focused. I thank the people of this district and all of our contributors for supporting this important work."