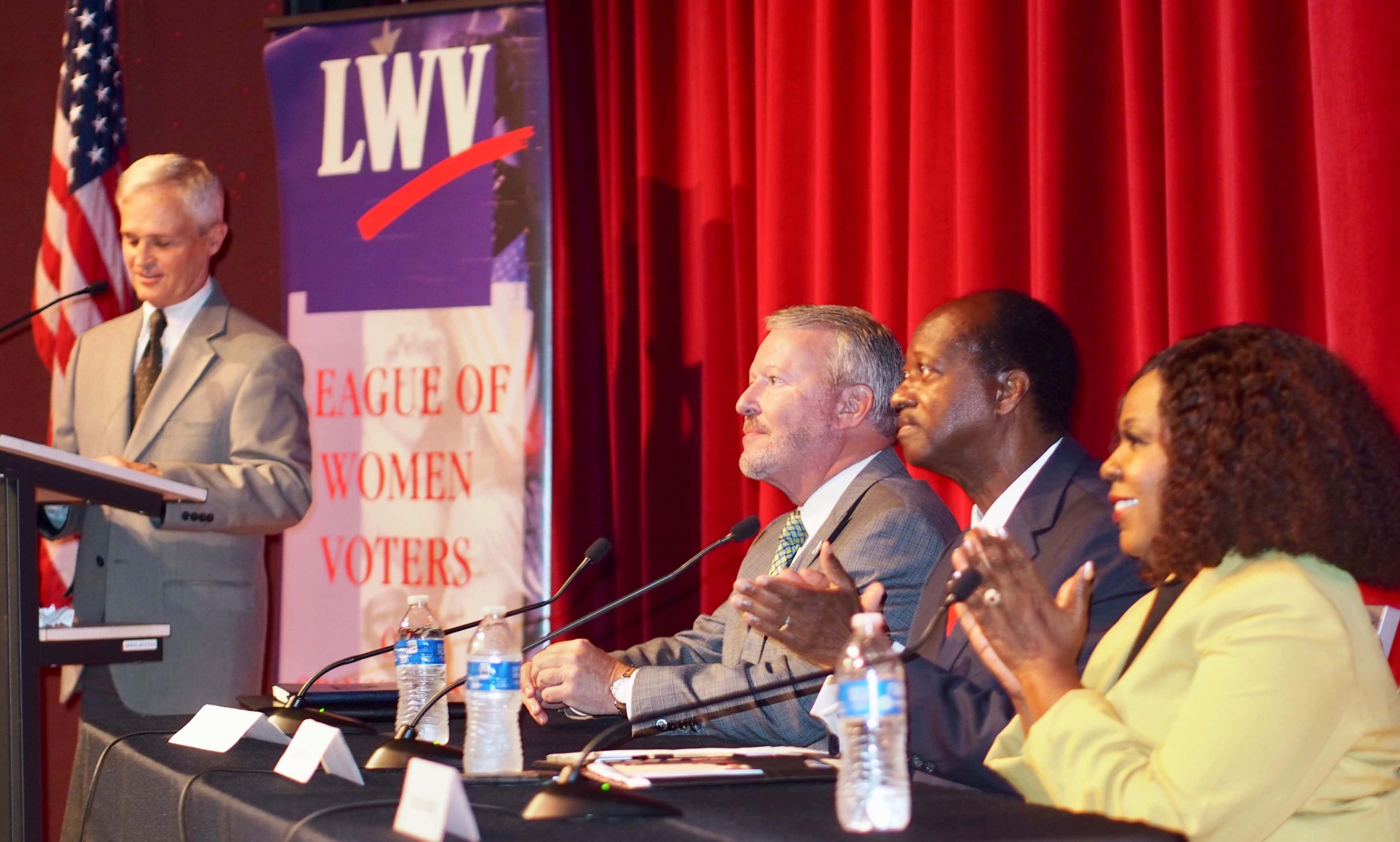 Dyer pressed progress and unity; Ings and Simons urged more open government
As Orlando's mayoral election race heads into its final weeks, Mayor Buddy Dyer remains focused on his accomplishments leading a city for 16 years through dramatic growth.
At the same time, Dyer's challengers hammer him for lacking transparency or intimacy for neighborhoods.
Dyer, seeking a fifth full term in a city he's led since 2003, largely ignored such criticisms Tuesday night in a debate with City Commissioner Sam Ings and businesswoman Aretha Simons, sponsored by the League of Women Voters of Orange County, the Orlando Sentinel, WUCF, the Central Florida Urban League, and the Metro Orlando Hispanic Chamber of Commerce.
The city elections are Nov. 5, and Dyer appears to be riding high in polling and with a well-fueled campaign that has raised, through the end of September, more than a half-million dollars and spent nearly $300,000, compared with Ings who has raised and spent a little more than $82,000, and Simons, $45,000.
Dyer pressed progress and unity in a city that has seen both triumphs of growth and worldwide recognition, and tragedy of the 2016 Pulse nightclub massacre. Ings and Simons pressed for more inclusive answers for such chronic problems as an affordable housing shortage, low wage growth, and spotty infrastructure and development in Orlando's older, mostly minority-population neighborhoods, notably Parramore, the historically African-American community just west of Downtown.
"We need more transparency," Simons declared, contending that among other things, she would push to hold Orlando City Council meetings at night so that working people could attend.
"One of the changes I would bring is an open form of government, a government that's honest, open and transparent. And I think it's very important that people realize that they will have a seat at the table in my administration. The office of mayor will be open to you," Ings said.
Yet Ings, a retired police commander who's been on the Orlando City Council for 13 years, and Simons, a Navy veteran of more than 20 years who runs a company that supports the development of nonprofit organizations, offered little in new, bold proposals, other than assurance that they would focus attention, while charging that Dyer was not.
"We waited too long to really attack this particular problem of affordable housing within the city Orlando, and we have to do much better," Ings said.
Dyer was able to counter that he's directed the city's plans to increase municipal minimum wages to $15 an hour over the next four years, while developing the new Creative Village downtown campus where, among other things, Valencia College is developing education programs for midrange jobs training.
"What the city has done right, although it is a regional issue, we have led by example," Dyer said of the housing issue. "The city has changed a lot of its building codes so that we can have smaller units, smaller apartment complexes, 'granny flats.' And we've led with our money as well, investing close to $38 million in 14 different affordable projects. That's created over 1,500 new units in an affordable housing area. We've created a land trust in Parramore that bought 82 single-family homes, and we have put money into renovating those.
"And then the county, Mayor [Jerry] Demings has put together a task force, and they are adopting as their recommendations for the county a lot of the actions that the city has already taken," Dyer added.
Perhaps the starkest difference between Dyer and the city's establishment political structure, and Ings and Simons, who argue to get away from that structure, came when the candidates were asked if they thought there should be restrictions on campaign contributions from interests involved in regional boards. Moderator Mike Lafferty, the Orlando Sentinel's opinions editor, pointed particularly to those of the Greater Orlando Aviation Authority and the Central Florida Expressway Authority; both have been accused of being forums for contractors to buy influence.
Dyer dismissed the idea, saying that the Orlando Mayor sits on too many boards regionally to make such restrictions pragmatic.
"It sounds good, but the problem is … if you started prohibiting raising money from anyone who does business with the boards the Mayor sits on, there wouldn't be many people left to raise money from," Dyer said.
"I disagree with what he just said that you wouldn't get money from anybody. You would get money from citizens, people who believe in you," Simons responded. "I think there definitely should be restrictions on board members giving funding to campaigns, because they do it to influence you."