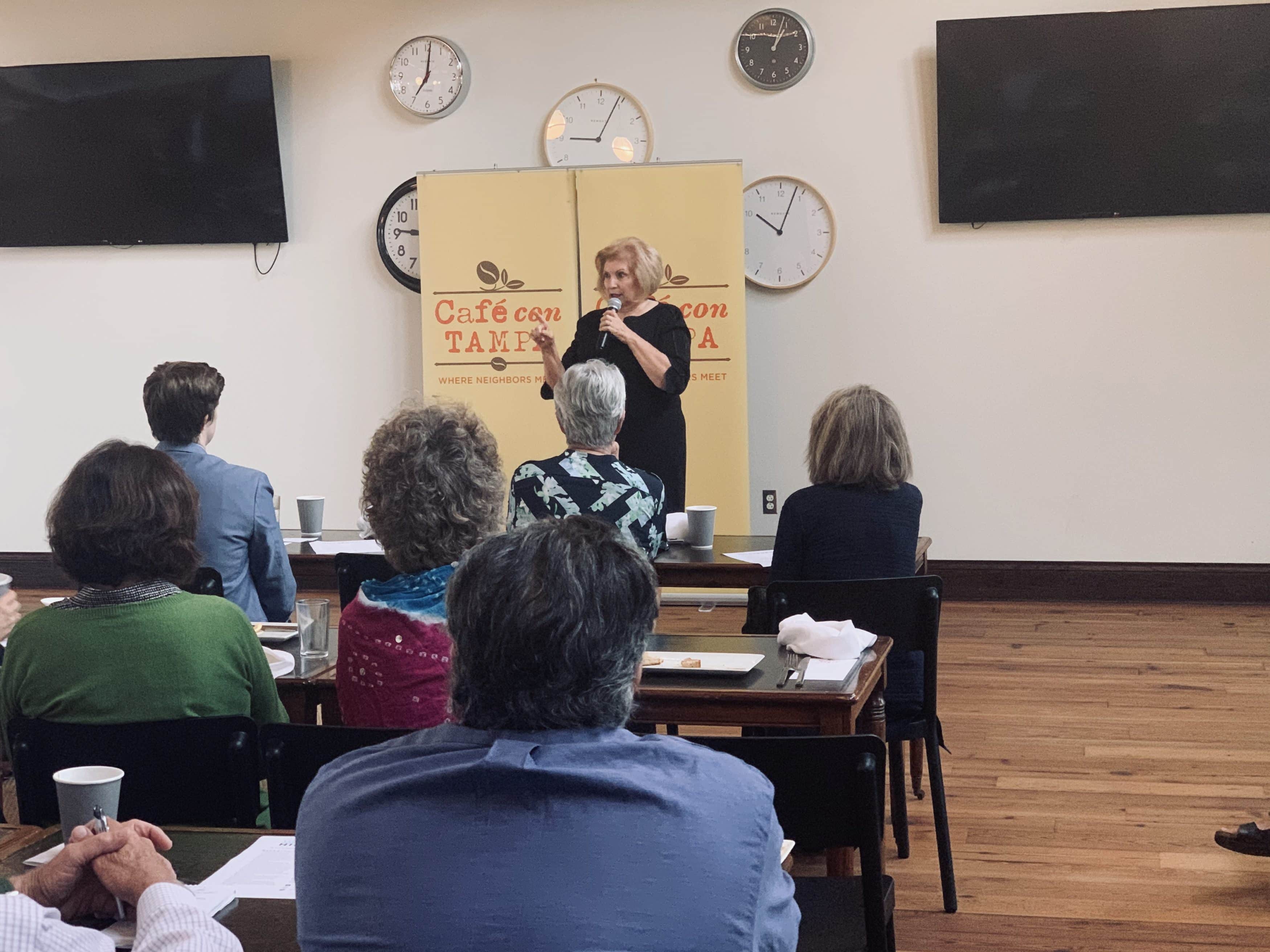 Navigating partisan waters as a member of the minority party isn't always easy.
Democratic state Sen. Janet Cruz isn't afraid to speak her mind.
That was the number one takeaway Friday when she spoke during a Café Con Tampa breakfast Friday tackling topics ranging from legislation she's filed this year to how she navigates a partisan legislature.
"It was hard initially," Cruz said of her time serving in the more conservative House. "It's hard when you're in an almost super-minority. You have to work across the aisle and you have to make friends so that you can get some legislation passed."
Cruz said even in the Senate where Democrats are three seats shy of splitting the legislative body 50/50, getting support for some legislation takes a lot of door knocking.
"We're in and out of each other's offices all the time," Cruz said. "I'm in there begging and asking [committee chairs] to agenda my bill."
If committee chairs don't put bills on their agenda they'll never see the light of day.
Cruz told a colorful story about a bill that was almost blocked when she served in the House. She didn't say which one, but told listeners in the crowd that she once had a piece of legislation scheduled for a floor vote that Republican leadership — she specifically named former House Speaker Richard Corcoran — tried to bump her bill and replace it with a gun bill.
"F— no, you're not going to bump my bill," Cruz said she told them.
She stood her ground, and won. The Democratic-friendly crowd ate it up.
But Cruz and Democrats don't always have such empowering stories to share with supporters. Cruz lamented one of her losses during the 2019 session that's she's since turned into a win, and an example of how sometimes lawmakers can get creative and take their issues outside the halls of the state Capitol.
There are 136 Hillsborough County public schools built before 1986 that contain lead pipes, leaving those schools prone to lead contamination in drinking fountains. Earlier this year Cruz sponsored a bill that would have funded water filters for any school statewide built before 1986.
But her bill, which seems like a nonpartisan no-brainer, hit a roadblock. The fiscal implications to the state were found indeterminate in the bill analysis and it stalled. Lawmakers aren't keen on passing legislation when they don't know how much money it's going to cost.
So Cruz did her own research and met with an Oldsmar-based filter manufacturer who told her filters could be replaced for about $20 a pop. She launched a private funding initiative to pay for the filters.
Quickly, $150,000 rolled in from both large and small contributions. Schools are already getting their filters and by the time students return from winter break in January, all 136 affected schools will have clean water.
But the legislative side of the situation is still frustrating. With demonstrated results, Cruz refiled her legislation for the 2020 Session and hopes to expand filter installations in affected schools statewide.
Cruz also lamented efforts, mostly led by Republicans, to pass legislation usurping home rule over local governments. There are examples aplenty — preempting gun regulations, blocking plastic and styrofoam bans, restricting tree ordinances, eliminating community redevelopment areas.
"This is a trend that has been happening for years," Cruz said. "It's a real problem. How do we fix it? We have to have the votes to stop bad legislation. I would tell all of you to speak out against all of this with your vote because that's what it will take."
She wasn't quite so blunt, but Cruz's meaning was crystal clear — elect more Democrats.
Cruz was not all partisan in her talk Friday morning. Of the hundreds upon hundreds of bills filed every year that make it to a floor vote, most, those that don't tend to make headlines, are passed with bipartisan support, Cruz said.