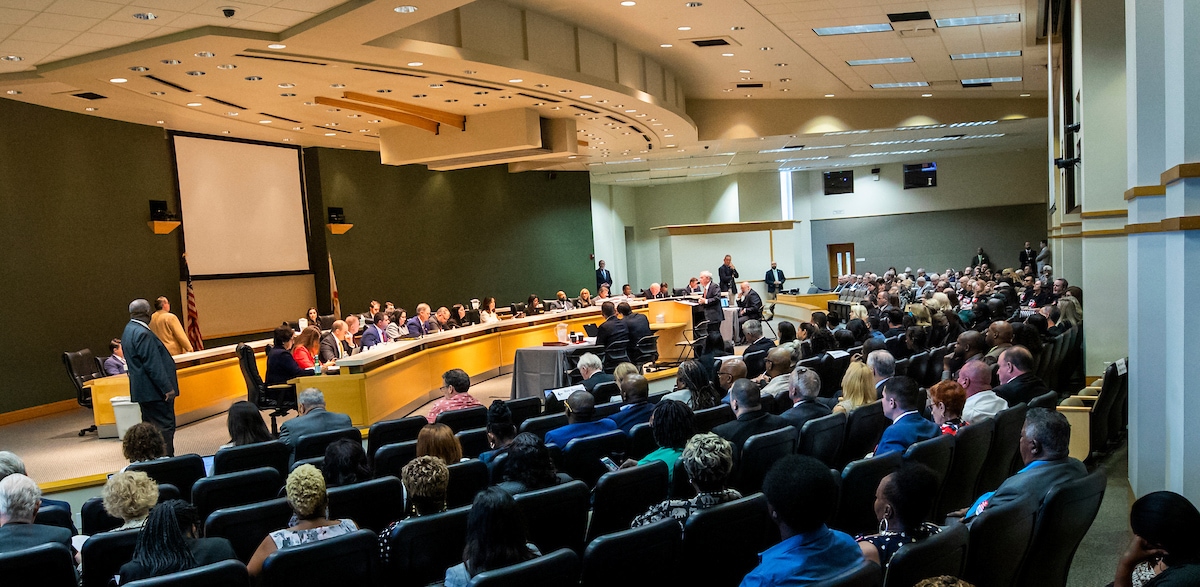 The party-line divide may foreshadow Wednesday's full Senate vote.
The Senate Rules Committee on Monday night approved a recommendation to remove suspended Sheriff Scott Israel as the full body plans to decide the issue Wednesday.
The move was approved by a 9-7 party-line vote, a divide that could foreshadow Wednesday's vote. Should Israel be removed by a vote of the whole Senate, he's already said he will run for reelection in 2020.
The Monday vote featured a walkout by GOP state Sen. Tom Lee of Thonotosassa, who refused to decide on the measure after raising procedural objections throughout the day.
The committee earlier had heard testimony from attorneys representing Israel and Gov. Ron DeSantis, who suspended Israel in January.
DeSantis had accused Israel of "incompetence" and "neglect of duty" surrounding the Sheriff's Office's handling of shootings at Marjory Stoneman Douglas High School in Feb. 2018 and the Fort Lauderdale-Hollywood International Airport in January 2017.

Also speaking Monday were members of the public both for and against Israel. Among those were several parents of Parkland victims, who have been vocal about their desire to see Israel out of office.
"We listened to an entire day of this guy turning him into the victim of Feb. 14," said Fred Guttenberg, referring to the date of the shooting in which his daughter, Jaime, was killed. "These people who I love back here, my family, I just wanted to be clear who the victims of Feb. 14 are."
Special Master Dudley Goodlette, who was appointed by Senate President Bill Galvano to review the case, also spoke at the hearing.
Goodlette's final report recommended Israel be reinstated, arguing the Governor did not show cause for removal. That finding was bucked by Republicans on the Rules Committee.
"The recommendation by the Special Master is just that," said Sen. David Simmons, an Altamonte Springs Republican. "It is advisory."
The full Senate must still vote on whether to reinstate Israel or permanently remove him. They are not bound by Goodlette's findings.
Included in Goodlette's report were findings that the evidence "suggests that the Stoneman Douglas shooting was a culmination of individual failures."
He added, "To be sure, Sheriff Israel bears ultimate responsibility for the neglect of his deputies. But it is impractical to suggest that he can face removal from office based on the conduct of a subordinate that was never authorized, sanctioned, or ratified."
Fleming Island GOP Sen. Rob Bradley, however, saw those individual failures as a sign of problems at the agency.
"That is not an individual failure—that's an institutional failure," he argued. "We don't even have to guess what a proper institutional response would be because it happened. Coral Springs Police Department, the minute they found out, showed up and flew inside."
DeSantis sought to add additional evidence into the record as the Senate convened its Special Session to hear the case. That was one of several issues to which Lee objected, prompting him to refuse to vote on the recommendation to the full Senate.
"In 18 sessions, I've never left a committee meeting and never walked on a vote. But I'm going to do it today," Lee said.
"A yes vote would be real easy. I get to support my Governor. I get to support these beautiful people here who have lost family members and have frankly impressed me a great deal in the bond that they've created, and the passion that they have for their kids and family members.
"But I think it would set a really dangerous, new precedent here in Florida. And I can't do that lightly."
The former Senate President further detailed why he walked out in comments to Florida Politics.
"We all knew what the outcome would be. Heck, we didn't even bother to get a motion on the table before starting debate, but in complex cases, judges seldom rule from the bench on the day of trial and the only vote that matters is the constitutionally required vote of all 40 Senators on [Wednesday]," Lee said.
"When the fix is in and the Senate is getting rolled, you question whether it's a good use of your time."
Lee was alone among Republicans, who otherwise backed the Governor, citing the multiple failings of the Sheriff's Office's response to the Parkland shooting, detailed by the Marjory Stoneman Douglas High School Public Safety Commission.
Democrats, such as Perry Thurston of Fort Lauderdale, disagreed. He argued giving the Governor power to remove Israel would further divide the community.
"I think it's a difficult thing, and I really think it's problematic that the Governor puts us in a position to fight with each other like this," he said.
And Sen. Lauren Book, a Plantation Democrat who served on the Marjory Stoneman Douglas High School Public Safety Commission, argued that removing Israel for the inaction of deputies like Scot Peterson would let Peterson off the hook.
"I believe that if we do not reinstate Sheriff Israel, that Deputy Peterson walks, because you can't have it both ways, members. You can't have it both ways," Book said.
"And so for me, the thing that I weigh the most is the fact that I want to hold this coward accountable," she added, again referencing Peterson's failure to enter the building to confront the shooter.