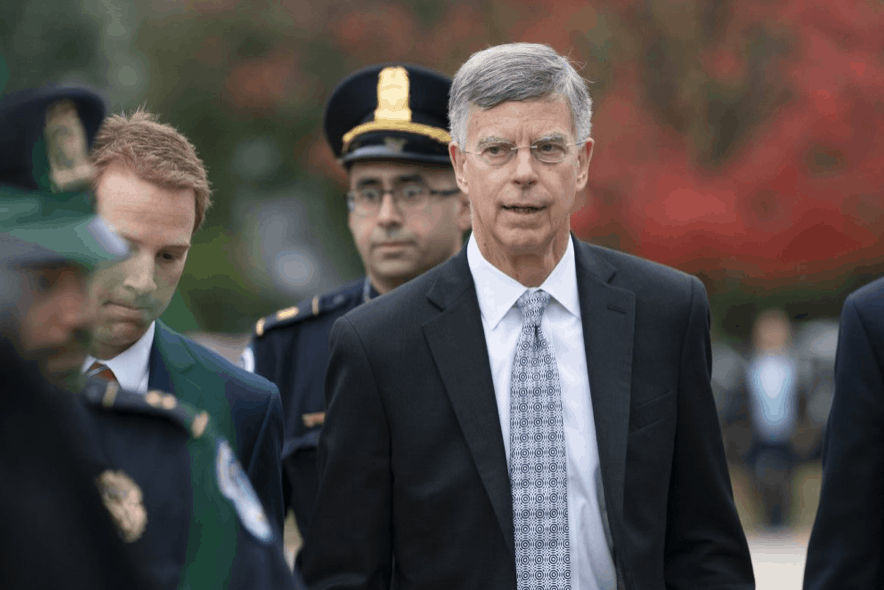 Taylor brought documents, notes, and gave a long, detailed description of events
Former U.S. Ambassador William Taylor, a diplomat who has sharply questioned President Donald Trump's policy on Ukraine, has provided lawmakers with a "disturbing" account of events at the center of the impeachment probe, Democrats said Tuesday.
Also Tuesday the Washington Post publicly posted, on the internet, the 15-page text of Taylor's opening statement, in which the diplomat described his growing shock and concern as he came to conclude that Trump advisors were running a second, unofficial channel of foreign policy with Ukraine; that their goals and objectives were in opposition of the America's official diplomatic channel; and that it resulted in a Trump ultimatum that Ukraine run investigations of American political rivals.
Taylor's appearance was strongly awaited because of a text message, released by House investigators earlier in the probe, in which he called Trump's attempt to leverage military aid to Ukraine in return for a political investigation "crazy."
"I believed that then and I still believe that," Taylor said in his written statement, according to the document posted by the Washington Post.
Lawmakers emerging after the early hours of the private deposition said Taylor had given a lengthy opening statement, with a recall of events that filled in gaps from the testimony of other witnesses. They said Taylor kept records at the time of conversations and documents.
"The testimony is very disturbing," said U.S. Rep. Carolyn Maloney, a New York Democrat.
U.S. Rep. Dean Phillips, a Minnesota Democrat, used the same word. Asked why, he said, "Because it's becoming more distinct."
In his opening statement, Taylor explained his "crazy" comment in full.
"During our call on September 8, Ambassador [Gordon] Sondland tried to explain to me that President Trump is a businessman. When a businessman is about to sign a check to someone who owes him something, he said, the businessman asks that person to pay up before signing the check. Ambassador [Kurt] Volker used the same terms several days late while we were together at the Yalta European Strategy Conference," Taylor's opening statement reads. "I argued to both that the explanation made no sense: the Ukrainians did not 'owe' President Trump anything, and holding up security assistance for domestic political gain was 'crazy.'"
US. Rep. Debbie Wasserman Schultz, the Democrat from Weston, said Taylor "drew a straight line" with documents, timelines and individual conversations in his records at the hearing.
Indeed, Taylor's opening statement outlines a chain of numerous meetings, phone calls, and other communications that began May 28 when Secretary of State Mike Pompeo first asked Taylor, then retired from public service, to return temporarily as Charge d'affaires to Ukraine, until Sept. 25 when Trump met with Ukraine President Volodymyr Zelenskiy.
"I do not know how you would listen to today's testimony from Ambassador Taylor and come to any other [conclusion] except that the president abused his power and withheld foreign aid," she said.
Taylor said that Sondland told him that Trump assured that there would be no quid pro quo involved in dealing with Ukraine.
Yet Taylor said what was described to him was an ultimatum: if Ukraine did not commit to the investigations Trump wanted, apparently for domestic political reasons, there would be no $391 million in military aid that Ukraine needed in its war with Russia, no meeting between the two presidents, nothing.
Specifically, Taylor said he was told, Trump wanted Zelenskiy to go on CNN and publicly commit to doing the investigations into whether Ukraine conspired with American Democrats in 2016, and whether Democrat Joe Biden improperly got Ukraine to stop a corruption investigation of his son Hunter Biden. In his comments Taylor dismissed both investigations as not valid and clearly political in motivation.
"In fact, Ambassador Sondland said, 'everything' was dependent on such an announcement, including security assistance. He said that President Trump wanted President Zelenskiy 'in a public box' by making a public statement about ordering such investigations," Taylor's opening statement says.
Taylor said he worked through official diplomatic channels in Ukraine to strongly discourage Zelenskiy from doing so, because it would jeopardize bipartisan support that Ukraine enjoyed and needed in the United States.
Taylor said Ukraine apparently agreed to do something like that, and the American military aid was released, but the CNN interview never happened.
American lawmakers did not discuss details of what they heard in the closed-door session that was expected to continue all day, and Taylor declined to comment as he entered the deposition. He was the latest diplomat with concerns to testify. Like the others, he was subpoenaed to appear.
U.S. Rep Ami Bera, a California Democrat., said Taylor, a career civil servant, had a better recall of details thanSondland, the U.S. European Union ambassador who testified last week.
Taylor was expected to discuss text messages he exchanged with two other diplomats earlier this year as Trump pushed Ukraine to investigate unsupported claims about Democratic rival Joe Biden's family and a debunked conspiracy theory about Ukraine's role in the 2016 election.
The diplomat was one of several intermediaries between Trump and Ukrainian officials as the president advocated for the investigations. Taylor had been chosen to run the embassy there after the administration abruptly ousted the Ambassador Marie Yovanovitch.
Taylor's description of Trump's position is in sharp contrast to how the president has characterized it. Trump has said many times that there was no quid pro quo, though his acting chief of staff, Mick Mulvaney contradicted that last week. Mulvaney later tried to walk back his remarks.
Taylor, a former Army officer, had been serving as executive vice president at the U.S. Institute of Peace, a nonpartisan think tank founded by Congress, when he was appointed to run the embassy in Kyiv after Yovanovitch was removed before the end of her term following a campaign against her led by Trump's personal lawyer Rudy Giuliani.
He had served as U.S. ambassador to Ukraine from 2006 to 2009.
Before retiring from government service, Taylor was involved in diplomatic efforts surrounding several major international conflicts. He served in Jerusalem as U.S. envoy to the Quartet of Mideast peacemakers. He oversaw reconstruction in Iraq from 2004 to 2005, and from Kabul coordinated U.S. and international assistance to Afghanistan from 2002 to 2003.