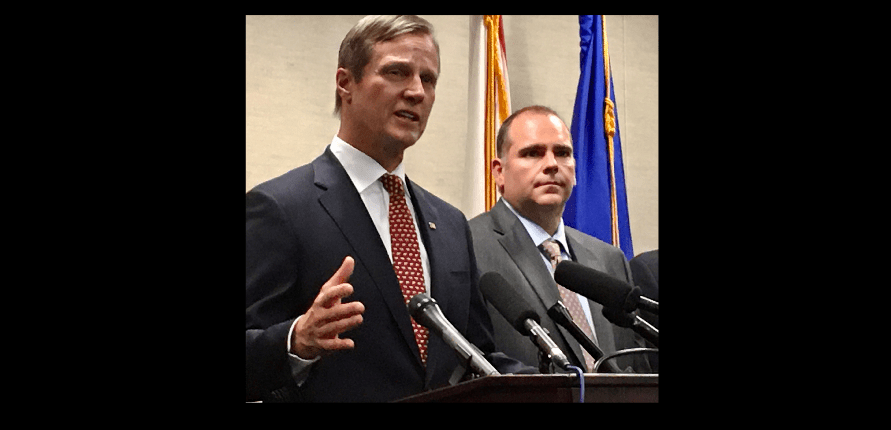 Medicinal pot was OK'd by Florida voters in 2016.
Pot may still be illegal under federal law, but don't expect north Florida's top federal prosecutor to start storming the medical marijuana stores.
U.S. Attorney Lawrence Keefe of the Northern District of Florida, at a press conference Thursday with several state-level chief prosecutors, told reporters he recognized two types of weed: Marijuana legal under state law that's "subject to a robust regulatory process"—and, basically, the street stuff.
His office "will not expend its scarce resources prosecuting that which has been expressly made legal by the people of Florida," said Keefe, an appointee of President Donald Trump. "I will exercise my discretion … to not spend federal resources prosecuting people for doing exactly what their Legislature told them to do."
Last month, former U.S. Acting Associate Attorney General Jesse Panuccio, in a speech at Florida State University's law school, argued the opposite.
He said that despite a state constitutional amendment allowing medicinal cannabis, proposed amendments to make pot legal outright, and public opinion supporting the plant, marijuana is still illegal under federal law. And federal law is the ultimate law of the land.
"There's no reasonable argument that a straight faced lawyer could make that what is happening in this state right now is lawful. Period, full stop," Panuccio said.
When asked whether Panuccio – the former No. 3 man at the U.S. Department of Justice – got it wrong, Keefe said he couldn't say. Panuccio stepped down from his position earlier this year. 
"What I am telling you is that in the exercise of my prosecutorial discretion, using my best judgment, in the way to allocate the resources of this office, if the Florida Legislature deems … marijuana to be legal here in the state, I am not going to prosecuting those people."
Lawmakers passed a separate law to "implement" the amendment authorizing medicinal cannabis that was passed by 71 percent of voters in 2016.
As to street marijuana, however, "we are open for business," Keefe added.
Marijuana is still what's called a "Schedule I" substance by the feds, and non-medical pot in the state is unlawful under state and federal law.
Specifically, selling marijuana is a federal crime, even though many states — including Florida — allow marijuana as medicine or even — as in Colorado — its recreational use by adults.
"If any of my (state-level) colleagues have marijuana cases that they are unable to bring, for whatever reason … we are absolutely going to pursue those cases. There is no question, doubt, or uncertainty about that."
Keefe earlier in the day met with a group of elected prosecutors for five of the state's judicial Circuits within the federal Northern District: 1st Judicial Circuit State Attorney Bill Eddins, 2nd Judicial Circuit State Attorney Jack Campbell, 3rd Judicial Circuit State Attorney Jeffrey Siegmeister, 8th Judicial Circuit State Attorney Bill Cervone, and 14th Judicial Circuit State Attorney Glenn Hess.
The idea was to better coordinate and collaborate in the fight against crime. That sometimes means money, and federal justice grants were discussed, Keefe said.
The Justice Department "has wonderful and amazing resources having to do with how to train law enforcement professionals and we talked about ways to implement those and get those where they need to go," he said.
"But the vast majority of the time that we spent today in our meeting is the area of greatest overlap between federal law enforcement and the Department of Justice and state and local law enforcement and that has to do with gun violence and drugs," Keefe said.
"State and local law enforcement folks have the same mission that we do in federal law enforcement … they're connected, they're interrelated and we discussed ways in which we're going to partner."