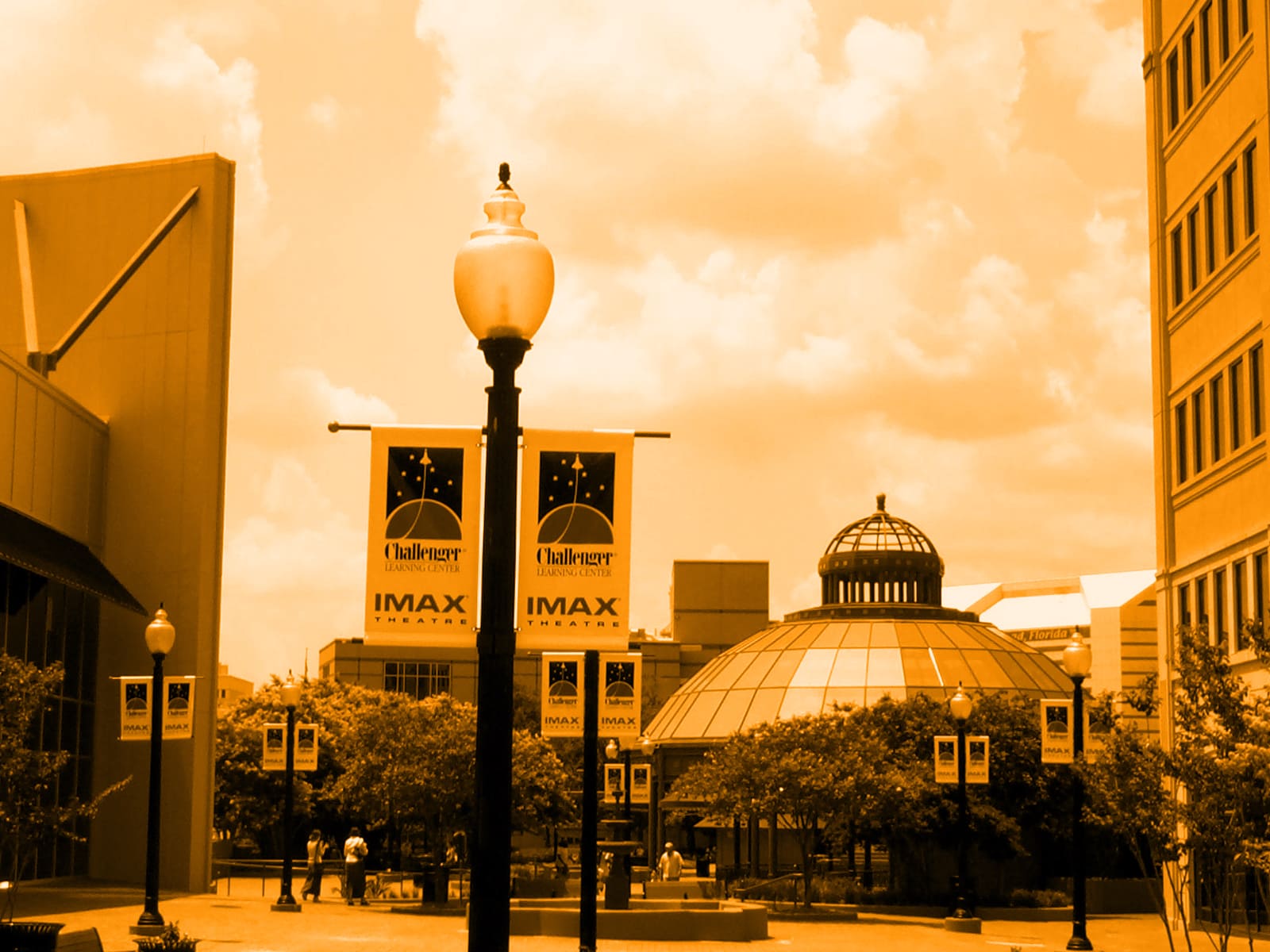 Get all you need to start the day off right — Sunburn.
The first day of the Future of Florida Forum featured talks from all three Florida Cabinet members and panels covering a wide range of topics, from the 2020 presidential election to online sales tax collections.
Day 2 promises to be just as information-rich.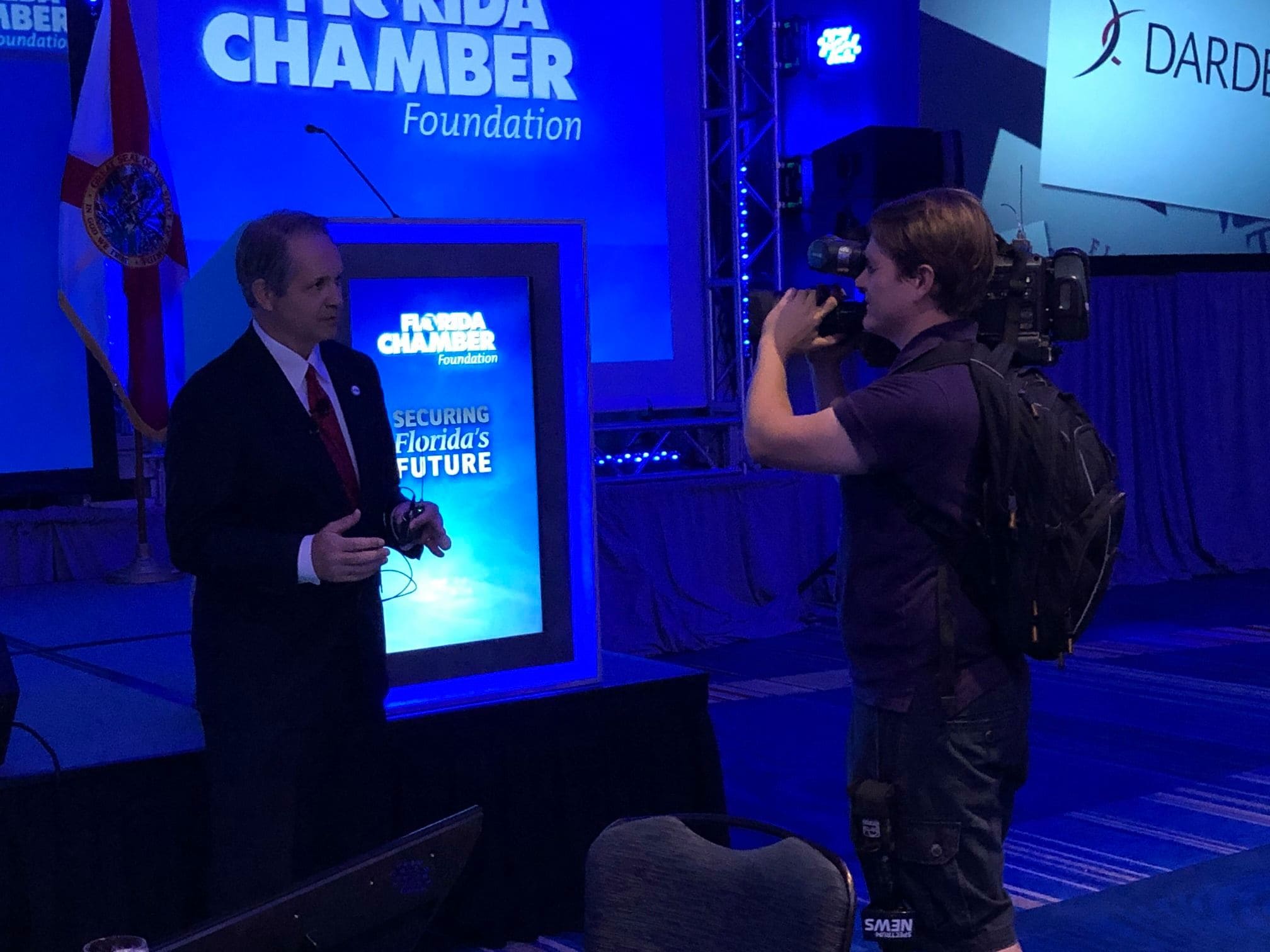 The second act of the Florida Chamber of Commerce event kicks off this morning with a panel moderated by Florida Politics publisher Peter Schorsch that'll see former House Speakers Dean Cannon and Steve Crisafulli talk about the importance of leadership.
Also on tap: Rep. Paul Renner will talk about bringing careers — not just jobs — to the Sunshine State; Sen. Jeff Brandes will speak on criminal justice reform, and Rep. Vance Aloupis will discuss the importance of early childhood education in creating a prosperous Florida.
Day two will also feature its fair share of agency heads, local officials and business leaders offering their opinions and strategies on what needs to be done to make sure Florida is ready for the changes coming over the next decade, including a population boom, water constraints, and workforce development.
If navigated correctly, the Chamber's Florida 2030 blueprint shows a bright outlook for the state, which could grow to become one of the top-10 largest economies in the world.
— MORE FROM THE F3 —
"Chamber Forum: 2020 presidential race goes through Florida" via Drew Wilson of Florida Politics — Florida could be deciding factor in whether Donald Trump wins a second term or is replaced by one of the many Democrats running for President. That takeaway has become political canon in modern presidential elections, but 2020 adds some interesting wrinkles. A panel at the Florida Chamber of Commerce's 2019 Future of Florida Forum explored how competitive state Senate election could affect redistricting and how turnout could be driven by numerous constitutional amendments vying to make it onto the ballot. A possible game-changer that's often overlooked: Northwest Florida. The region voted heavily for Trump in 2016, but it may not be as big of a factor in 2020, depending on how many voters left the state after Hurricane Michael.
"Jimmy Patronis: Blockchain, better law enforcement coordination could curb fraud" via Drew Wilson of Florida Politics — Florida CFO Patronis says there's no shortage of scammers looking to dupe Floridians, but technology could be a powerful tool in combating fraud. "Florida has the fourth-highest fraud rate in the United States, and our veterans are more than twice as likely to be the victims of fraud," Patronis said, calling the statistics "shocking." There are a couple of ways the Department of Financial Services is combating fraud. First, the department has launched Fraud Free Florida, an online platform that serves as a repository for information, helps law enforcement agencies coordinate investigative efforts, and allows Floridians to report scams ranging from insurance fraud to identity theft. Another promising piece of development is blockchain, the technology behind cryptocurrencies such as bitcoin and Ethereum.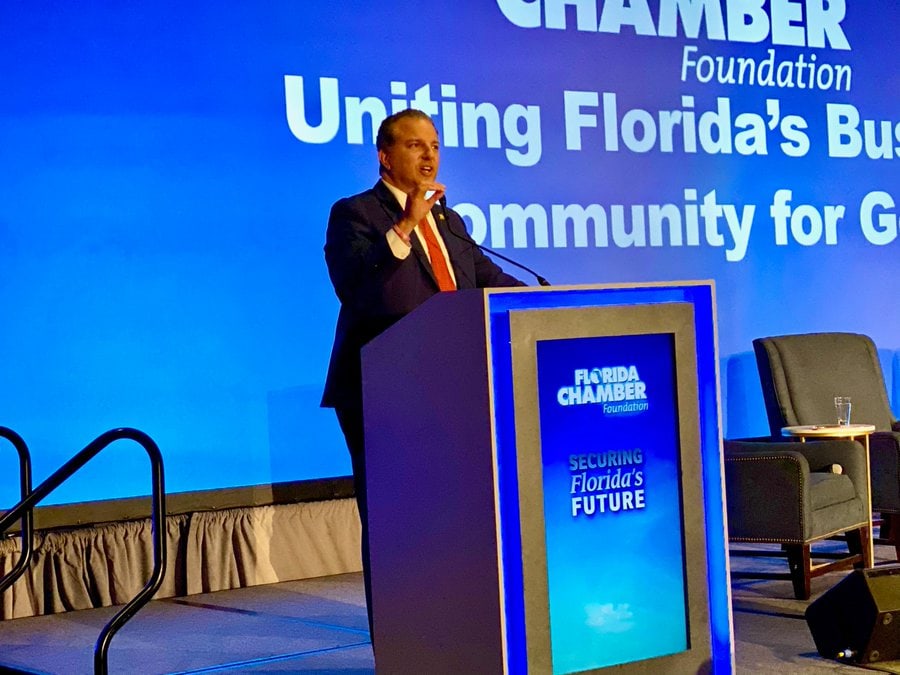 "Nikki Fried's $30 billion dream for cannabis [not smoked or eaten]" via Scott Powers of Florida Politics — In a speech to the Chamber's Future of Florida Forum, Fried compared hemp's future impact on the economy to that of the printing press "Having industrial hemp here in our state is going to create a marketplace for products that we cannot only export to our neighbors in the rest of the United States but really create Florida-first, America-first products that we can export to other countries. And we're estimating this could be a $20- to $30-billion industry for the state of Florida within 10 years."

"Chamber Forum: Florida aims to move from last place to the top in volunteerism" via Drew Wilson of Florida Politics — Florida is 50th in volunteerism among all states. According to Sabeen Perwaiz, who leads the Florida Nonprofit Alliance, Florida slips to 51st when Washington D.C. is included. But come 2030, the hope is for the Sunshine State. During a panel at the Florida Chamber of Commerce's Future of Florida Forum, Perwaiz and other stakeholders gave a window into how they plan to achieve that goal. Clay Ingram, a former state representative who now leads Volunteer Florida, gave a high-level overview of the agency he leads before outlining his strategy for growing volunteerism in the state. One avenue: a new platform called "Volunteer Connect." The initiative connects groups looking for volunteers with people who show to sign up through the platform.
Florida may put woman on moon by 2024 — At the Florida Chamber Foundation's Future of Florida Forum, Frank DiBello, President & CEO of Space Florida and Mark Wiese, Gateway Logistics Element Manager from NASA's Kennedy Space Center, gave more information on the Artemis program, NASA's plan to put the first woman on the moon by 2024. The Artemis program will also seek to put the first human on Mars and develop support systems for both endeavors. The economic impact on Florida's Space Coast has enormous potential. "In the next decade, we expect over 10,000 satellites to be launched to support our insatiable demand for bandwidth," DiBello said. "Our vision is for Florida to be the economic center of that activity."
Florida Chamber unveils Free Enterprise Fund, Institute for Political Leadership — During the opening day of this year's Future of Florida Forum, the Chamber announced the expansion of the Florida Chamber Political Institute (FCPI) and the creation of two new political initiatives. The Free Enterprise Fund will unite Florida's business community in support of candidates who share our belief in free enterprise. The Florida Institute for Political Leadership is a nonpartisan effort to recruit, train, and provide campaign training to business-friendly candidates. Leadership and campaign training will be offered at no cost to the participants. The Florida Chamber will partner with local chambers to provide training in communities across the state.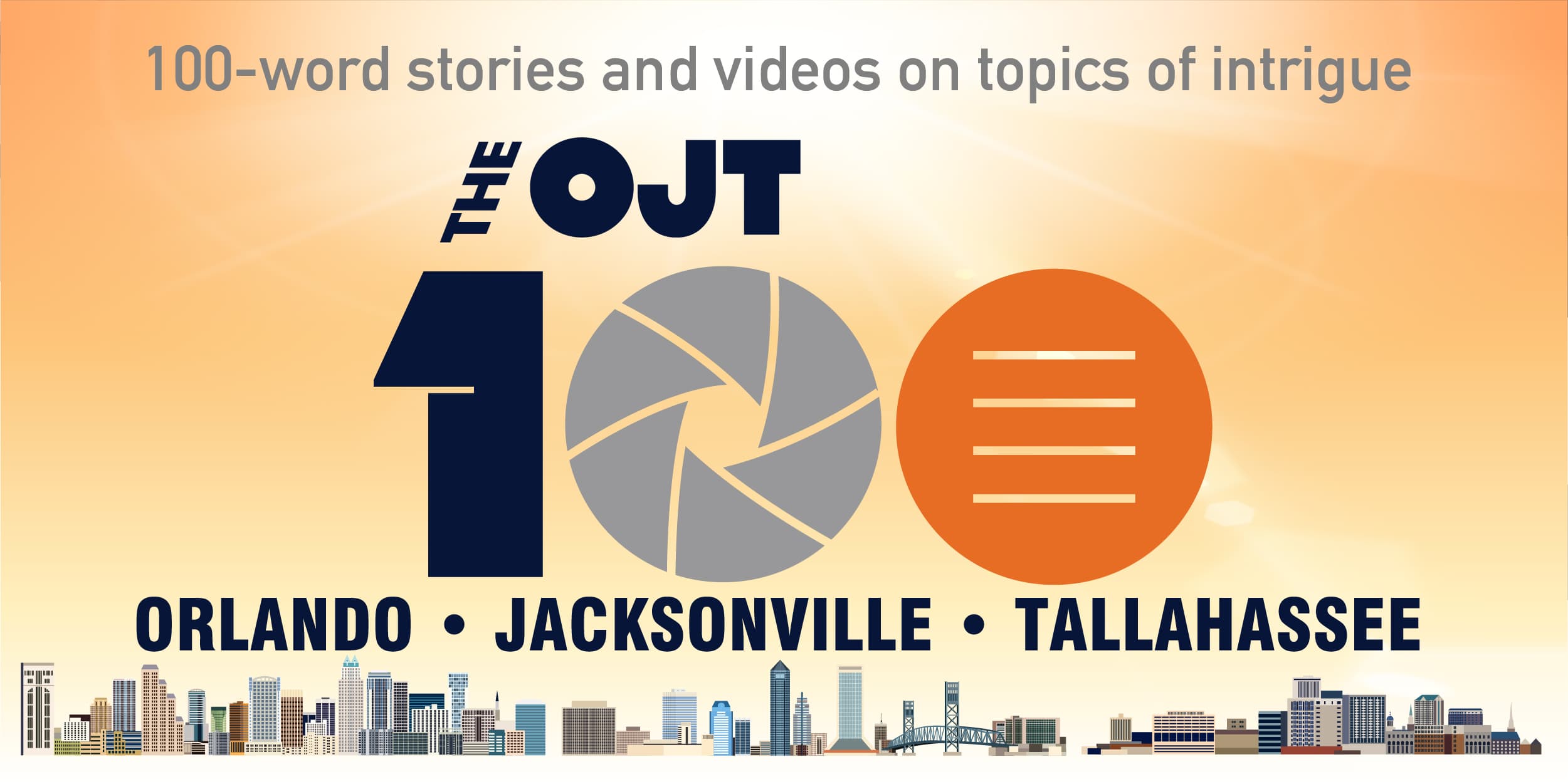 — TODAY'S SUNRISE —
Florida may be known as the "Gunshine State," but that hasn't stopped lawmakers from filing a battery of bills on gun safety. For the 2020 Session, a South Florida lawmaker filed two bills to close the loopholes that allow Floridians to buy guns without undergoing a criminal-background check.
Also, on today's Sunshine:
—The Florida teachers' union is bringing its big red bus to the courtyard of the State Capitol, as well as making plans for a massive rally in Tally the day before the legislature convenes for the Session on January 14.
— A political strategist from Orlando — who played a big part in Barack Obama's campaigns in 2008 and 2012 — has signed on as Joe Biden's top hire in the Sunshine State.
— Alia Faraj-Johnson, a former member of the Capitol Press Corps who worked with Jeb Bush during his time as Governor, has just set up her own PR shop in Tallahassee.
— The Florida Chamber Foundation continues its two-day Future of Florida Forum.
— In more Florida Man antics: A 27-year-old surfer was off the coast of New Smyrna Beach when he came off his board and landed on the back of the shark … which responded by chomping down.
To listen, click on the image below:
— SITUATIONAL AWARENESS —
Tweet, tweet:
https://twitter.com/realDonaldTrump/status/1188909031403900928?ref_src=twsrc%5Etfw
—@JonLovett: I personally found it awful when the crowd began to boo mayoral candidate Oswald Cobblebot. Was he exposed as "Penguin," the leader of an underground criminal syndicate? Yes. But if it's wrong to boo Batman, this is wrong too. In Gotham, we respect those with whom we disagree.
—@GovRonDeSantis: Diwali is a celebration of good over bad, light over darkness and knowledge over ignorance. It is a time to come together for reflection on the past as well as for future prosperity. To those celebrating the Festival of Lights, it is my pleasure to say Shubh Diwali!
— @BrandonMillerFL: AG [Ashley] Moody is fantastic and a rock star. It is always a pleasure seeing her and hearing her message #FutureOfFL
—@JohnLuxFL; Day 1 representing @FilmFlorida at the @FlChamber Future of Florida Forum. Great to see film industry supporter Sen @JoeGruters speak, thank you and the Chamber for your continued support. #FutureofFL
Day 1 representing @FilmFlorida at the @FlChamber Future of Florida Forum. Great to see film industry supporter Sen @JoeGruters speak, thank you and the Chamber for your continued support. #FutureofFL pic.twitter.com/FprDLFPVBy

— John Lux (@JohnLuxFL) October 28, 2019
—@CareerSourceFL: "Gig workers will comprise as much as 80% of the workforce by 2030" — Joe Quaglia, @Tech_Data, at #FutureofFL Forum. #gigeconomy # #FL2030 @FLChamberFDN
—@StefASteele: Fangirling over here. Talking about putting a woman on the moon by 2024. #FutureofFl @SpaceFlorida @NASA
—@HelloFlaNews: I can't believe Rhonda Lopez doesn't have even a basic website up almost 2 months after she's filed.
—@FSUPresThrasher: Wrapped up another wonderful @FSUHOMECOMING weekend by celebrating our distinguished alumni, inducting the Class of 1969 into the Emeritus Alumni Society, reminiscing with the charter class of the @FSUCollegeofLaw and visiting with friends from FSU National Black Alumni!
—@TowsonFraser: Earlier, saw a @CityofTLH worker at a stoplight get out of his truck, walk over to the side of the road and pick up some trash. No one would ever know if he didn't, but he must have pride in his job — we need more like him.
—@MDixon55: Can't two chicken sandwiches both be good?
— DAYS UNTIL —
The Florida Chamber's Insurance Summit — 6; 2019 General Election — 7; 3rd Annual Florida Internet and Television FITCon starts — 9; "The Mandalorian" premieres — 14; New season of "The Crown" streaming on Netflix — 19; Fifth Democratic debate — 22; "Frozen 2" debuts — 24; TaxWatch 40th Annual Meeting — 34; "The Rise of Skywalker" premiers — 52; College Football National Championship — 76; 2020 Session begins — 77; Florida TaxWatch State of the TaxPayer Dinner in Tallahassee — 78; Super Bowl LIV in Miami — 96; Great American Realtors Day — 97; Iowa Caucuses — 97; New Hampshire Primaries — 105; Last day of 2020 Session (maybe) — 135; Florida's presidential primary — 140; "Black Panther 2" debuts — 190; 2020 Summer Olympics in Tokyo begin — 269; Florida primaries for 2020 state legislative/congressional races — 301; First Vice Presidential debate at the University of Utah — 344; First Presidential Debate scheduled at the University of Michigan — 352; Second presidential debate at Belmont — 359; 2020 General Election — 371.
"'Unprecedented': Florida GOP postpones biggest annual fundraiser" via Matt Dixon of POLITICO Florida — The Republican Party of Florida postponed its biggest annual fundraiser, a move that some officials blamed on lackluster interest from donors. Planners were having difficulty selling table sponsorships to the Statesman's Dinner, and money that Gov. Ron DeSantis pledged to raise for the event has yet to arrive. Event planners also couldn't land a keynote speaker. The postponement is a significant setback to the state Republican Party and potentially Trump, who will need to win Florida to secure his reelection in 2020. "Someone dropped the ball, it is unprecedented to cancel such a high-profile dinner," said one member of the state executive committee. "Announcing the cancellation without even giving a notice to the committee is even worse."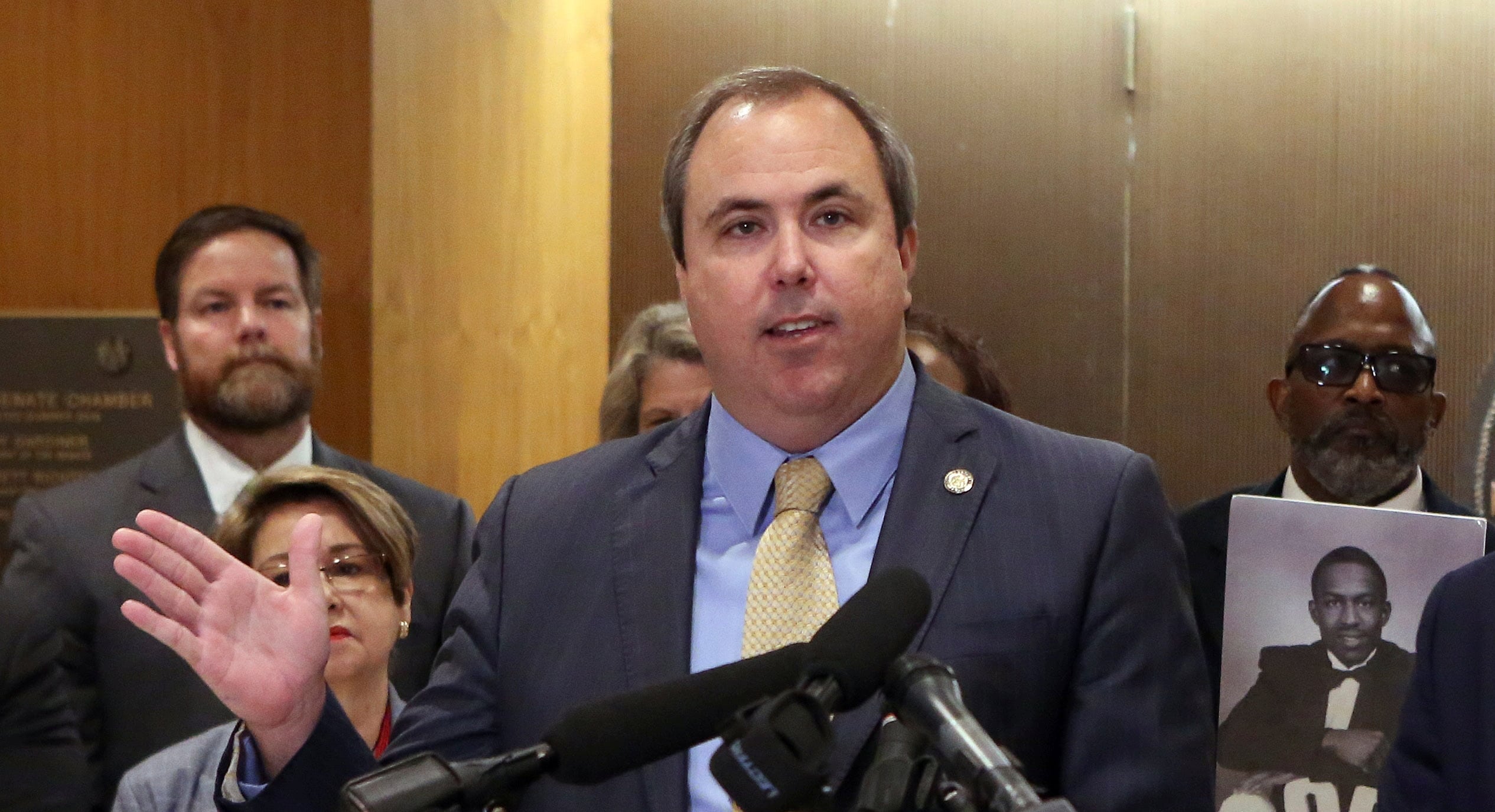 >>>Why did the Republican Party of Florida postpone its annual Statesman's Dinner less than two weeks ahead of time? Top party sources say Gov. DeSantis' desire to host President Donald Trump there played a huge role. Trump's schedule simply did not allow attendance. While party leaders felt content holding a Statesman's Dinner with a Florida figure like Sen. Marco Rubio keynoting, then host a Trump-led fundraiser later, the Governor's Office would not confirm DeSantis' attendance sans President. So officials on Monday finally decided to postpone. Chairman Gruters made phone calls to local party leaders into the evening Monday, assuring them the Dinner will happen before the end of 2019. He also downplayed reports of friction with new executive director Peter O'Rourke, who faced withering criticism in an Inspector General's Report about his time as Acting Veterans Affairs Secretary.
Sources close to Gruters worry DeSantis' unwillingness to confirm for the Statesman's Dinner undermined party leadership, though that may backfire as O'Rourke shares heat over the cancelation. Regardless, many party leaders say Gruters remains popular with the executive committee, which is willing to stick with him even if relations with the Governor's Office deteriorate.
— DATELINE: TALLY —
"Ron DeSantis criticizes minimum wage proposal" via Jim Turner of the News Service of Florida — DeSantis questioned a proposal to increase Florida's minimum wage through the constitutional amendment process, warning about effects on the restaurant industry. DeSantis focused on the minimum wage proposal as he railed against policy-oriented constitutional amendments that he said puts "handcuffs" on future legislation, as he opened an Associated Industries of Florida conference in Tallahassee. DeSantis, speaking in a closed-door meeting that his office streamed live on Facebook, pointed to part of the proposed minimum-wage amendment that would increase the amount of wages that restaurants would have to cover for tipped employees. He said it is "going to cause big, big upheavals for the restaurant industry. It just will."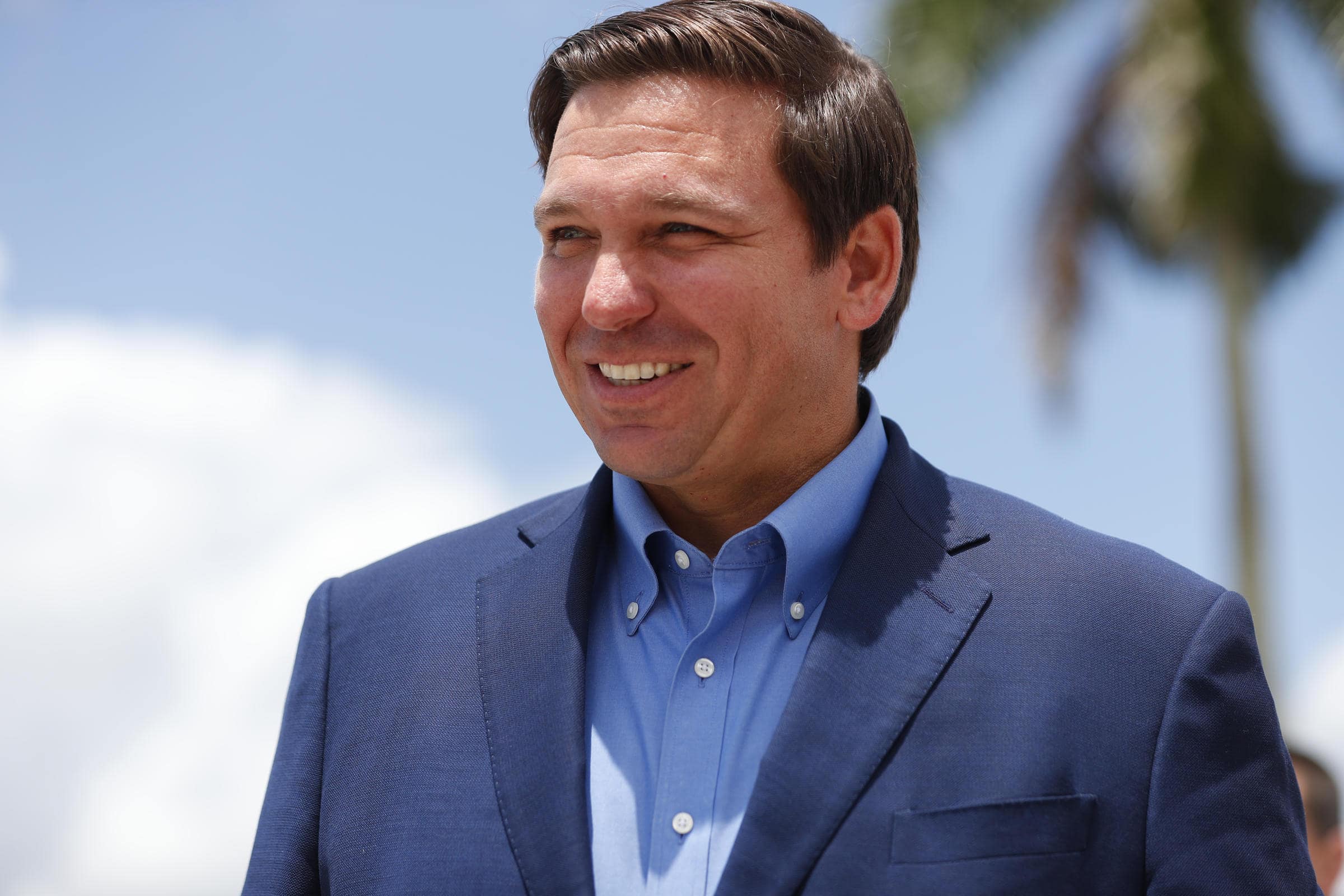 "Joe Gruters: Online sales tax a 'top priority' for 2020 Legislative Session" via Drew Wilson of Florida Politics — Sen. Gruters wants to make sure online retailers are collecting sales tax from Floridians. "This is my top priority, my number one goal [for the 2020 Legislative Session]," the Sarasota Republican said during a talk at the Florida Chamber of Commerce's Future of Florida Forum. In addition to being a lawmaker and Chair of the Republican Party of Florida, Gruters is an accountant. His professional experience has shown him how consequential online sales tax collections are to the state and Florida businesses. "It's $700 million a year, plus," said Gruters, who has already filed an online sales tax bill for the upcoming Legislative Session.
"Tyler Sirois joins Debbie Mayfield in seeking more state oversight of Virgin Trains" via Scott Powers of Florida Politics — State Sen. Mayfield has filed her 2020 attempt at bringing Virgin Trains' private, higher-speed passenger railroad under more state oversight; this time she's won the support of state Rep. Sirois, who filed a companion bill while maintaining he is a proponent of the train. Mayfield's Senate Bill 676 and Sirois' House Bill 465 would expand the Florida Department of Transportation's regulation and safety oversight of passenger trains in Florida. Both lawmakers say it addresses gaps in they see federal oversight that will be needed as Virgin Trains USA, also known as Brightline, moves to expand its private passenger rail system from South Florida up through the Treasure Coast and Space Coast and to Orlando.
"Charles Canady reelected as state's Chief Justice" via Florida Politics — Canady's colleagues on the Florida Supreme Court unanimously reelected him Chief Justice for another two-year term, according to a Monday news release. Starting July 1, 2020, the 65-year-old will serve a third term as head of the state's highest court, doubling as the chief administrative officer of the state court system. Canady has been on the Supreme Court since 2008.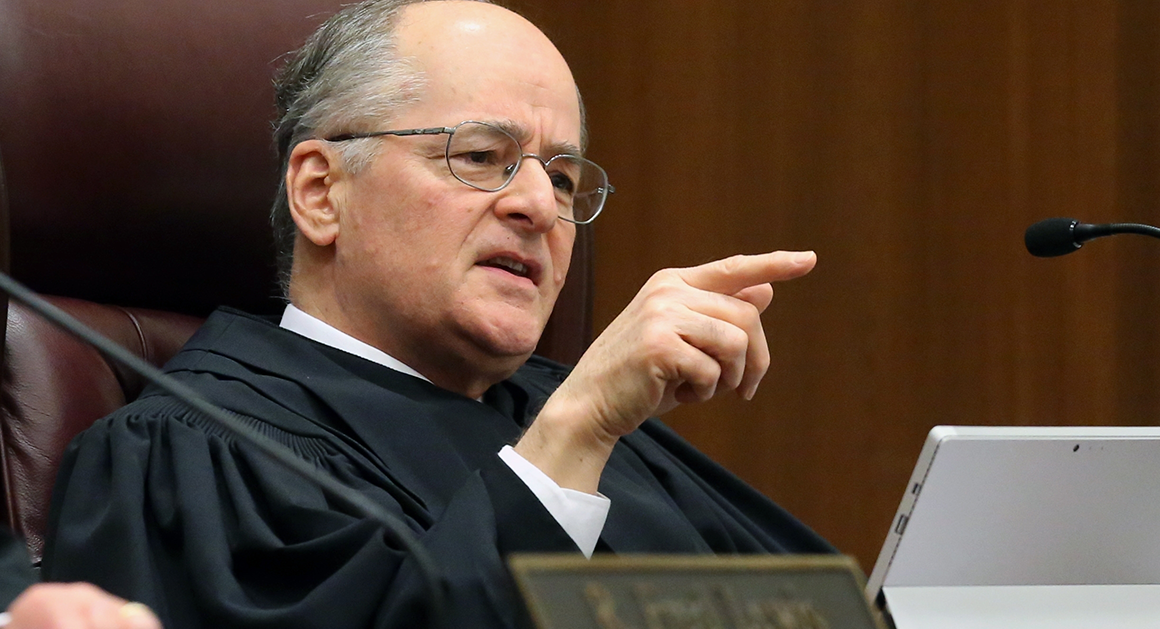 "José Javier Rodríguez files pair of bills to expand background checks" via Ryan Nicol of Florida Politics — Both bills from Rodríguez aim to ensure that those who purchase a gun go through a background check. Those checks are required when a gun is bought from a federally licensed dealer. But many private sales are not subject to background checks. One measure from Rodríguez (SB 548) would force private gun sales to go through those dealers, ensuring a background check is conducted. The second bill (SB 586) would limit private sales to concealed carry permit holders. Those permit holders are required to undergo a federal background check also part of the application process.
— IT'S AP DAY —
It's the day politics reporters, editorial writers, and other journos around the state treat like Christmas: AP Day at the Capitol. 
Every year before the annual Legislative Session, The Associated Press' Brendan Farrington pulls off the seemingly Sisyphean task of wrangling elected and appointed leaders in state government and getting them to speak before The Media. 
In years past, then-Gov. Rick Scott used the event to debut his proposed state budget for the next fiscal year. 
DeSantis didn't follow that lead when he appeared at his first AP Legislative Planning Session earlier this year — but we have fingers crossed he will this time. 
The others speaking Tuesday, in expected order, are: 
— Senate President Bill Galvano. 
— Agriculture Commissioner Fried.
— Chief Financial Officer Patronis. 
— Attorney General Moody.
— House Speaker José Oliva.
— Senate Democratic Leader Audrey Gibson. 
— House Democratic Leader Kionne McGhee. 
— Secretary of State Laurel Lee.
— ALSO HAPPENING T'DAY —
Assignment editors — The Florida Education Association Fund Our Future bus tour will make stops at two schools in Suwanee County. From 10-11 a.m., School Board member Jerry Taylor will join the tour group for visits to classrooms with the "reading pal" program at Suwannee Primary School, 1625 Walker Ave. SW, Live Oak. The band program will be the focus during a 12:30-2 p.m. visit to Suwannee High School, 1314 Pine Ave. SW, Live Oak. Later, the bus will be in Leon County, where student members of the FEA, who are studying to be teachers, will talk with the organization's officers, 5:30 p.m., the dean's conference room at the FAMU College of Education, 501 Orr Drive, GEC-A 300, Tallahassee.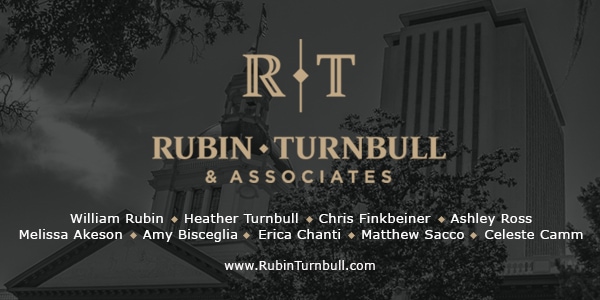 — STATEWIDE —
"Prescription drugs on the agenda as Jeanette Núñez meets with Canadians in Miami" via Michael Moline of Florida Phoenix — Núñez visited the Canadian consulate in Miami, where topics of the discussion likely included the DeSantis administration's plan to import cheaper pharmaceutical drugs available on the Canadian market. The consulate is among a number that Núñez has been visiting, DeSantis communications director Helen Aguirre Ferré said via email. "I am certain they will discuss issues of mutual interests, including prescription drugs," she said. DeSantis signed legislation authorizing the pharmaceuticals import scheme approved during the Legislature's spring Regular Session and has thumped the tub to promote the enterprise. Núñez had become a chief cheerleader for the import plan and attended the ceremony when DeSantis signed the legislation in June.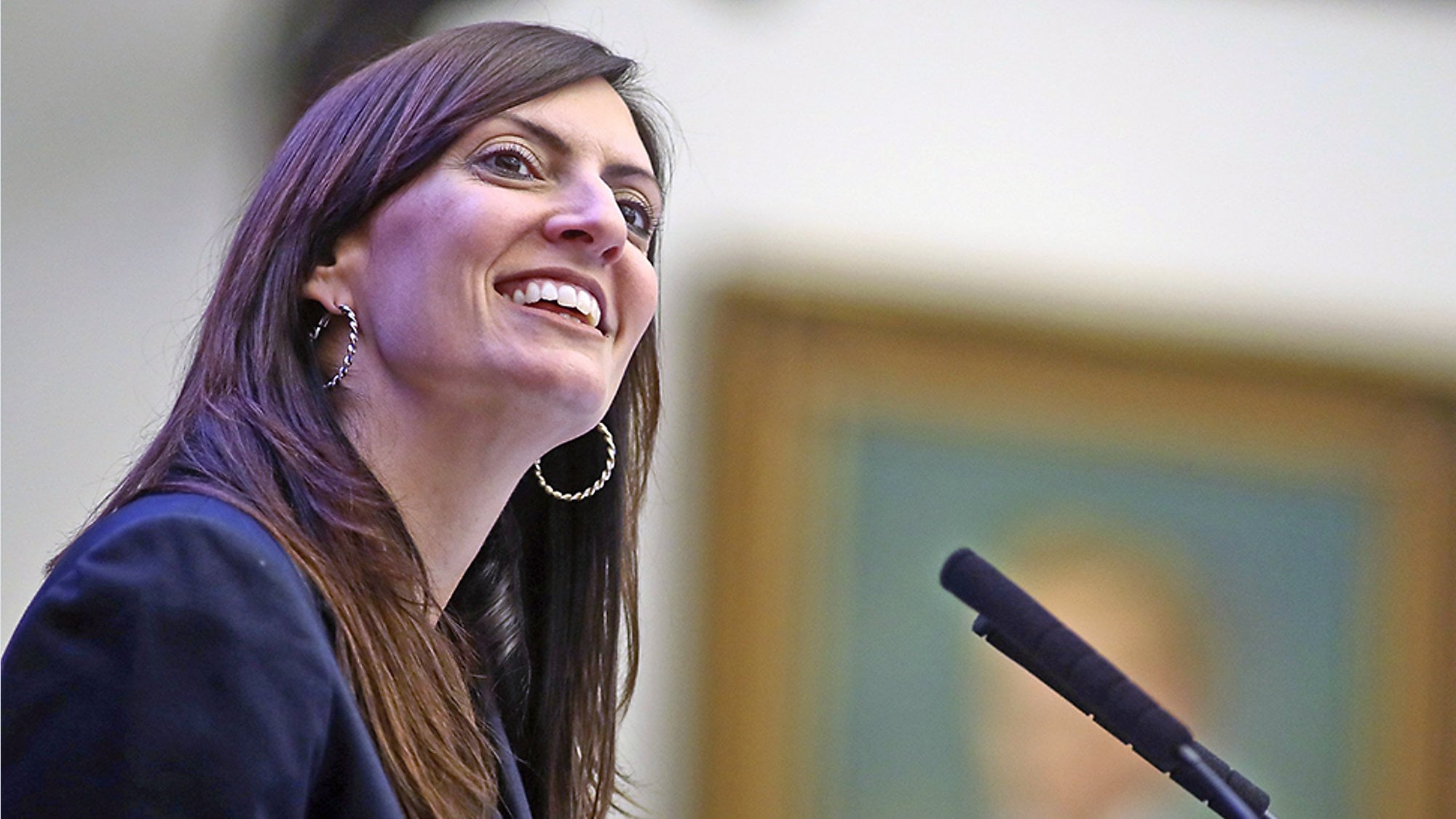 "Lawmakers say vaping disease is an emergency, but what will they do about it?" via Gray Rohrer of the Orlando Sentinel — "It's clear we have a sense of urgency, of immediacy because we know this is a public health crisis," said Rep. Colleen Burton, chair of the House Health Quality Subcommittee. The rise in vaping-related lung diseases is already leading to action. Attorney General Moody noted earlier this month she'll start an investigation of 20 e-cigarette companies into their marketing and selling practices. A House bill (HB 151) filed last month by Rep. Jackie Toledo would ban the sale of all tobacco products to those under 21 and ban the sale of all non-tobacco flavored vaping products. No bill has been filed yet in the Senate, but Senate President Galvano is eager to tackle the issue.
"A lawsuit to halt solitary confinement in Florida prisons just got a boost in court" via Ben Conarck of the Miami Herald — Across the country, a growing consensus of medical and mental health professionals have equated placing prisoners in solitary confinement to torture. In Florida, a group of civil rights groups suing to end the practice have measured rates of confinement in state prisons at twice the national average, including hundreds of people who have been in isolation for six to 20 years.
"Study shows UF contributed nearly $17B to state economy in 2017-18" via Ryan Nicol of Florida Politics — A study from the University of Florida found the school contributed $16.9 billion to the Florida economy during the 2017-18 fiscal year. According to the report, researchers looked at "data on employment, revenues, and expenditures associated with university operations, construction, health care services, and other component units, student spending, campus visitor spending, and technology licensing companies." They then combined that raw spending data "with regional economic models that capture the direct, indirect, and induced multiplier effects of economic activity in the region." In all, the study identified "$5.25 billion for university operations, $8.25 billion for direct-support organizations, $2.47 billion for technology licensing companies located in the state, $562 million for visitors, $277 million for student spending, and $94 million for construction."
— MOTHER NATURE —
"Dispute over FPL tax cuts, Irma costs dismissed" via the News Service of Florida — The state Office of Public Counsel, which represents consumers in utility issues, has dismissed a challenge to a Florida Power & Light plan to use federal tax savings to cover costs of restoring electricity after 2017's Hurricane Irma. The public counsel's office filed a notice of dismissal in an appeal it filed in July at the Florida Supreme Court. The appeal came after the state Public Service Commission signed off on the FPL plan. The dispute stemmed from damage caused by Hurricane Irma, which forced FPL to spend about $1.3 billion to restore electricity and rebuild systems.
"FWC: Florida black bears made such a successful comeback, it now must curb the population" via Ed Killer of the Tallahassee Democrat — Florida's black bear population has rebounded from 300 in the 1970s to over 4,000 today, and their numbers could swell to an estimated 11,000 by 2026. That raises concerns about increasing clashes between bears and people, whose numbers are expected to grow from 21 million today to 26 million by 2030. A showdown is inevitable, and the state's largest land mammal is losing that battle. "At some point, the number of bears will need to be addressed in some way," the Florida Fish and Wildlife Conservation Commission states in its FAQs about its black bear management plan. But how? The possibilities range from the benign — translocation, fertility control, and habitat manipulation — to the deadly — regulated hunting and contracted killings.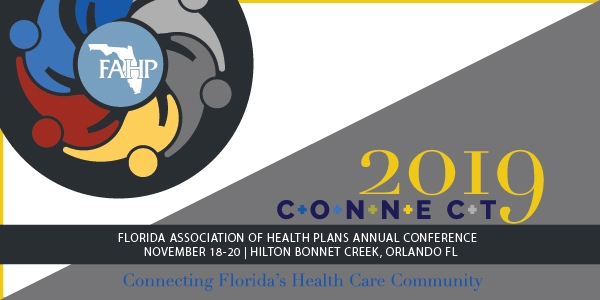 — PEACHY —
"House Democrats plan 1st formal vote on impeachment inquiry" via The Associated Press — House Speaker Nancy Pelosi says the step is being taken "to eliminate any doubt" about the process as the administration tries to block witnesses and withhold documents. In a letter to colleagues, Pelosi said the resolution would "affirm the ongoing, existing investigation" and lay out procedures for open hearings and the next steps going forward. She dismissed the White House's argument that impeachment isn't happening without a formal vote, saying that "of course, this argument has no merit." The Constitution doesn't require a vote to begin impeachment. But Trump and his Republican colleagues have cited the lack of one to say that the probe is not real.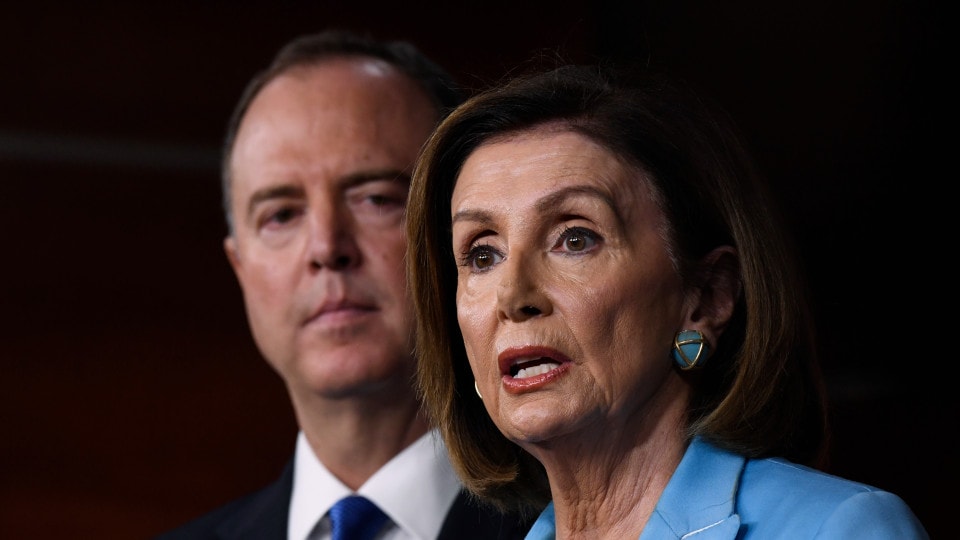 "Donald Trump makes 'very powerful case' for impeachment based on obstruction, Adam Schiff warns" via Kyle Cheney of POLITICO — Schiff also told reporters that Charles Kupperman — who skipped a deposition and is seeking a judge's ruling on whether he has to testify — may be held in contempt of Congress. "A private citizen cannot sue the Congress to avoid coming in when they are served a lawful subpoena," said Schiff, who is leading the impeachment inquiry. But more significantly, Schiff said Trump's direction that Kupperman ignore Congress' subpoena — along with other witnesses the White House has sought to block — has formed "a very powerful case against the president for obstruction, an article of impeachment based on obstruction."
"Army officer who heard Trump's Ukraine call reported concerns" via the New York Times — A White House national security official who is a decorated Iraq war veteran plans to tell House impeachment investigators on Tuesday that he heard President Trump appeal to Ukraine's president to investigate one of his leading political rivals, a request the aide considered so damaging to American interests that he reported it to a superior. Lt. Col. Alexander S. Vindman of the Army, the top Ukraine expert on the National Security Council, twice registered internal objections about how Mr. Trump and his inner circle were treating Ukraine, out of what he called a "sense of duty," he plans to tell the inquiry, according to a draft of his opening statement obtained by The New York Times.
— D.C. MATTERS —
"League of Women Voters joins call for Florida census effort" via Scott Powers of Florida Politics — The league wrote to DeSantis urging him to name a "complete count committee" to oversee Florida's 2020 population count under the U.S. Census Bureau and to set money aside to assist the effort. The league noted that California is spending $100 million and the city of New York, $40,000, as examples of how much is at stake and how much other places are willing to commit to getting the fullest count possible. Democratic state Sen. Bobby Powell of West Palm Beach has filed Senate Bill 614, do so. The league's call joins those of Florida Tax Watch and numerous cities and counties around the state.
Fresh off embargo — Americans for Prosperity calls out lawmakers for 'outrageous waste of money' — For Halloween, AFP presented each member of Congress with a horror movie poster urging them to oppose the reauthorization of the Export-Import Bank and the renewal of the so-called "tax extenders." As part of the multimillion-dollar effort to "Unrig the Economy" and "level the playing field for every American to succeed," the group is also launching a digital video and ads in Washington, D.C., and across targeted states. "Cronyism is a terrifying practice that picks winners and losers. Sunshine State lawmakers are known for leading the charge against corporate welfare, so we're hoping Florida's Congressional delegation comes together and shut down the Export-Import Bank and 'zombie' tax-extenders," says AFP-Florida State Director Skylar Zander.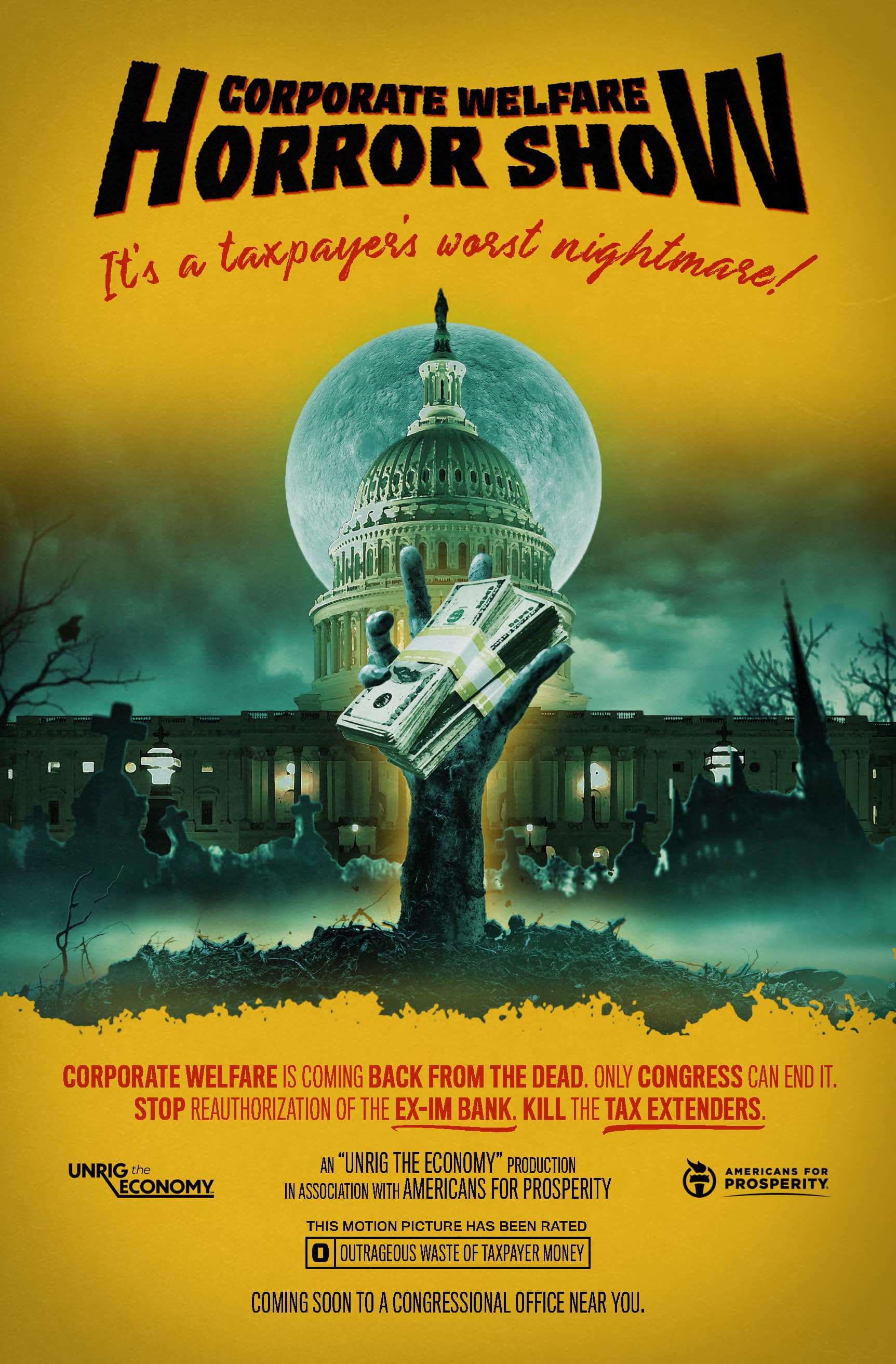 "Lawsuit rejected over DNC tilt toward Hillary Clinton" via Jim Saunders of the News Service of Florida — A three-judge panel of the 11th U.S. Circuit Court of Appeals rejected a lawsuit filed by some Democratic donors and Bernie Sanders supporters that alleged wrongdoing by the Democratic National Committee and former Democratic National Chairwoman Debbie Wasserman Schultz during the 2016 presidential primary process. Boiled down, the lawsuit alleged that "during the 2016 Democratic presidential primaries, the DNC and Ms. Wasserman Schultz improperly tipped the scales in favor of former Secretary of State Clinton, who was challenging Sen. Sanders for the Democratic presidential nomination," the ruling said. The appeals court rejected the lawsuit on a variety of grounds, including plaintiffs not having standing or not meeting legal tests to back up the claims.
"Change.org petition seeks expulsion of Matt Gaetz from Congress" via Jim Thompson of the NWF Daily News — Tens of thousands of people have signed a Change.org petition seeking to have Rep. Gaetz expelled from Congress. The petition contends Gaetz, who represents Northwest Florida, has "utter disdain for … the rule of law." Responding to the Change.org petition, Gaetz called it "part of a broader strategy from the radical left. We see it applied to President Trump and to me. They can't beat us at the ballot box so they do all they can to subvert the will of the people. Sad!"
"Migrant children go to Florida shelters" via Ana Ceballos of the News Service of Florida — When the federal government suddenly emptied a South Florida detention center for migrant children in August, it was unclear exactly where more than 1,000 children had gone. Federal officials said only that the children who had been staying at the controversial Homestead center were released to sponsors or transferred to state-licensed facilities. But 48 of the children were sent to two Florida-licensed facilities, one in Miami Gardens and one in Lake Worth, which is the only state-approved shelter that exclusively cares for migrant teen girls, according to DaMonica Smith, a spokeswoman for the state Department of Children and Families. The state conducted several checks on both facilities this year.
"HHS to shutter Homestead detention center, a victory for immigration activists" via Alex Daugherty and Monique Madan of the Miami Herald — Caliburn, the contractor that operates the facility on land owned by the Department of Labor, will not have its federal contract renewed when it expires on Nov. 30 — though it will be placed into "warm status," which means HHS will retain access to Homestead and can reopen the facility. The remaining staff members at Homestead will be released in the next five to seven days, and the facility's bed capacity will be reduced to zero, according to the email.
Exclusive — "Federal complaint filed over Ileana Ros-Lehtinen's Disney, South Beach spending" via Noah Prensky of Florida Politics — The complaint was filed with the Federal Election Commission (FEC) by the nonpartisan Campaign Legal Center after Florida Politics report revealed in June that after Ros-Lehtinen of Miami stopped campaigning in 2017, she used the leftover campaign funds from her 30-year congressional career to pay for cellphones, meals, and expensive trips to resorts, including Disney World's Boardwalk Inn and the Ritz-Carlton on Amelia Island. Lawmakers are not allowed to benefit from campaign donations personally. "Campaign contributions are supposed to be used to support a candidate's run for office, not for family trips and high-end travel," said Brendan Fischer, Director of Federal Reforms at the Campaign Legal Center (CLC).
— 2020 —
"Joe Biden joins Elizabeth Warren, Bernie Sanders with Super Tuesday focus" via Bill Barrow of The Associated Press — The former vice president is hiring a top national campaign aide to focus on March 3 Super Tuesday primaries, along with state-based directors in California and Massachusetts and a senior adviser for Florida. Sens. Warren and Sanders have made significant investments already in Super Tuesday. But the Biden campaign believes his current coalition of support is more racially and geographically diverse than his opponents' and will boost his delegate haul on Super Tuesday and in the primaries that follow. The early jockeying in states that fall later in the primary calendar underscores how much of a delegate-by-delegate fight Democrats could end up having well after the first four nominating states.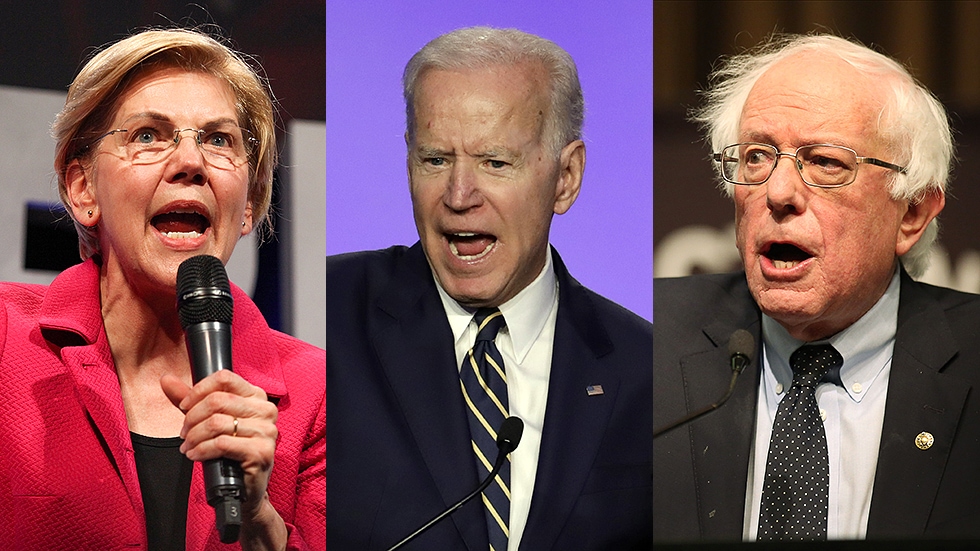 "Biden names Jackie Lee of Orlando as senior adviser in Florida" via Steven Lemongello of the Orlando Sentinel — Lee, a founding partner of JLee Strategies in Orlando, had previously served on the Florida leadership team for former President Barack Obama's campaigns in 2008 and 2012. "From prominent state legislators to statewide figures to distinguished community leaders, Vice President Joe Biden has earned the support of Floridians from across the state, and I am honored today to officially become a part of Team Joe," Lee said in a statement. "Sunshine Staters know that Joe will fight to protect their health care, ensure everybody can be a part of the middle class, and restore the soul of the nation. Florida is a crucial state in this primary — and one that Joe Biden can and will win."
"Biden in Windermere: Donald Trump 'has no idea what he's talking about'" via Stephen Lemongello of the Orlando Sentinel — Biden decried Trump as someone "who has no idea what he's talking about" on foreign policy and criticized his Democratic rivals' Medicare for All proposals at a surprise fundraiser in Windermere At the home of Orlando attorney Mark NeJame and his wife, Josie, Biden spoke before the crowd of about 80 supporters. Biden called the 2020 election "the most important election, no matter how old any of you are. Not because I'm running, but because of the man who occupies the White House. We have never seen his like before. … He's a charlatan who has done what charlatans in the past have done, divide the American people."
"The unexpected threat emerging against Bernie Sanders: Andrew Yang" via Eugene Daniels and Holly Otterbein of POLITICO — Though Sanders and Yang differ in significant ways, they're both running anti-establishment campaigns that speak to an electorate frustrated with the status quo, wary of Democratic insiders, and looking for economic help. For Sanders, their overlapping bases may give him a small boost if Yang drops out of the race down the road or if he works to woo the so-called #YangGang. But it's also a potential threat to Sanders even if Yang continues polling in the single digits. If Yang shaves off a few percentage points from Sanders' voting bloc, particularly in early primary states such as New Hampshire, that could turn a second- or third-place finish into something worse.

— THE TRAIL —
"Orange Co. Republicans net $60K+ from fundraiser featuring Matt Gaetz" via Scott Powers of Florida Politics — The Orange County Republican Party raised more than $100,000 and netted more than $60,000 from its "Trump Defender Gala and 2019 Annual Lincoln Day Dinner" fundraiser Saturday night that featured a keynote speech from Gaetz. The Orange County Republican Executive committee also noted it received a donation, through a $1,100 reserved campaign table and a full-page ad in the program, from Orlando City Commissioner Sam Ings, a Democrat who is running for Orlando Mayor in the Nov. 5, nonpartisan election. Ings joined the gala. There are no Republicans in the three-way Orlando mayoral election, which features incumbent Mayor Buddy Dyer seeking a fifth full term.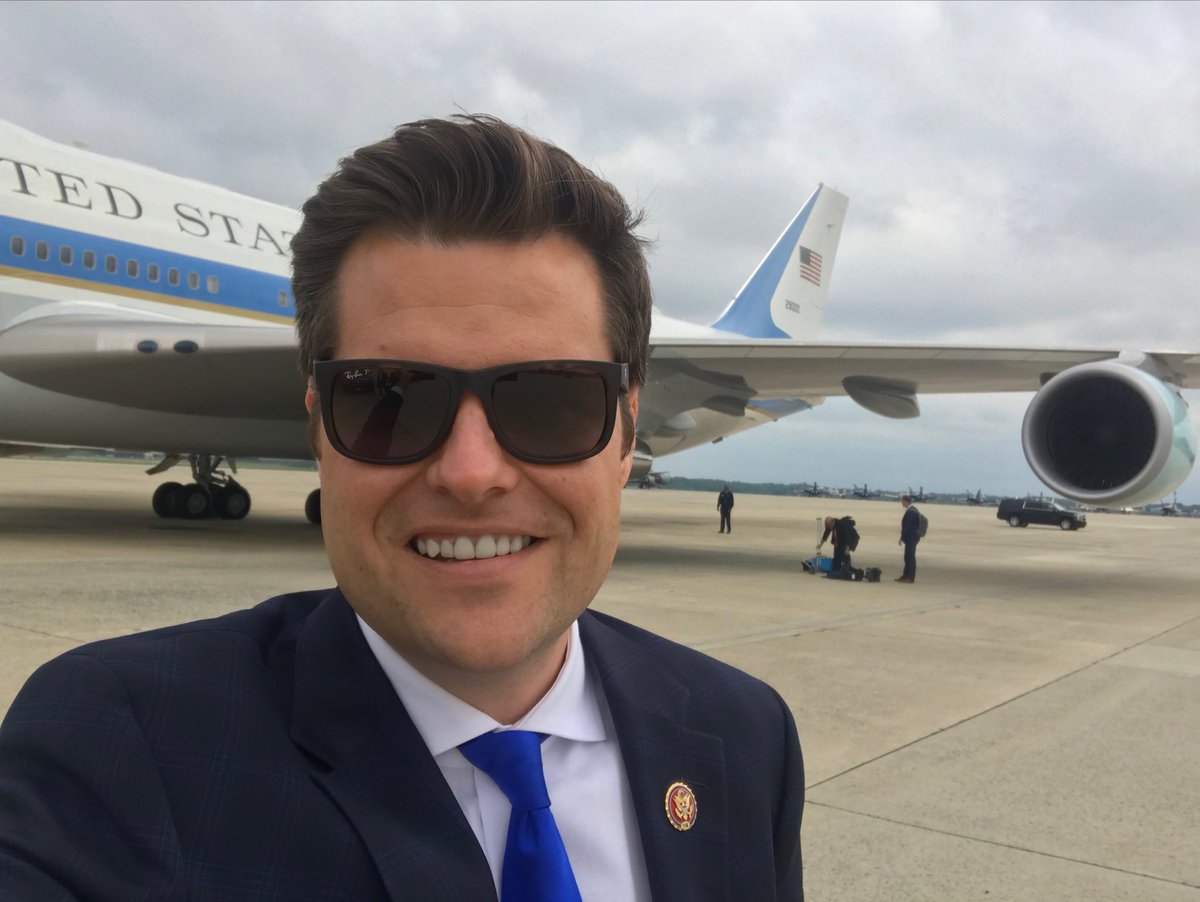 Bradford Sheriff endorses Judson Sapp for Congress — Sapp, a Republican, has earned the endorsement of Bradford County Sheriff Gordon Smith in his bid for Florida's 3rd Congressional District. "Judson Sapp is a successful businessman and solid conservative. Our country needs strong leaders to stand up for our President, our Constitution, and our values. Judson Sapp will fight for us, and I'm proud to support him to be our next Congressman," Smith said. Sapp is running for the seat currently held by Republican U.S. Rep. Ted Yoho, who hasn't indicated whether he'll run for a fifth term in 2020. Sapp challenged Yoho in the North Central Florida district last year but took less than a quarter of the vote in a two-way race against Yoho.
Exclusive — "Lizbeth Benacquisto the early leader with CD 19 Republicans" via Peter Schorsch of Florida Politics — With U.S. Rep. Francis Rooney retiring, there's an open race for Florida's 19th Congressional District. Several Republicans have expressed interest in running for the Southwest Florida seat. According to a new survey from St. Pete Polls, state Sen. Benacquisto is the early favorite with 24 percent support, though she fell behind "unsure," which took 27 percent in the early poll. Former state Rep. Matt Caldwell was the second-place candidate with 17 percent support, followed by Rep. Dane Eagle with just under 10 percent, Rep. Byron Donalds with 5 percent and Reps. Heather Fitzenhagen and Bob Rommel, with about 2 percent each.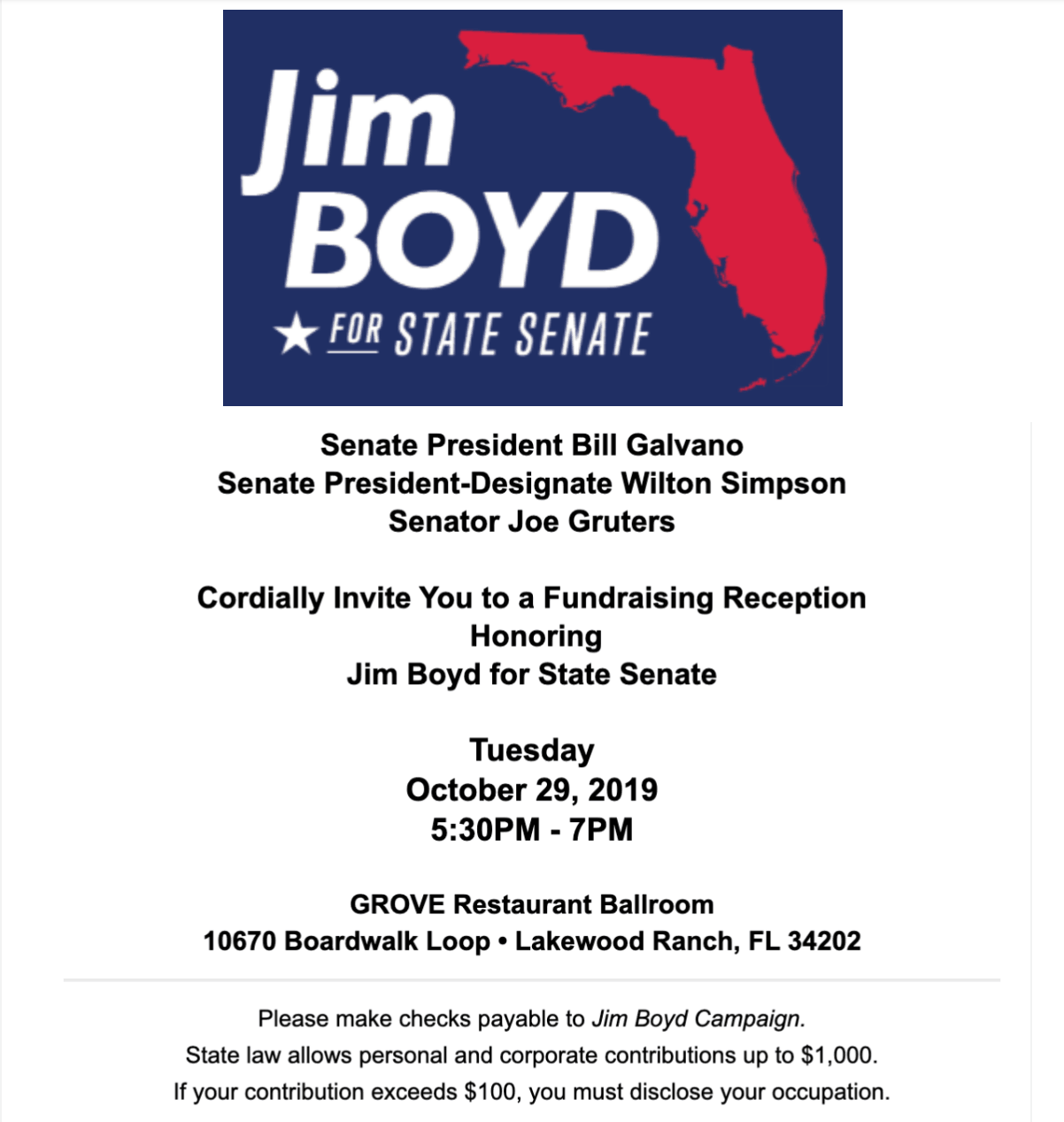 "Former Broward School Board candidate Elijah Manley mulls HD 94 run" via Ryan Nicol of Florida Politics — Manley, who ran for a seat on the Broward County School Board in 2018 at the age of 19, says he's "exploring" a run to challenge Rep. Bobby DuBose in House District 94. "This is a difficult decision to explore, but it is well worth the exploration," Manley said. "I believe that the people of District 94 deserve a representative who will fight for their interests. District 94 residents want Medicare for All, investment in infrastructure, a fighter for our students, tuition-free college education, and a bold leader on climate change. I'm committed to not taking corporate money, because I want to achieve those bold policies with people's power."
"Javier Estevez to formally kick off HD 105 campaign in Naples" via Ryan Nicol of Florida Politics — Estevez is formally launching his 2020 campaign in Collier County with a Wednesday evening event at Bambusa Bar & Grill. This is the second straight cycle Estevez will compete for the HD 105 seat. He narrowly defeated Ross Hancock in the 2018 Democratic primary and went on to barely lose out in a razor-thin general election. Current Rep. Ana Maria Rodriguez defeated after Estevez by a 50.4 percent to 49.6 percent margin — a difference of just 417 votes. But Estevez won't have Rodriguez to contend with this time around. She's seeking the Senate District 39 seat, making the HD 105 contest an open race once again.
"Tomi Lahren and Duck Dynasty: Fox Nation's Patriot Awards hit St. Pete" via Jay Cridlin of the Tampa Bay Times — Tomi Lahren! Diamond and Silk! Fox and Friends! John Rich! Duane "Dog the Bounty Hunter" Chapman! Duck Dynasty! They're all coming to St. Petersburg next week for the Patriot Awards, a new awards show "celebrating modern-day patriotism," its website states, "by honoring individuals across the country who have shown steadfast dedication to our nation, and the patriotic values we hold dear." The event — created by Fox Nation, the Fox News website spun into a subscription streaming service last year — will take place Nov. 6 at the Mahaffey Theater. It'll be streamed live on Fox Nation then shaped into a prime-time special for Fox News later that month.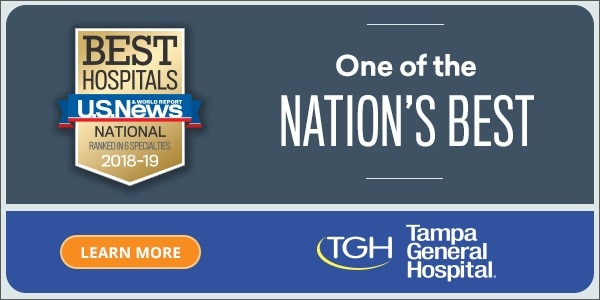 — LOCAL —
"Rev. Bryan Fulwider kills himself — 'Friends Talking Faith' co-host had been accused of raping girl" via Grace Toohey of the Orlando Sentinel —  Fulwider, a former Winter Park minister who was recently arrested on charges that he repeatedly raped a teenage girl while he was her pastor, was found dead Sunday evening at his Altamonte Springs home where he had killed himself, according to police.
"Trump 2020 Flagler Ave. brick controversy shelves NSB sidewalk program" via Mark Harper of the Daytona Beach News-Journal — The Flagler Avenue Business Association has suspended its "Personalize a Brick" program to write new guidelines. The program, which has been in place for at least three decades, allows residents and visitors to purchase the bricks that comprise the sidewalks along the shops, bars, restaurants and hotels of Flagler Avenue. After New Smyrna resident Afien Casey bought a brick with the phrases "TRUMP 2020" and "DRAIN SWAMP," a social-media outcry developed over a brick containing political messages. The debate led to the association pulling the brick out of the sidewalk on Sept. 5, only to then put it back 10 days later — when faced with a potential legal challenge.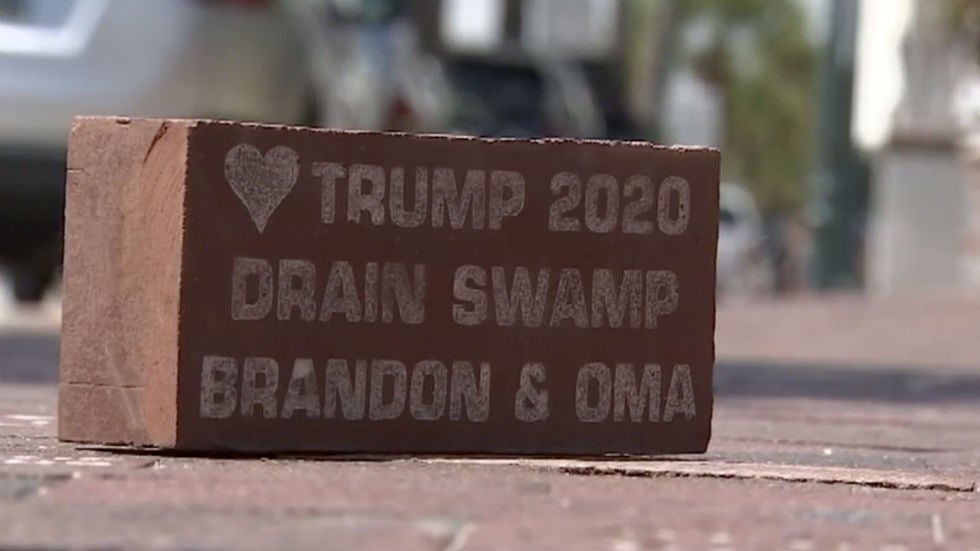 "Hotel boom means more rooms, more variety for tourists and business travelers in Palm Beach County" via David Lyons of the South Florida Sun-Sentinel — Business and leisure travelers who visit Palm Beach County have a growing number of choices in new hotels that are just coming online, and older ones that have undergone makeovers. Amid the arrivals of the high-speed Brightline train service, a new convention center hotel, and the emergence of condo and apartment high rises in downtown West Palm Beach; hotel projects are sprouting in multiple locations around the county. Currently, more than a dozen projects with nearly 2,000 rooms are under construction with anticipated completion dates ranging from late this year to 2021, according to Discover The Palm Beaches Florida, the county's tourism marketing arm.
"Port Tampa Bay will test new security scanners. No stopping to empty pockets." via Caitlin Johnson of the Tampa Bay Times — Liberty Defense Holdings created HEXWAVE, which uses low-power, radar imaging and artificial intelligence to detect and identify weapons. The company has been developing the technology since 2018 and is ready to test it in 11 locations nationwide, CEO Bill Riker said. Similar to a metal detector, the system requires people to walk through portals one at a time as they are scanned. But unlike their more common counterpart, these scanners can detect both metal and nonmetal items and use artificial intelligence to identify almost instantly what the item is and where it's located. People can walk through as they are, without pausing to empty their pockets or take off their shoes.
"Virgin Trains moving closer to station in Cocoa, leaning toward Stuart" via Joshua Solomon of TC Palm — On the Space and Treasure coasts, stations still may be several years away, but early indications point to a station in Cocoa and a Treasure Coast station in either Fort Pierce or Stuart, which appears to be the leading candidate. Cocoa is slated to have its own Virgin Trains station at one of two potential locations, officials told USA Today Network-Florida. No deal has been signed, but Brevard County officials feel confident it will have the Space Coast's station there, in part, because Virgin Trains, formerly Brightline, already owns the land at one of the proposed station sites.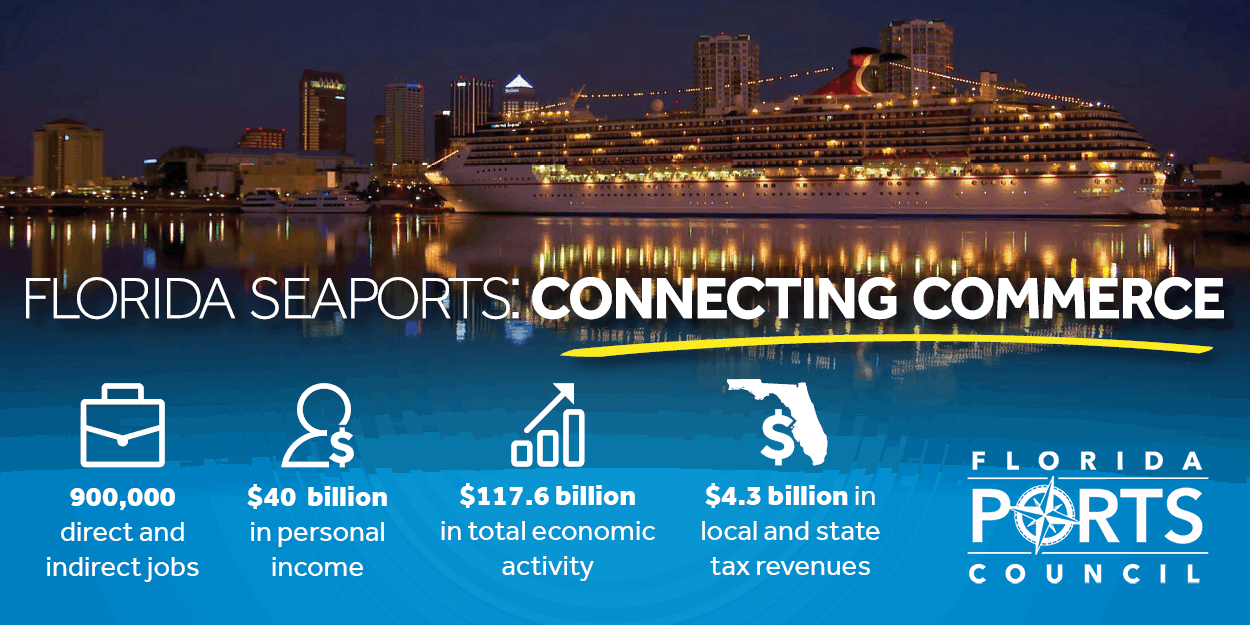 — MORE LOCAL —
"Town ban on plastic straws begins Dec. 12" via Adriana Delgado of the Palm Beach Post — Customers will no longer see plastic straws and stirrers used in commercial establishments or public sites. A new law, which effectively prohibits the use of single-use plastic straws and stirrers "being sold or distributed in the Town of Palm Beach," will go into effect on Dec. 12.
"Should Pinellas County pay $740,000 for this? Auditor concerned about a 'windfall' profit" via Susan Taylor Martin of the Tampa Bay Times — For years, Wood Acres had a reputation as one of the roughest mobile home parks in Pinellas County. So, county officials were pleased this year when a nonprofit company bought the park with plans to demolish the aged trailers and replace them with new manufactured homes with affordable rents. But Pinellas Clerk of Court and county auditor Ken Burke has declined to release payment, citing several "questions and issues" about the transaction. Among them: The nonprofit paid $300,000 for the property. It deeded it to a related for-profit company that wants to sell it to the county for nearly $740,000 — a 146 percent profit.
"City Commission, employees back city manager as Jeremy Matlow calls on Reese Goad to resign" via Karl Etters of the Tallahassee Democrat — The Tallahassee City Commission's discussion on ethics reform was derailed early on as at least 100 municipal employees showed up at City Hall to support City Manager Goad. For almost two hours, when public comment was supposed to be directed at a city ethics ordinance, a fiery performance review for Goad by City Commissioner Matlow was the main topic. Traditionally, speakers at public workshops can only speak on items on the agenda. When the ethics meeting began, a parade of speakers took the podium to offer their support of Goad. Matlow acknowledged he was standing alone, but reiterated his concern as he asked that Goad step down and called for an audit of the City Manager's Office.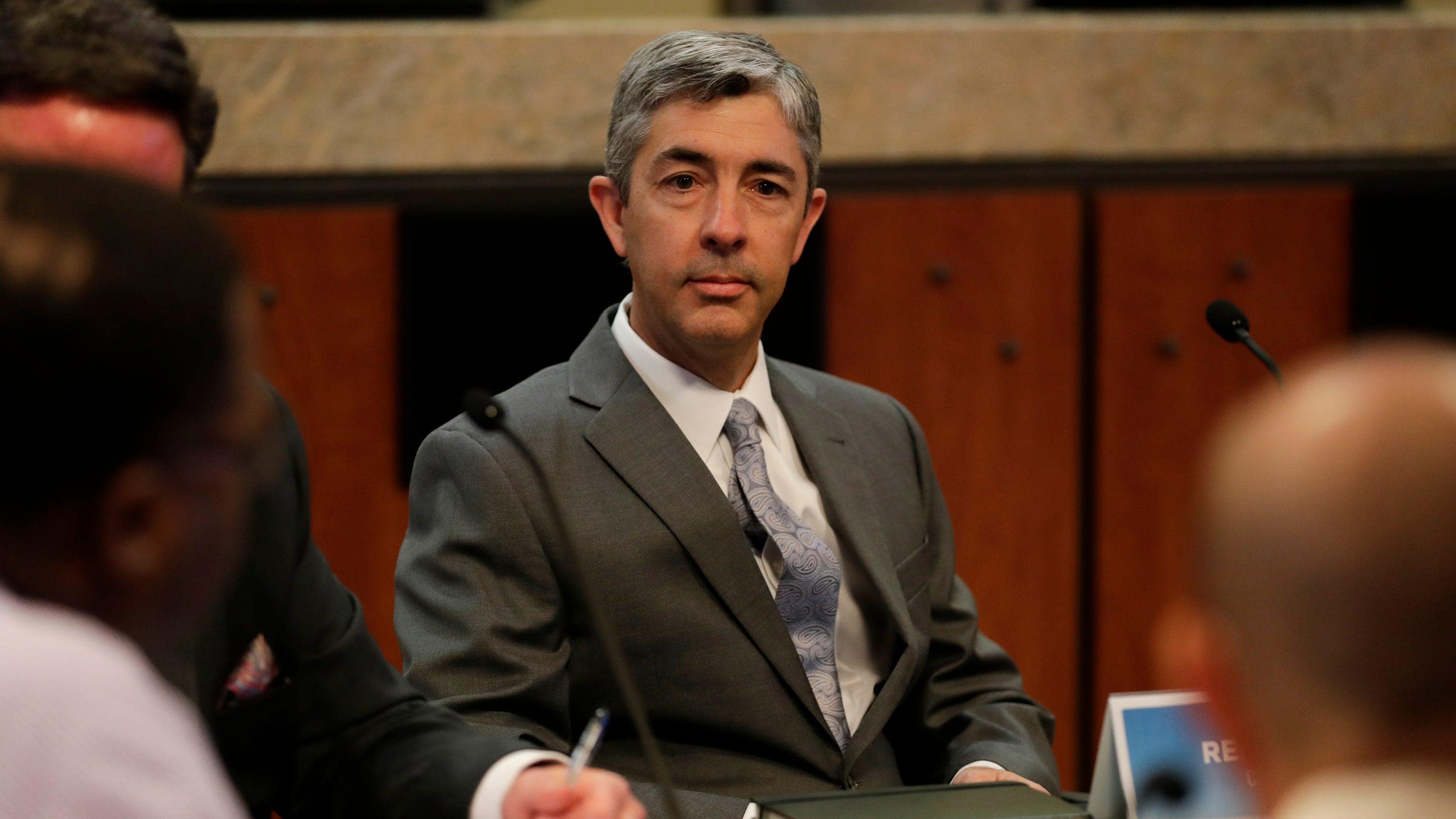 "Sarasota schools to fire Jeff Maultsby following harassment report" via Ryan McKinnon of the Sarasota Herald-Tribune — Sarasota County Schools Superintendent Todd Bowden announced plans to fire his top deputy, Chief Operations Officer Maultsby, following an investigation into allegations he sexually harassed a subordinate that was completed this month. Maultsby, who had been the chief operations officer since July 2018, had been accused of sexually harassing Cheraina Bonner, his administrative assistant, for several months. Bonner said Maultsby texted her constantly and made inappropriate comments both at work and in personal messages. "After reviewing the entirety of the text messages exchanged between Maultsby and Bonner … it is clear Mr. Maultsby behaved inappropriately, and his actions are unbefitting of a school district employee," Bowden said in a statement.
"Florida man attacked after jumping on shark while surfing" via Joe Mario Pederson of the Orlando Sentinel — A 27-year-old man was attacked by a shark that he accidentally jumped on in New Smyrna Beach, according to Volusia County Beach Safety. The unidentified man was surfing and decided to jump off his board and into the water, said Av Jenkins, deputy chief of operations. The bad timing coincided with a shark that just happened to be swimming nearby. The surfer sustained minor lacerations and was treated on scene, Jenkins said.
"Orlando Magic's downtown entertainment district grows to $500 million-plus" via Laura Kinsler of the Orlando Sentinel — The Orlando Magic has filed an updated master plan for its downtown Orlando Sports + Entertainment District that's expected to more than double the original $200 million project budget. Magic Senior Vice President Joel Glass told GrowthSpotter that the mixed-use district will be built starting next year on 8.4 acres across from Amway Center. It will now cost "well over $500 million," he said.
What Erin Isaac is reading — Click here.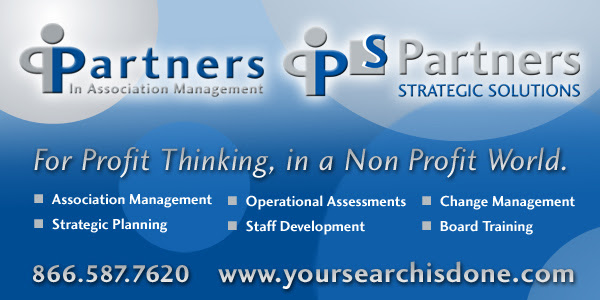 — OPINIONS —
"Is David Rivera plotting yet another a comeback?" via Florida Politics — The one-term former congressman couldn't even clinch a victory in the Republican primary for his 2012 reelection bid. He didn't even trap 10 percent of the vote, coming in fourth place in the five-way race won by Carlos Curbelo. If winning by a few points in Florida is a mandate, what's it say when a politician loses by 40 points in a primary election for a seat they already hold? Rivera still hasn't learned his lesson, according to several lobbyists and political operatives. The only thing that has changed over the past year: He has hitched his political future to Rhonda Rebman-Lopez, one of three Republicans running to replace term-limited Rep. Holly Raschein in House District 120.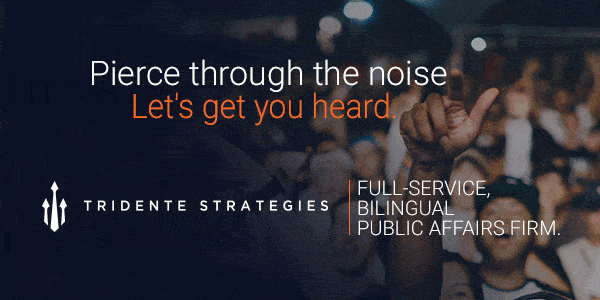 — MOVEMENTS —
"Personnel note: Mitch Perry joins Bay News 9 as politics reporter" via Janelle Irwin Taylor of Florida Politics — Former Florida Politics reporter Perry is back in the Tampa Bay media market, returning as a political reporter for Spectrum Bay News 9. He returns after a more than one-year stint with The Florida Phoenix, a progressive-leaning state government news site where he reported from the state capital. Before that, Perry was a Tampa government and politics reporter for Florida Politics and its predecessor, SaintPetersBlog. He also previously served as a reporter and the assistant news and public affairs director for WMNF Community Radio, where he covered local politics, civil rights, disenfranchised groups, and other progressive topics both online and on-air.
— ALOE —
"The man behind the name: How Florida-Georgia became the World's Largest Outdoor Cocktail Party" via Will Sammon of The Athletic — Florida linebacker David Reese didn't grow up attending Florida-Georgia games, didn't know much about the rivalry as a youngster. But it didn't take him long to learn one thing about playing against the Bulldogs in Jacksonville. "Just being a part of it," Reese said, "it's the biggest cocktail party." That's not exactly the right word, but you know what Reese was talking about because everyone knows what Reese was talking about. Florida beat Georgia, 7-6, on Nov. 8, 1958, in a game that is never listed among the most memorable in one of college football's best all-time rivalry series. Not much about what happened during that game is worth retelling. Only what happened afterward is.
"What 'Saturday Night Live' got horribly wrong" via Dean Obeidallah of CNN — The cold open for this week's show, which depicted Trump at a rally in New Mexico, got it wrong in several major ways. First, "SNL" slammed Trump supporters — painting them, collectively speaking, as complete buffoons. That depiction furthers the right's long-standing claim that the entertainment industry has contempt for conservatives. Second, "SNL" positioned Trump as the responsible person, who was a voice of reason, trying to rein in his supporters' worst instincts. Nothing could be further from the truth. "SNL" even mocked "Bikers for Trump" as being dimwitted people who do nothing but ride their motorcycles, with a leather vest clad biker, played by Mikey Day, declaring that riding is "kinda the only thing we do."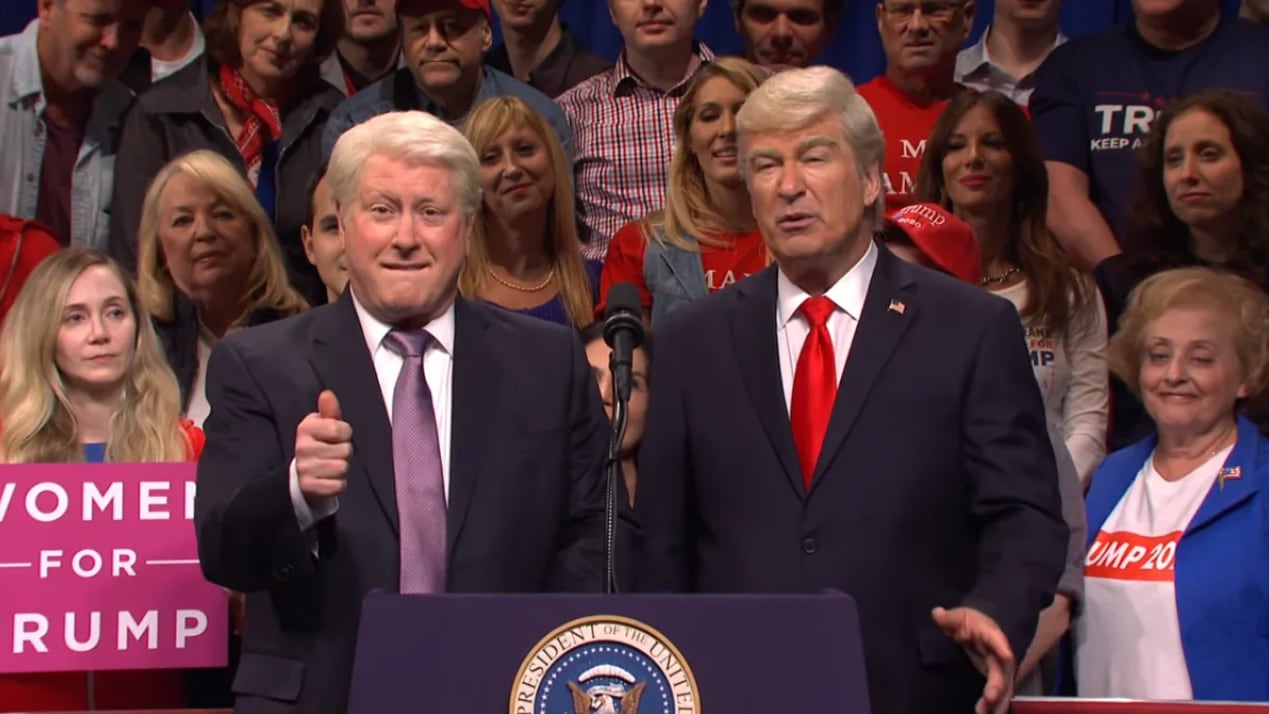 "Apple announces new AirPods Pro in time for holidays" via Marisa Fernandez of Axios — Apple revealed the newest version of its AirPods, with noise-canceling technology and silicon ends, will be available Oct. 30. Apple's iPhone event in September appeared to show signs of slowing smartphone innovation. But accessories like the AirPods had success last year during the holiday season, and the company is betting once again that consumers will choose iPhone accessories in December. The headphones are priced at $249, almost $100 more than the original AirPods model.
— HAPPY BIRTHDAY —
Best wishes to state Reps. Melony Bell and George Moraitis, Kristen Bridges of Bascom Communications & Consulting, Rivers Buford III, Anthony Pardal, and Caroline Rowland of the Florida Democratic Party.
___
Sunburn is authored and assembled by Peter Schorsch, Phil Ammann, Jim Rosica, and Drew Wilson.