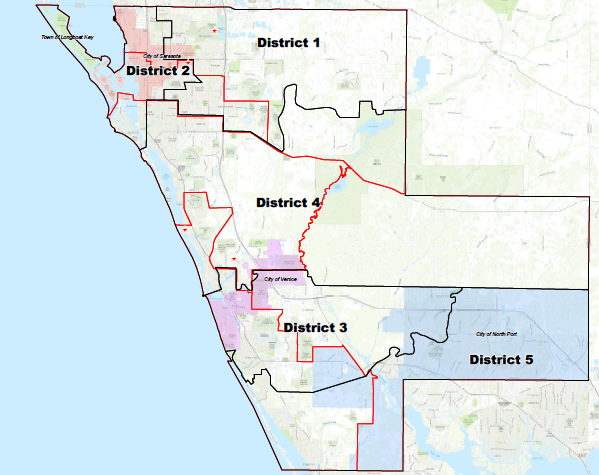 And the county may redistrict again ahead of the 2022 elections.
Sarasota County Commissioners advertised two redistricting maps as they prepare to redraw their political boundaries ahead of the 2020 U.S. Census.
One was drawn by a consultant and based on data called unreliable by the researcher who produced them.
The other is based on a sketch from a prominent Republican leader and turns what's now a Democrat-leaning district into a GOP area.
"We've done what we need to do," said Commissioner Mike Moran, whose District 1 would become much safer under the latter proposal.
The controversial redistricting process has been decried as an effort for the all Republican-commission to get around a switch to single-member districts. Sarasota voters last year approved changing from at-large elections to electing commissioners only in the district in which they live.
Sarasota County Commissioner Christian Ziegler remained the staunchest opponent to the process. He was particularly critical of a map drawn by Republican kingmaker Bob Waechter and submitted anonymously under the name "Adam Smith."
The Herald-Tribune identified Waechter as the submitter based on information in the back-end of the newspaper's commenting technology.
After submitting the map, consultant Kurt Spitzer, who prepared three other maps for the county to consider, made adjustments to make the proposal legally defensible.
That adjusted map drew praise from three of five commissioners—Moran, Nancy Detert and Alan Maio—and there was discussion of only advertising that option.
But ultimately, commissioners said they would still have to hold a public hearing in November to decide whether to follow through with redistricting at all, so it would not streamline the process to winnow down to a single option now.
Commissioner Charles Hines has remained supportive of redistricting to balance population counts in districts ahead of the first election where voters can only vote for one commissioner. But he was critical of the map based on Waechter's submission because it had a greater deviation in population than any option designed by Spitzer.
The proposal would turn Moran's seat into a majority Republican district, but make Ziegler's district a Democratic one by shifting the black community in Newtown to a new jurisdiction. If that goes forward, those voters won't be able to vote until 2022.
Also, former Sarasota Mayor Fredd Atkins, who had already filed for Moran's seat, would no longer be able to run.
Ziegler has said the county will need to redistrict before the 2022 election anyway because U.S. Census figures will become available.