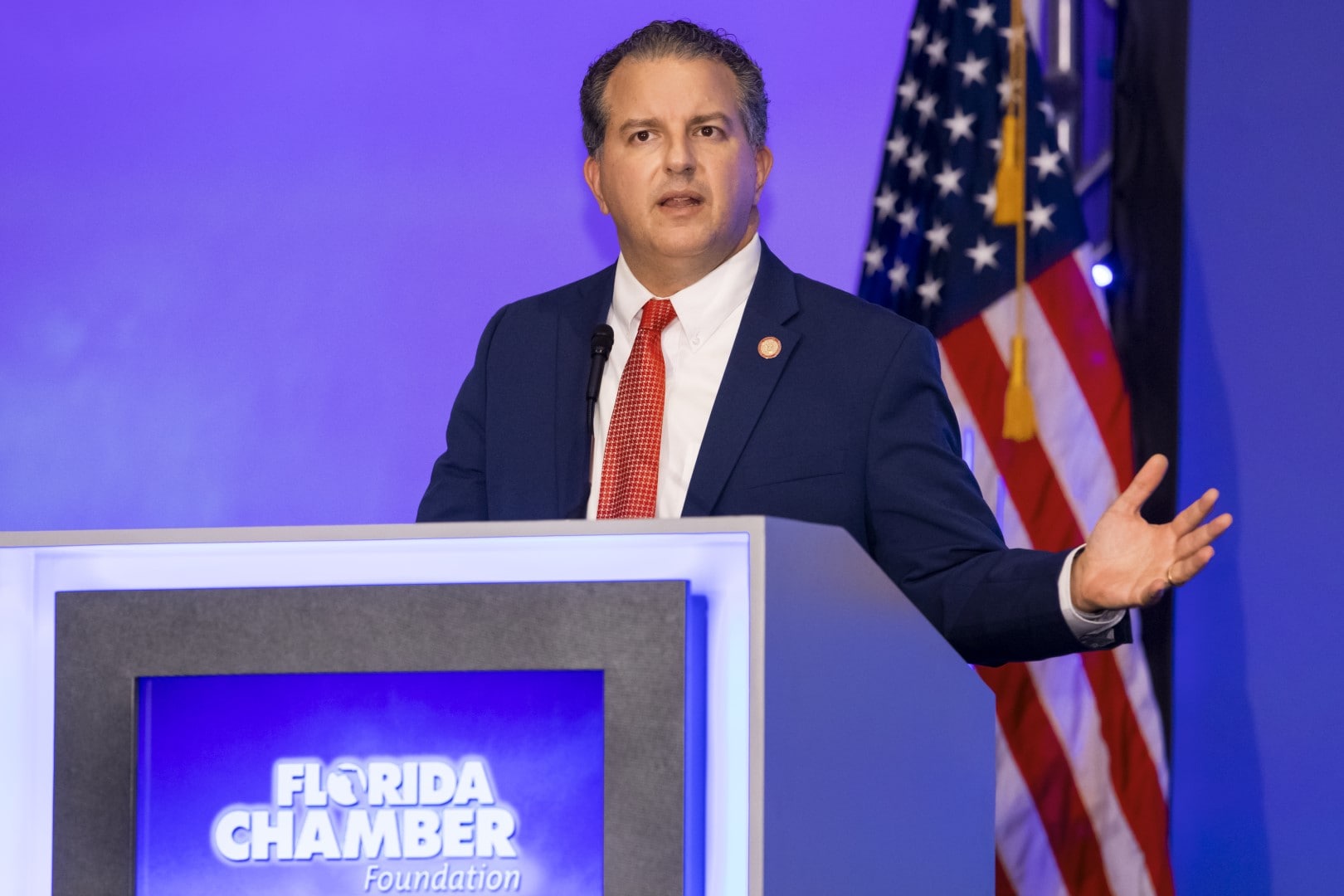 Patronis said he won't be happy until 100 percent of Hurricane Michael insurance claims are paid.
Florida CFO Jimmy Patronis said he won't be happy until 100 percent of Hurricane Michael insurance claims are paid.
On Monday, Patronis spoke to Florida Chamber of Commerce Insurance Summit attendees about the struggles of Panhandle residents still recovering from Hurricane Michael.
The Panama City native described the resiliency of the region's residents with an anecdote of a resident who kept showing up to work despite the not knowing whether the hotel he was living out of would be able to keep housing him.
"The people of North Florida, they don't complain. They really don't," he said.
But thousands of Northwest Florida residents are still waiting on insurance claims to come through more than a year after the category 5 storm made landfall.
At The Associated Press' Legislative Planning Session last week, Patronis was grilled over those still-open claims. He didn't face questions during his Monday talk, but he did hit many of the same notes as last week.
"148,000 insurance claims, over $7 billion in damages — huge numbers. Again the critics are saying why are there any claims open," Patronis said Monday. "86 percent of these claims are closed, but I won't be a happy camper until 100 percent are closed. I don't want these people being hit twice by the storm.
What's left?
"We're looking at still about 16,000 open claims from Hurricane Michael, 9,000 of which are reopened claims," he said, adding that 3,000 of those claims were held up due to homeowners signing assignment of benefits agreements.
Patronis reiterated that his priority for the 2020 Legislative Session is passing legislation to limit the number of insurance adjusters assigned to each claim.
Another failure in the days after Hurricane Michael: the cell service blackout.
"Verizon dominates Northwest Florida. They have 85 percent market share," he said, noting some Verizon customers were without service for 11 days after the storm.
Still, Patronis said there are signs that a full recovery is nearing.
On his flight to Miami Monday, Patronis sat next to a service industry representative who told him his sales were up 20 percent.
"People are spending money," he said.