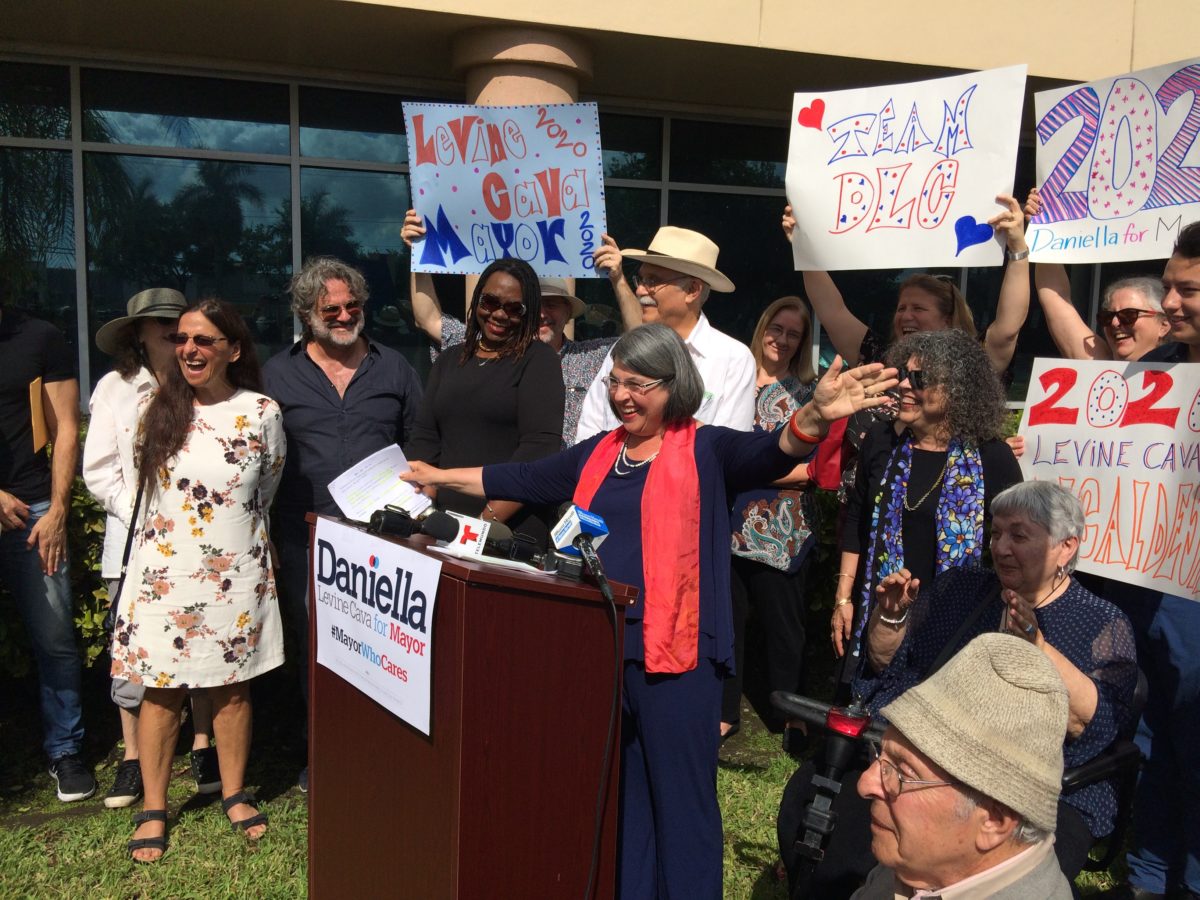 Levine Cava is one of eight candidates competing in the 2020 contest.
State Sen. Oscar Braynon II and state Rep. Nick Duran are headlining a new round of endorsements for Miami-Dade Commissioner Daniella Levine Cava as she continues her run for County Mayor in 2020.
"Daniella Levine Cava embodies what it means to be a champion of every day people and I am proud to endorse and support her campaign for Miami-Dade County Mayor," Braynon said in a statement Thursday.
"We need more leaders like her helping solve the real challenges too many families face today. She will be an excellent Mayor and an effective partner for local communities."
Duran also added remarks explaining his decision to support Levine Cava.
"I've known and worked with Daniella Levine Cava for years and have seen her compassion and commitment to helping our community — both as a nonprofit advocate and now as a county commissioner," Duran said.
"She has proven to be forceful leader with a commitment to problem-solving and always taking on the tough issues. This is exactly why she will be an excellent Mayor of Miami-Dade County and why I proudly endorse her campaign."
Thursday's round of endorsements — which also include former state Rep. Annie Betancourt, Miami-Dade Commissioner Eileen Higgins and Cutler Bay Councilman B.J. Duncan — add to a list of Levine Cava backers that already includes U.S. Rep. Debbie Mucarsel-Powell of Florida's 26th Congressional District and state Sen. Annette Taddeo.
"I am excited to support Commissioner Levine Cava's candidacy for Mayor of Miami-Dade County," Duncan said.
"The prospect of having a Mayor from Southern Miami-Dade, an often neglected and ignored part of the County, fills me with hope that our priorities will no longer take a back seat to the rest of the County. Daniella has vigorously fought to expand rail to Southern Miami-Dade, and has placed an emphasis on protecting our environment and ecosystem — priorities that the Town of Cutler Bay shares."
The Levine Cava campaign dropped news of the endorsements on the same day former Miami-Dade Mayor Alex Penelas announced he raised more than $850,000 in his first month as a candidate in the 2020 mayoral race.
That numbers Levine Cava's haul from May through September — a period of five months — combined. She had previously been the only candidate in the race keeping up with Penelas in money totals as he brought in donations to his political committee, Bold Vision, before formally entering the race.
Rounding out the new set of endorsements for Levine Cava are Miami-Dade County School Board Member Larry Feldman, Aventura Commissioners Gladys Mezrahi and Howard Weinberg, Miami Shores Councilman Sean Brady and Surfside Commissioner Tina Paul.
"I am proud and humbled to have the trust and support of leaders in our community who have a staunch record of doing best by residents," Levine Cava said in response to the endorsements.
"That's what this campaign is about — restoring the American promise in Miami-Dade, the promise that our local democracy will put its people's interests first and will take bold actions that give everyone an equal and fair shot to succeed. I have been a coalition-builder my whole life, and I am proud of this group of partners who are ready to go the-extra-mile to make Miami-Dade the world-class community that we deserve."
Other candidates competing in the contest include entrepreneur Monique Nicole Barley, current County Commissioners Esteban Bovo, Jean Monestime and Xavier Suarez, former Miami mayoral candidate Robert Burke, and former County Commissioner Juan Zapata.