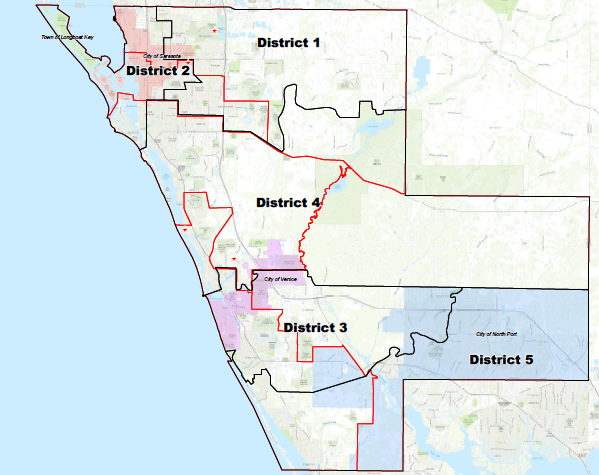 Consultant Kurt Spitzer based the approved map on one submitted by Bob Waechter.
Sarasota County Commissioners rejected a new district map originated by a professional consultant. Instead, the board through a 3-2 vote approved a controversial proposal based on a submission by a longtime political operative and convicted criminal.
"What I'm looking at is something compact, that keeps contiguous communities of interest together, and is as close to a balance as possible," said County Commissioner Nancy Detert.
The former state Senator joined with a majority of commissioners in favor of a proposal based on one submitted by Robert Waechter, a former Republican Party of Sarasota chairman who in 2013 pleaded guilty to making campaign contributions to a Democrat in a political rival's name.
But Detert and other commissioners were quick to note it wasn't Waechter's map, which he anonymously submitted under the name of famed economist Adam Smith, that was ultimately approved. Rather, the commission voted in favor of a map by consultant Kurt Spitzer based on Waechter's proposal.
Spitzer said Waechter's original submission had a population deviation between largest and smallest districts of 23%. He made a map based on the proposal that was legally defensible.
County Commissioner Christian Ziegler, though, said the map was flawed and sure to draw the attention of lawyers. He voted against it and voiced concerns the Sarasota Democratic Party, NAACP and ACLU will join together to file a lawsuit challenging the map.
"That map has a lot of issues we are going to find out about," he said.
Notably, the map moved the historically black Newtown community in North Sarasota from Commissioner Michael Moran's District 1 into Ziegler's District 2. With the move, it converts Moran's Democratic-leaning district Republican and the one represented by Ziegler, vice chair of the Republican Party of Florida, into a Democratic one.
The new map also draws Fredd Atkins, the Democrat already filed to run against Moran, out of the district.
The all-Republican County Commission made clear the entire, highly criticized redistricting process is a reaction to Sarasota County voters in 2018 approving a switch to single-member district voting. That means instead of voters countywide electing all five commissioners, they will now vote only for the commissioner in their own district.
"It was determined we must begin this process and must do in odd-numbered years," Moran said.
But critics have said commissioners should not redistrict at all, and instead wait until after the 2020 Census, when commissioners will be required to review population counts and adjust as necessary to keep districts balanced.
Before the Waechter map was proposed, Ziegler, who has opposed redistricting at all, did make a motion for commissioners to approve a different map. Spitzer developed three proposals based on the existing County Commission maps, one of which was advertised as a potential district map ahead of Tuesday's hearing.
Ziegler said he thought that map seemed a good compromise if commissioners truly felt the need to balance district populations ahead of the 2018 election.
Commissioner Charles Hines voted with Ziegler in favor of that map. But a majority of commissioners rejected it.