Happy Sunday! Counting today, there are seven days left before the start of Hanukah and ten days left before Christmas.
ICYMI:
— LSU quarterback Joe Burrow wins Heisman Trophy by historic voting margin.
— Junior running back Cam Akers of Florida State will enter the 2020 NFL draft and won't play in the Seminoles' Sun Bowl game on Dec. 31 against Arizona State.
— Tiger Woods and the U.S. team rallied to win the Presidents Cup again.
— No one again matched all six numbers in the Mega Millions, meaning the next drawing on Tuesday will have a $372 million jackpot!
— Here's #FlaPol's Winner and Loser of the Week in Florida Politics for the week of December 9.
This is the last edition of "Brunch" for 2019. This email will return the first Sunday of the 2020 Legislative Session.
— GALVANO ON OLIVA —
Senate President Bill Galvano previewed the 2020 Session with Florida Politics, including discussing his productive relationship with House Speaker José Oliva.
—Are things good?: "The relationship is great. We have developed a friendship over many years. We are both very candid with one another. And where we have different perspectives, we work very hard to resolve them. I think last Session was an example of how that relationship and civil, respectful discourse between presiding officers and chambers can yield tremendous productivity."
—Room for improvement?: "There are things you learn in the course of one Session that you bring into the next Session, certainly. But for the most part, there was a relationship going in … we've tackled some big issues together. Chaired redistricting, he and I both were the sponsors of the Parkland legislation, the first example in a long time of the two Chambers coming together and rolling out a singular proposal in a very complex, very short time. We're off to a good start in these committee weeks."
—Expect boldness: "We both are interested in having a solid budget with reserves and not trying to get ahead of ourselves with a plan for the future and that's very helpful when we look at issues like the environment or education issues. I'm optimistic, but we have a high bar from last Session, and we're going to do everything we can to be bold and get even higher."
— BRUNCH BONUS PIC —
Great shot of President Galvano and his staff.
— BRANDES GETS AV PROPS —
Axios gave Jeff Brandes some well-earned recognition for his work as the "ambitious state Senator" guiding Florida to become a leader in the Autonomous Vehicle industry.
— Hotbed: With its "mild weather, unique demographics and lenient laws," Florida has become a "hotbed" for self-driving cars, thanks to Brandes' championship.
— A TED Talk: In 2011, Brandes was searching for an issue he could get behind when he found a 2010 TED Talk by Stanford AI expert Sebastian Thrun, then-head of Google's nascent driverless car project.
— Florida rising: By 2012, the St. Petersburg Republican and former platoon leader in the Iraq War, helped push an AV policy through the Florida legislature — the second state to do so, behind Nevada.
— Proactive: Brandes co-sponsored a law enacted in June that makes it even more attractive for companies to test and deploy AVs in the state. Under the law, a fully autonomous vehicle can operate without a human safety driver, if the company has $1 million in insurance.
— Floodgates opening: Now, Florida's AV-friendly environment — thanks to Brandes — has opened a floodgate of activity, including the second phase of construction on SunTrax, a 475-acre AV testing facility near Orlando.
— FOR YOUR RADAR —
To adopt or not to adopt? That is the bill.
—What's up: Rep. Josie Tomkow wants to make it easier for foster parents and temporary guardians to adopt kids who have been bounced around in the foster system.
— Here's how: Tomkow plans to file a bill that would prioritize what's best for kids, not just their parents. It would strengthen communication between foster parents or caregivers and biological parents and block parents from making inappropriate threats. The bill would also provide judicial training and better enforcement of reunification plans. Kids whose parents aren't taking the steps required to maintain or regain custody could more easily lose their parental rights.
— Friends in high places: Incoming Senate President Wilton Simpson plans to sponsor legislation in the Senate.
— The latest: Tomkow is fine-tuning bill language with stakeholders. She's also looking into including language to protect kids from bad foster parents, perhaps by increasing recruitment efforts for good ones.
— Why: Tomkow's grandparents were foster parents and lost two children to what she describes as parents who were "monsters." Tomkow's bill seeks to address problems with kids who spend their entire lives bouncing in and out of the foster system by providing better avenues to a permanent, loving family.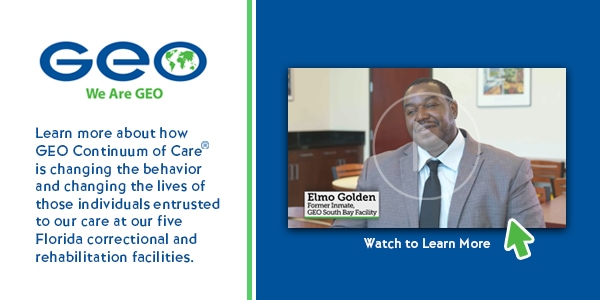 — SPOTTED —
At this week's legislative Christmas party at the Governor's Mansion: State Sens. Bill Galvano, Aaron Bean, Rob Bradley, Audrey Gibson, Ed Hooper, and Wilton Simpson; state Reps. Vance Aloupis, Dane Eagle, Mike La Rosa, MaryLynn Magar, Emily Slosberg (with her father, former Rep. Irv Slosberg), Jennifer Sullivan and Clay Yarborough; Jose 'Pepe' Diaz, Chief of Staff Shane Strum, Director of Legislative Affairs Stephanie Kopelousos, Deputy Chief Of Staff Adrian Lukis, former Rep. Mike Miller, Director of Policy Chris Spencer and DEP Secretary Noah Valenstein.
— SESSION SKED —
As long-standing tradition, the 2020 Legislative Session will begin with the Florida Senate and House gathering in their respective Chambers Jan. 14 ahead of Gov. Ron DeSantis' annual State of the State speech.
— Pre-speech meetings. The posted schedule shows Senators will meet at 9:30 a.m., with the House meeting at 10 a.m.
— Come together. Senate and House members then convene at 11 a.m. in the House Chambers for DeSantis' address, which is the official opening of Session.
— May the fun begin. Barring any problems, the 60-day Session will sine die March 13.
— Warm-up. Online scheduling shows the week of Jan. 14 to be a sort of warm-up, with no regular floor Sessions planned for either the Senate or House in the opening week. The Senate has its first floor Session scheduled for Jan. 22 (during the second week). However, lawmakers will be busy, as there will be dozens of committee and subcommittee meetings during that week in both the Senate and House.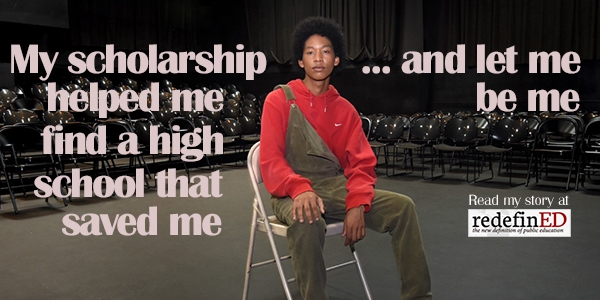 — HAPPENING MONDAY —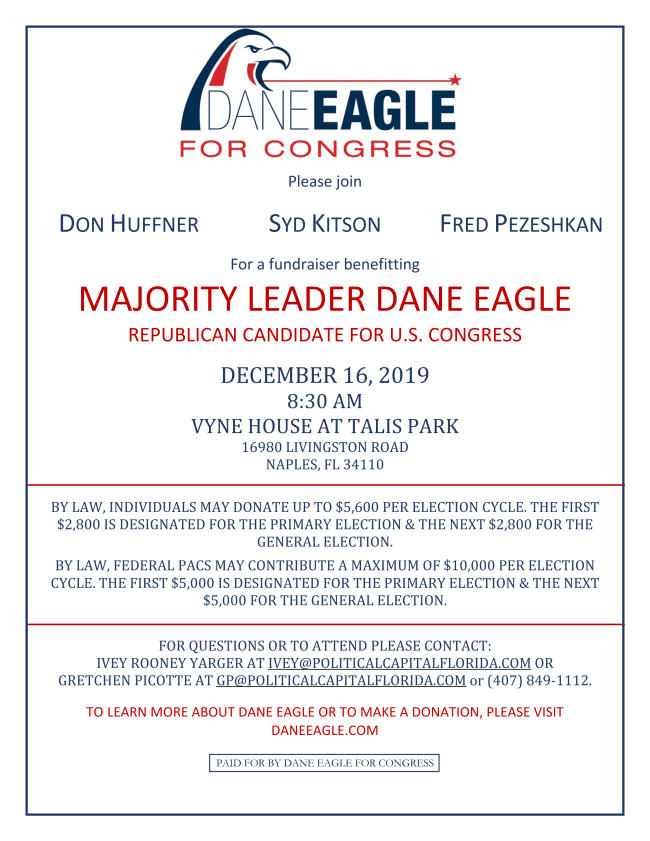 — WAR CHEST —
Orange Park city lawyer Sam Garrison continues making all the right moves ahead of what is expected to be a cakewalk election in Clay County's House District 19.
— Big committee check. Garrison's "Honest Leadership" political committee raised $28,000 in November. Of that, $25,000 came from "First Coast Conservatives," the political committee of incumbent Rep. Travis Cummings. Garrison will represent the next generation of a pipeline of Clay talent, which includes Sen. Rob Bradley.
—Hard money comes easy. November wasn't Garrison's strongest fundraising month, with just $8,300 raised. Nevertheless, the candidate raised nearly $180,000 to date, a good head start indeed for a run against a third-party candidate and with no primary challenge.
—Fourth-best fundraising in the state. As On3 Public Relations notes, Garrison's hard money was among the best for House candidates in the 2020 cycle. Allison Tant, former Florida Democratic Party chair, is the only new candidate who does better. Anticipate Garrison's name will be in the leadership discussion sooner than later, especially if his fundraising continues to shine.

,
— A HOLIDAY TO REMEMBER FOR TSG —
The Southern Group used its 20th-anniversary holiday party to recognize the lifetime achievements of former Florida Attorney General Jim Smith, who is serving as a TSG partner.
— A deep friendship. TSG founder Paul Bradshaw took time to share his more than 25-year friendship with Jim — reminiscing about the early days of the two traveling across the state during his first run for Governor, how Jim officiated his wedding to Sally Bradshaw, and the honor of having Jim join The Southern Group as a partner.
— A big salute. The reception, hosted at the home of Chris and Susanne Dudley, was attended not only by the firm partners but some of the most important people in the lives of Smith, including FSU President John Thrasher and First Lady Jean Thrasher, state Sen. Tom Lee and Secretary of State Laurel Lee.
— High-profile guest list. On hand for the festivities were a virtual who's who of Tallahassee's most powerful: State Sen. Bill Montford, State Rep. Jamie Grant, lobbyist Fred Baggett, former Rep. (and current Senate candidate) Jim Boyd, former Secretary of State Ken Detzner, Ken Van Assenderp and Virginia Wetherell.
— A life well-lived. Jim reminisced of his life with his amazing wife, Carole — from serving as an Army tank commander, lawyer, two-term Attorney General, two-term Secretary of State, and candidate for Governor.
— Retirement? What retirement? While the reception was ostensibly a "Retirement for Jim Smith," TSG partners knew full well they would still see Jim around the office, dispensing sage advice and counsel — and keeping him on speed dial.
—FARM SHARE —
This feel-good moment brought to you by Mike Fasano.
— The holiday spirit: Pasco County Tax Collector Mike Fasano partners with local elected officials, farmers and private businesses to provide holiday meals and everyday food supplies to more than 600 families in need through his annual Farm Share Holiday Food Giveaway.
— The helpers: Fasano, Pasco County Supervisor of Elections Brian Corley, Property Appraiser Gary Joiner, Sheriff Chris Nocco and Sen. Ed Hooper and Reps. Ardian Zika and Amber Mariano.
— The feast: Every family received a ham, potatoes, fresh produce, canned tuna, nonperishable canned food including peas, corn and beans, macaroni and cheese, cereal, rice and other donated or purchased items.
— That's a lot of food: Local farmers provided between 20,000 and 25,000 pounds of fresh produce.
— This isn't his first time spreading some holiday cheer: Since 1991, the charity has donated more 500 million pounds of food to families throughout the state. Fasano started the program when he served in the Legislature and continued it six years ago when he was elected tax collector.
— Toys too: Pasco County residents Scott Grant and his wife purchased hundreds of toys to hand out to kids as their families waited for food. They dress as Santa and Mrs. Claus to add to the Christmas cheer.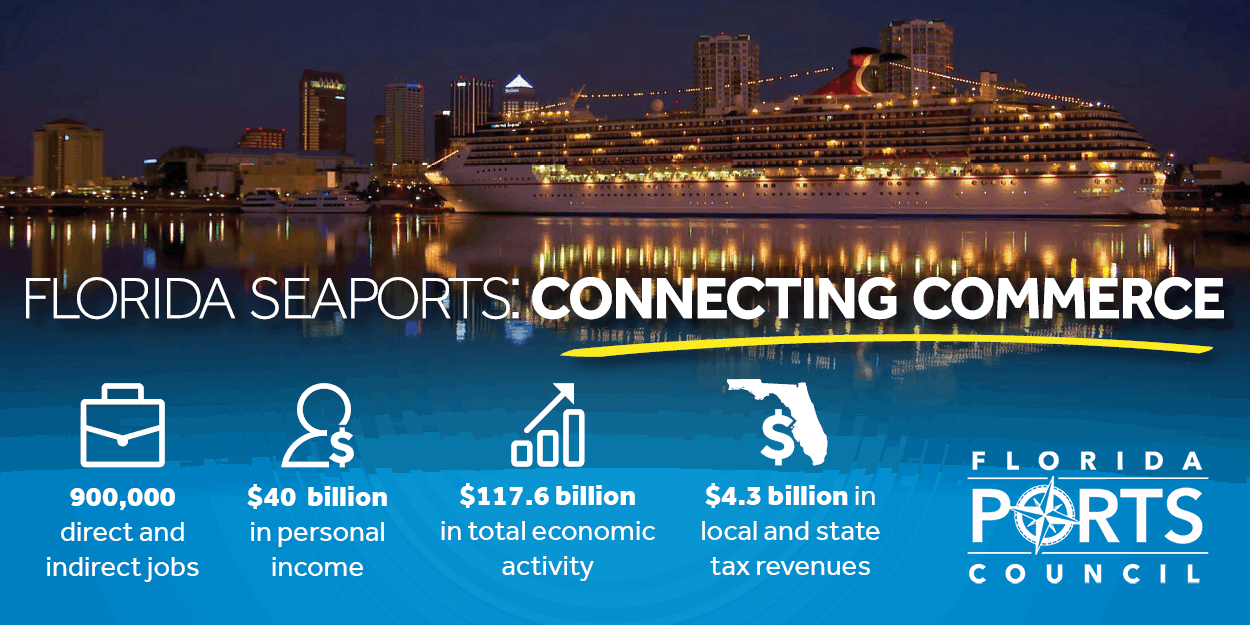 — SEASONAL SUNSHINE —
Making the holidays a little brighter. A group of AT&T employees is sending some sunshine to hospitalized children for the holiday season.
— About 25 Orlando-area volunteers put together 200 holiday-themed activity kits, with velvet coloring sheets, crayons, markers, stickers, and construction paper.
— Project Sunshine, a nonprofit that provides free educational, recreational and social programs to hospitalized pediatric patients, will distribute the kits.
— Helping kids cope. The mission of Project Sunshine is to help young patients deal with the stress that comes with their medical challenges.
— Spreading the love. Project Sunshine has partnered with more than 20 medical facilities in Florida, to help spread cheer for the holidays and year-round.
— BRUNCHING OUT —
Jeri's Midtown Cafe is a cozy oasis tucked behind the independent bookstore, Midtown Reader, and the sushi spot, Izzy Pub & Sushi, easily missed if you're driving along Thomasville Road.
— Rebirth: Owner Jeri Bradley Madden took over this location, formerly Paisley Cafe, in August, keeping many of the popular dishes but adding her own spin to the menu and décor.
— The courtyard: Dining amid the greenery, under the shade of colorful umbrellas, is a treat.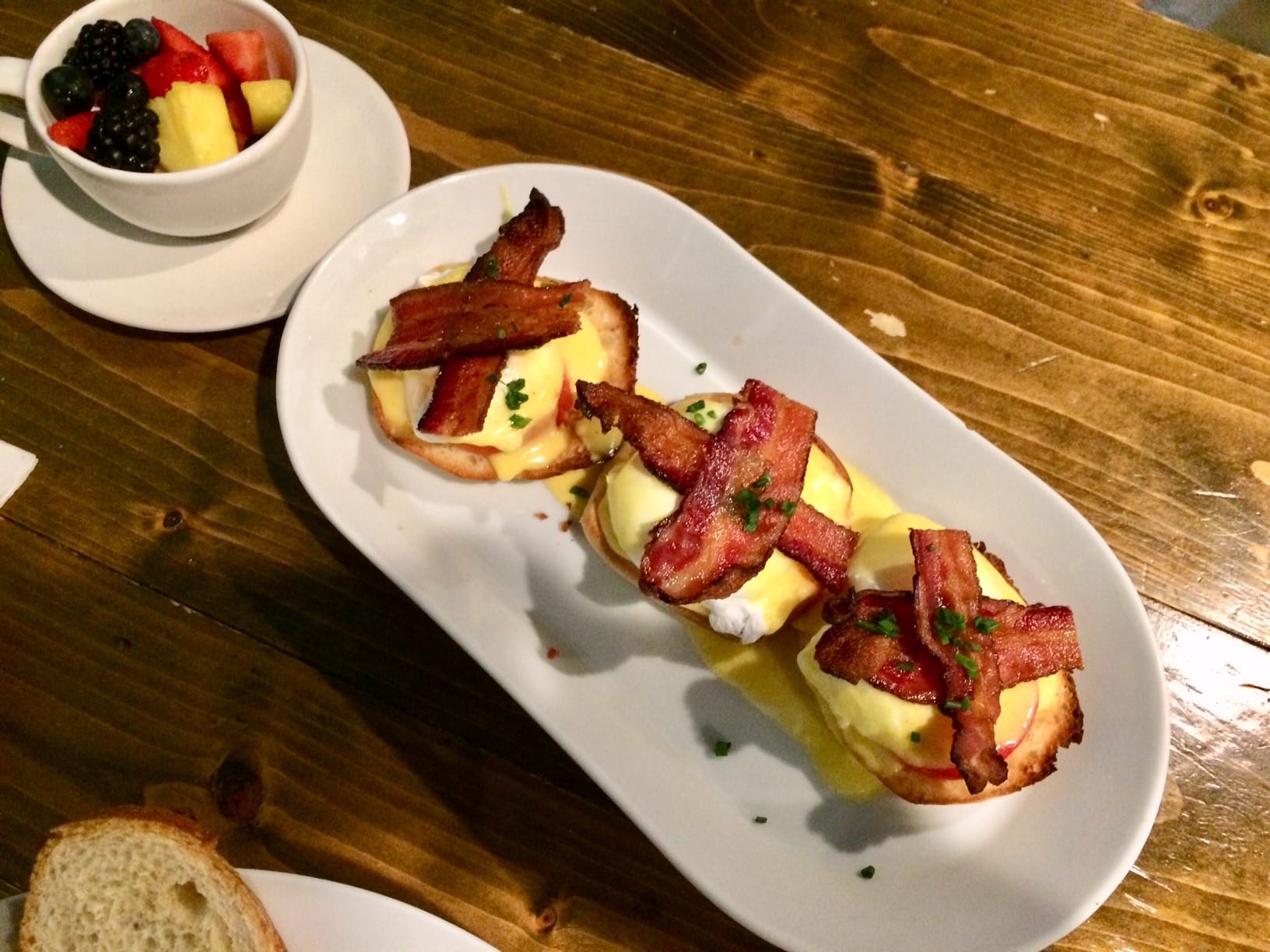 — The menu: A favorite is the Kenny Benny, with three poached eggs, smoked Smithfield bacon and Roma tomatoes, topped with a housemade hollandaise sauce. Other picks: the frittata sampler, French toast, shrimp and Gouda grits, sandwiches and salads.
— Beverages: Savor their sweet iced coffee, Very Berry Lemonade or Island Splash Lemonade. More grown-up options include beer and wine, Sangria and cocktails made with Tozai Typhoon mild sake.
The deets:
Hours: 10 a.m. to 2 p.m. Saturday and Sunday; 11 a.m. to 2 p.m. Monday to Friday, 4:30 p.m. to 8 p.m. (Happy Hour/tapas).
GPS: 1123 Thomasville Rd., Midtown Tallahassee.
Digits: 850-385-7268.