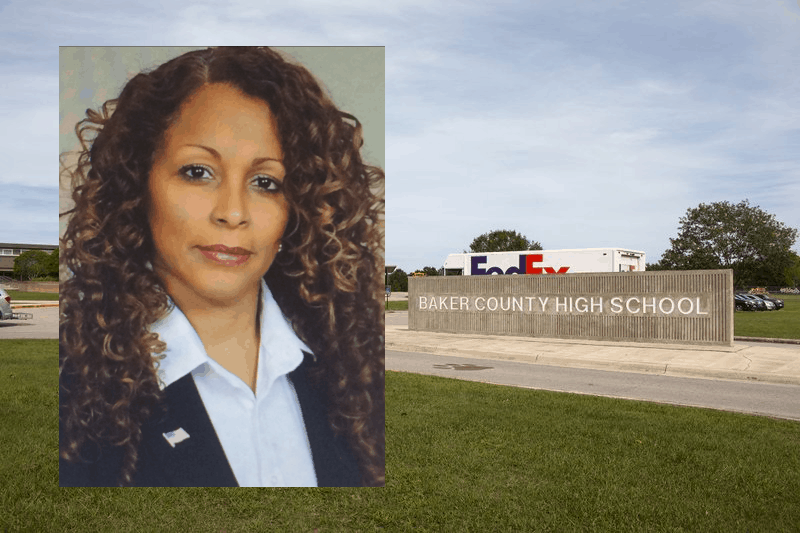 Gloria Walker dismissed charges against a teen with plans for a school shooting.
An Circuit Court Judge already faced calls for her removal for dismissing charges against a student who drew plans for a school shooting. Now, Circuit Court Judge Gloria Walker faces renewed questions about her personal arrest history.
Near-Shooting?
A new round of scrutiny came after she dismissed charges against a Baker County High School sophomore. The student sketched plans for a mass murder in his notebook, according to the Baker County Sheriff's Office.
After a teacher found some writings, deputies searched his belongings and found a composition notebook with six pages on noted detailing possible dates and times when a shooting would occur, investigators say. The student admitted to writing the plan but denied any intention of carrying it out, according to the Sheriff's Office.
"The cooperative effort between the Baker County School System and the Baker County Sheriff's Office to train and inform staff allowed for a quick response and removal of the student from campus," said Sheriff Scotty Rhoden in a statement. "This is an important reminder for our children to 'See Something, Say Something'! Parents and guardians, please remind your children of the importance of the 'See Something, Say Something' message."
But Walker last month dismissed charges, prompting ire around the state.
Ryan Petty, a member of the Marjory Stoneman Douglas High High School Public Safety Commission whose daughter Alaina died in the Parkland shooting, decried the ruling.
"The judge falls outside the scope of reasonableness. I just hope they can live with themselves if something happens," he told News 4 Jax.
Walker's ruling seemed to hinge on whether threats had ever been issued. Florida law says it's a crime if someone "makes, posts, or transmits" a threat of a mass shooting "in any manner that would allow another person to view the threat." Walker said prosecutors could not prove the threat had been transmitted as described in the law, according to the Associated Press.
Now, members of the community have launched a petition calling for Walker's removal from office. As of Nov. 20, more than 1,800 individuals had signed the petition at Change.org. The petition calls for the Florida Legislature to remove the judge from the bench, though the website holds no legal weight or authority.
But the community hostility over Walker's decision also has some in Baker County publicly re-litigating Walker's own criminal history.
Old Charges
Walker won her seat in the Circuit Court bench in a November runoff. An attorney with Three Rivers Legal Services at the time, Walker took 56 percent of the vote over David Robertson, chief counsel for the Florida Department of Transportation Lake City.
But she notably only won one county in the 8th Judicial Circuit's six counties. Her victory in heavily populated Alachua County, where she beat Robertson by a hefty 32,550 votes, overcame her losses in the Circuit's rural areas.
Robertson took Baker County with 6,884 votes to Walker's 2,650. Percentage-wise, that means Walker performed worse in the county than any other part of the Circuit.
The race turned contentious on many issues, according to the Gainesville Sun. In addition to the contest taking a partisan turn, a history of alleged arrests, one of which Walker denies happening, became campaign trail issues.
Walker acknowledged to the Sun last year she was arrested for an open container violation at age 19, a charge that was dismissed, and was later arrested at age 29 on a battery charge, for which adjudication was withheld.
But documents also suggest she was arrested in Broward County in 1988 on a petit theft shoplifting charge.
Florida Politics was provided with a sentencing document indicating Walker, then Glorimil Rosario, was tried and found guilty in 1989, The offense only warranted a fine of $250. But it's an offense Walker has said she knows nothing about. She said in a statement given to the Sun before the election she had never been tried or convicted of petty theft.
"There is a possibility that a 30-year-old record had been entered incorrectly or could be some kind of mistake," Walker said. "What I can tell you with absolute certainty is that I have been forthright and truthful about everything. I have worked so hard to get where I am today. Why would I jeopardize my entire legal career for something so insignificant?"
Yet the documents provided to Florida Politics include fingerprint evidence allegedly used to convict.
The Florida Bar reports a complaint was filed against Walker in December, though that complaint was closed in March with no action taken. The Bar did not immediately provide details on the complaint.
Critics of Walker also questioned her hiring practices since taking office in January. They point to Charisma Calloway, the judge's personal assistant.
Documents provided to Florida Politics also include Bradford County court records detailing a history of allegations against Calloway. Notably, all charges were ultimately dismissed, dropped or not prosecuted.
Then Charisma Butler, Calloway faced a 1990 charge of displaying a firearm that did not get prosecuted. Calloway was accused in 1991 and later in 2001 of writing worthless checks worth less than $150. Most seriously, Calloway in 2002 was charged with maintaining a home where drugs were sold and of aggravated child abuse, though prosecutors ultimately dropped both charges.
As Walker faces backlash from the community for going soft on an alleged threat of mass violence, critics say these former brushes with the law can't be ignored. It feeds the narrative Walker shows leniency toward the accused and doesn't take seriously enough law enforcement investigation.
Florida Politics reached out to Walker's Office and to Calloway but received no response.
Florida's red flag laws were passed in the wake of the Parkland shooting. That's made the community all the more angry to have action aimed at preventing the next Parkland tragedy from occurring.