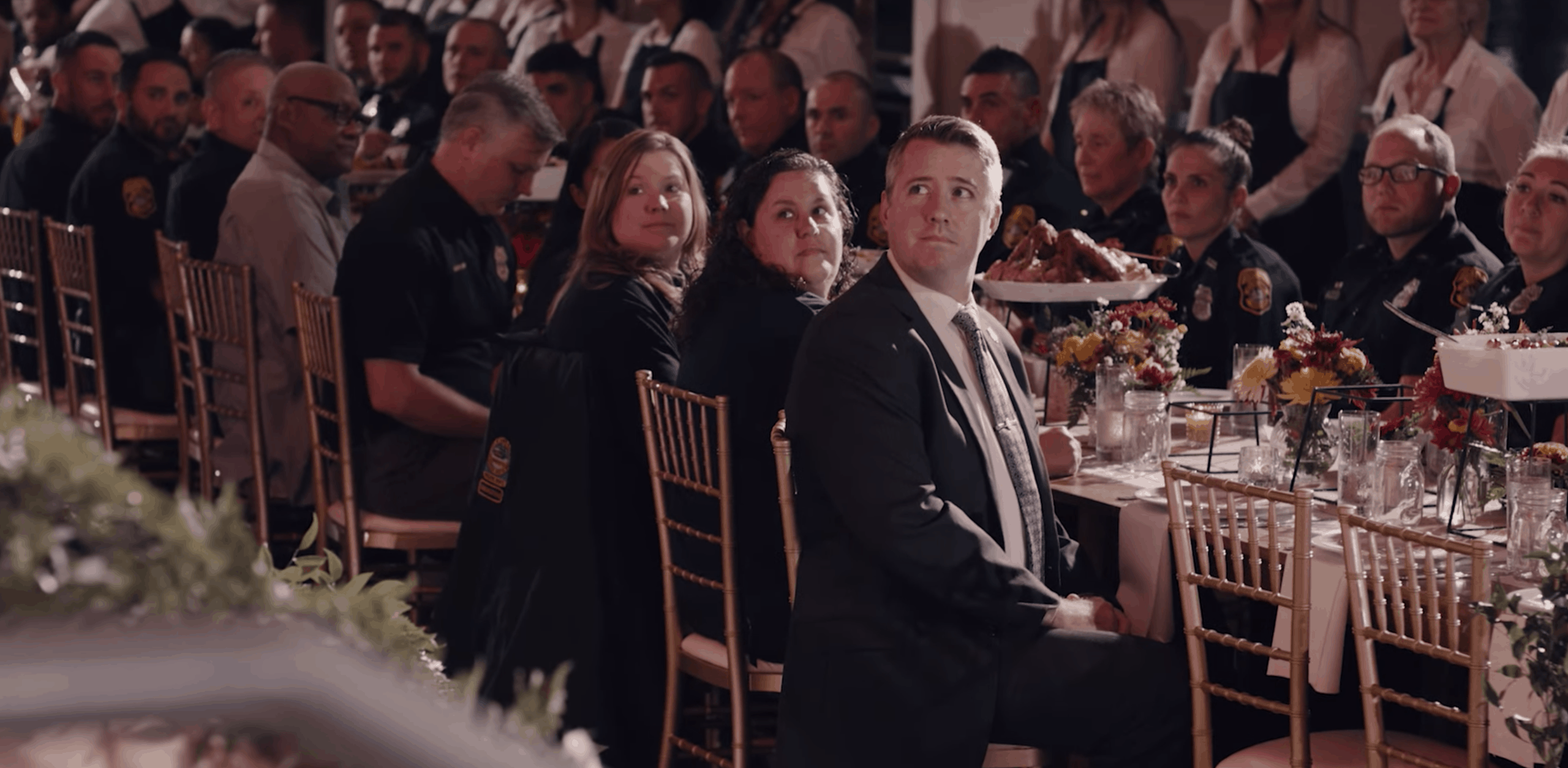 More than 100 first responders enjoyed dinner served by 80 volunteers.
The city of Tampa and several community partners and sponsors hosted its first annual "One Table" event honoring local first responders ahead of Thanksgiving earlier this month.
The event, sponsored by Diamond View Studios, brought together more than 100 police, fire fighter and paramedic first responders for a pre-Thanksgiving dinner at the Tampa Convention Center.
In a video of the event produced by Diamond View, footage shows an army of uniformed heroes smiling over a massive meal and occasionally shedding a tear over the outpouring of thanks from the community.
Local school children and members of the community gathered hand-written thank you cards and distressed them in coffee to give them a brown hue. The cards were then put together as a background for a giant thank you card on display in the convention center.
"First responders are the heroes of our community," said Diamond View CEO Tim Moore. "While they serve us every day, we wanted to take one day out of the year where the community can serve them."
At one point during the evening one of the sponsors of the event took to a microphone to deliver a teary thanks to detectives, particularly Detective Alex Gady, who solved her mom's murder. The night of the dinner, Nov. 10, would have been her mom's birthday.
"You didn't just solve a murder, I think you probably just saved a life," the woman said through choked back tears.
The event included sponsorships from Caspers Company, Coca-cola Florida, USAA, Forbici Modern Italian, Tampa Bay EDC, Hillsborough Community College, Traditions Rentals, Joyful Events, Creekside Church, Tampa Foundation, the City of Tampa, and the Tampa Convention Center.
Eighty community volunteers showed up to help make the event a success.
"It's wonderful seeing people from all walks of life come together to show their gratitude for our
first responders," said Tampa Mayor Jane Castor, herself a former Police Chief. "None of this would be possible without the dedication of our citizens and generosity of our local business owners."