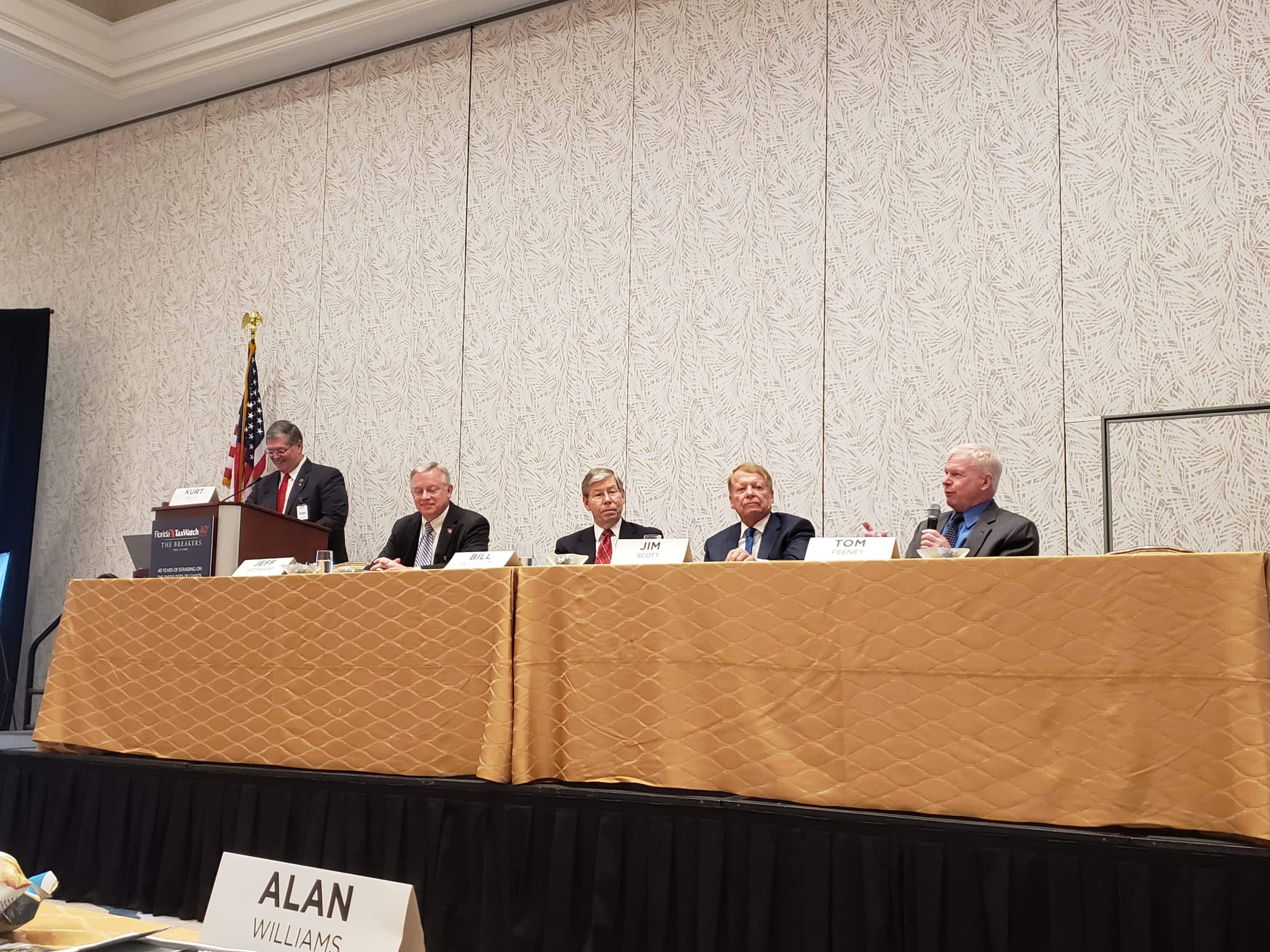 Day two of the group's 40th annual meeting began Tuesday morning.
As the Florida TaxWatch 40th annual meeting moved onto day two, several former elected officials were on hand to dish on the 2020 election and proposed ballot initiatives during a Tuesday morning panel session.
Appearing on the panel were former Lt. Gov. Jeff Kottkamp, former Attorney General Bill McCollum, former Senate President Jim Scott and former House Speaker Tom Feeney.
Former state Rep. Kurt Kelly served as the panel's moderator.
After introductions, Kelly asked the panelists how the upcoming 2020 presidential election might affect the functioning of state government next Session.
Kottkamp argued the state wouldn't see much impact.
"As nasty and dysfunctional as D.C.  will continue to be, I don't think that's going to impact the ability of the Florida Legislature to do its job," Kottkamp argued.
"We're insulated for the most part from national politics in Tallahassee. The Legislature runs very smoothly. The Governor has come out strong, a very strong first Session. And I have every anticipation he'll have a strong second Session."
But former Sen. Scott pointed to a possible effect on down-ballot races.
"I'm not quite as optimistic as my colleagues up here. I'm worried about the state Senate," Scott said.
"I've watched this for a long time. When I started, there were nine Republicans out of 40. In time we got 21 and then 27, and now we have 23. So this group cannot take that for granted."
Indeed, there will be several high-profile Senate races next November. Though it will be tough for Democrats to gain control of the Senate, they could certainly close the power gap with a few key wins.
The panelists also spent significant time discussing several proposed 2020 ballot initiatives. The group of former Republican officials were largely disdainful of the process.
McCollum pointed to 2020 proposals such as legalizing recreational marijuana and raising the state's minimum wage.
"I'm always concerned that we have too easy access to changing our Constitution," McCollum said.
The former AG said citizens should have that access. But he argued reforms, such as putting a sunset clause on those approved ballot measures, should be considered.
His skepticism of the process was seconded by former House Speaker Feeney, who said citizens aren't always considering the full weight of placing these measures inside the state's governing document.
"I think some of this is a flaw of civics education," Feeney said.
"The Constitution is not a place to regulate the size of pig cages. The Constitution is a horrible place to try to deal with issues like managing technology, which changes every few months. You want a representative legislative body who meets every year to be responding to those sorts of things."
Kottkamp backed his colleagues, and also singled out the Constitution Revision Commission (CRC), which meets every 20 years to place proposals on the ballot.
"As Speaker Feeney said, the best way to do these things is with laws, not constitutional amendments," Kottkamp said.
"The CRC has now been highjacked, and probably we can do away with that."
Indeed, state lawmakers have proposed getting rid of the CRC, arguing the group improperly links unrelated items within single amendments, causing confusion for voters.
The Florida TaxWatch meeting, which is being held at The Breakers in Palm Beach, will continue Tuesday with Gov. Ron DeSantis scheduled to speak shortly after 1:00.