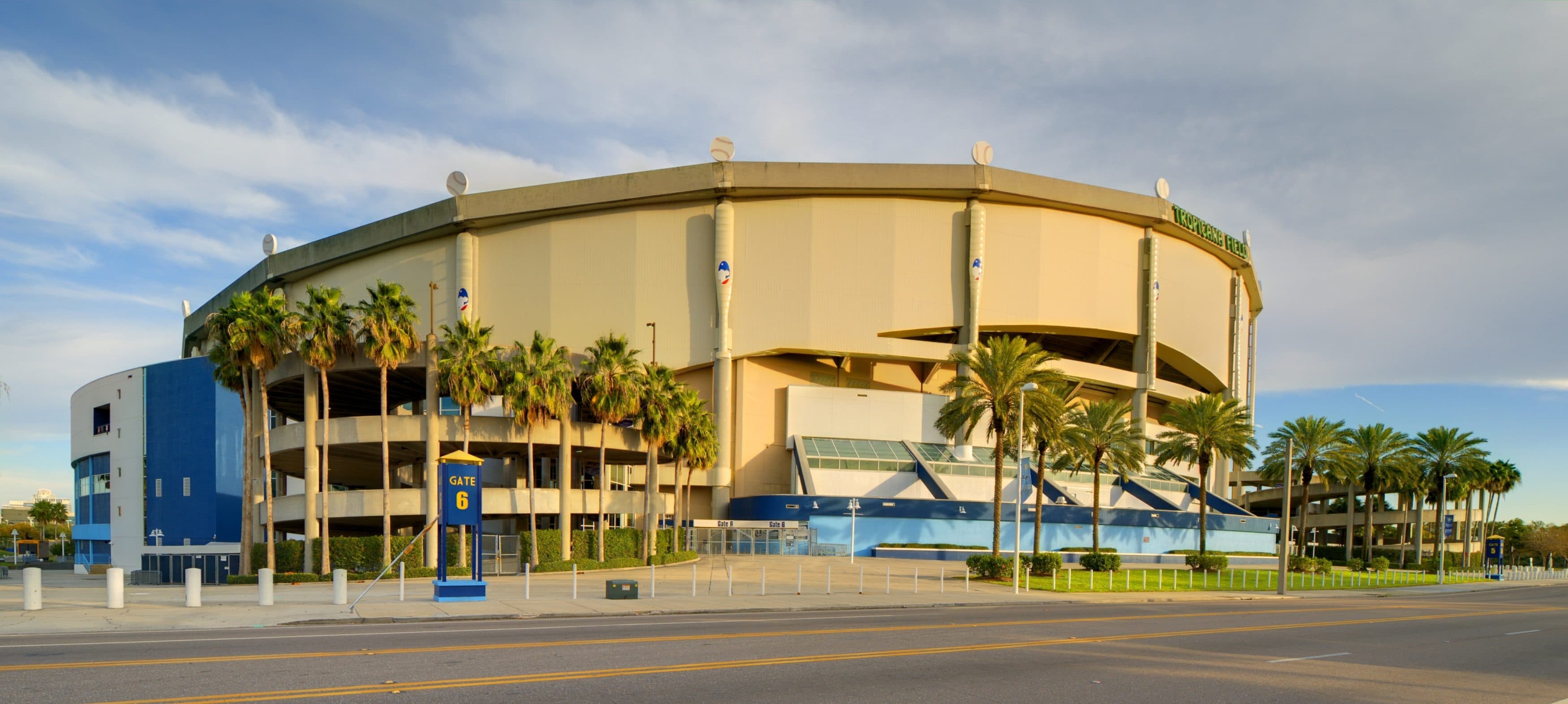 The team can still consider a split-season in 2028.
The Tampa Bay Rays will not split their home games between St. Petersburg and Montreal until at least 2028, according to a memo St. Pete Mayor Rick Kriseman sent to the City Council on Wednesday.
"Negotiations between the City of St. Petersburg and the Tampa Bay Rays Organization related to the 'shared season' concept have concluded. Both parties have agreed that the best path forward is to abide by the existing use agreement with the understanding that the agreement allows for the Rays Organization to explore post-2027 split or full season opportunities, both in St. Petersburg and elsewhere," Kriseman wrote.
That means the team can negotiate a split-season plan but only for seasons after the team's contract with the city to play ball at Tropicana Field expires in 2027.
Kriseman said the Rays also declined an offer to let the team resume stadium exploration in Hillsborough County and Tampa.
"Please also know that the team officials have declined my offer, made in the spirit of regionalism, to renew the recent Memorandum of Understanding that had allowed the Rays to explore future 'full-time' stadium locations throughout the Tampa Bay Region, including Hillsborough County and the City of Tampa," Kriseman wrote.
Rays Principal Owner Stu Sternberg responded.
"We agree generally with Mayor Kriseman's characterization of our months of conversations, though we would like to clarify two points. First, we do not agree that this is the best path forward. Second, we asked for the opportunity to explore this concept with both St. Petersburg and Montreal, and with Tampa and Montreal," he wrote in a statement.
"We recognize that we must now consider our post-2027 options and all that entails, and we remain steadfast in our belief that the Sister City concept is deserving of serious consideration."
The Rays first expressed an interest in a new stadium and location 12 years ago. Now, the team has just eight seasons left under its iron-clad contract with the city. That means the Rays would have to act swiftly on any plans to build a new stadium, whether that's in St. Pete, the Tampa Bay region or elsewhere. It will take several years for the team to secure a site and build a new stadium.
Kriseman said he remains willing to discuss public funding for a new stadium within the city, but he will not consider public funding for a split-season.
"As such, with no imminent discussions pending regarding a new stadium for a full-time team, we will begin to evaluate our next steps in redeveloping at least parts of the site following additional public engagement," Kriseman said.
In his letter, Kriseman said he remains optimistic the Rays will ultimately determine that the Tampa Bay region, and specifically St. Pete, are the best place for the team's future.
"The growth and vibrancy in the Sunshine City, and particularly in the area surrounding Tropicana Field, signals a bright future for that site. A strengthening television market and record revenues across Major League Baseball only further solidify my belief," he wrote.
Kriseman ended his letter encouraging residents and fans to continue supporting the Rays as they continue to play home games at Tropicana Field.
"The recent playoff games at Tropicana Field were a reminder that sports teams and events have the power to bring people together. Given St. Pete's rich history with baseball and the trajectory of our city, I remain confident that we will be rooting for the Tampa Bay Rays for generations to come," Kriseman said.