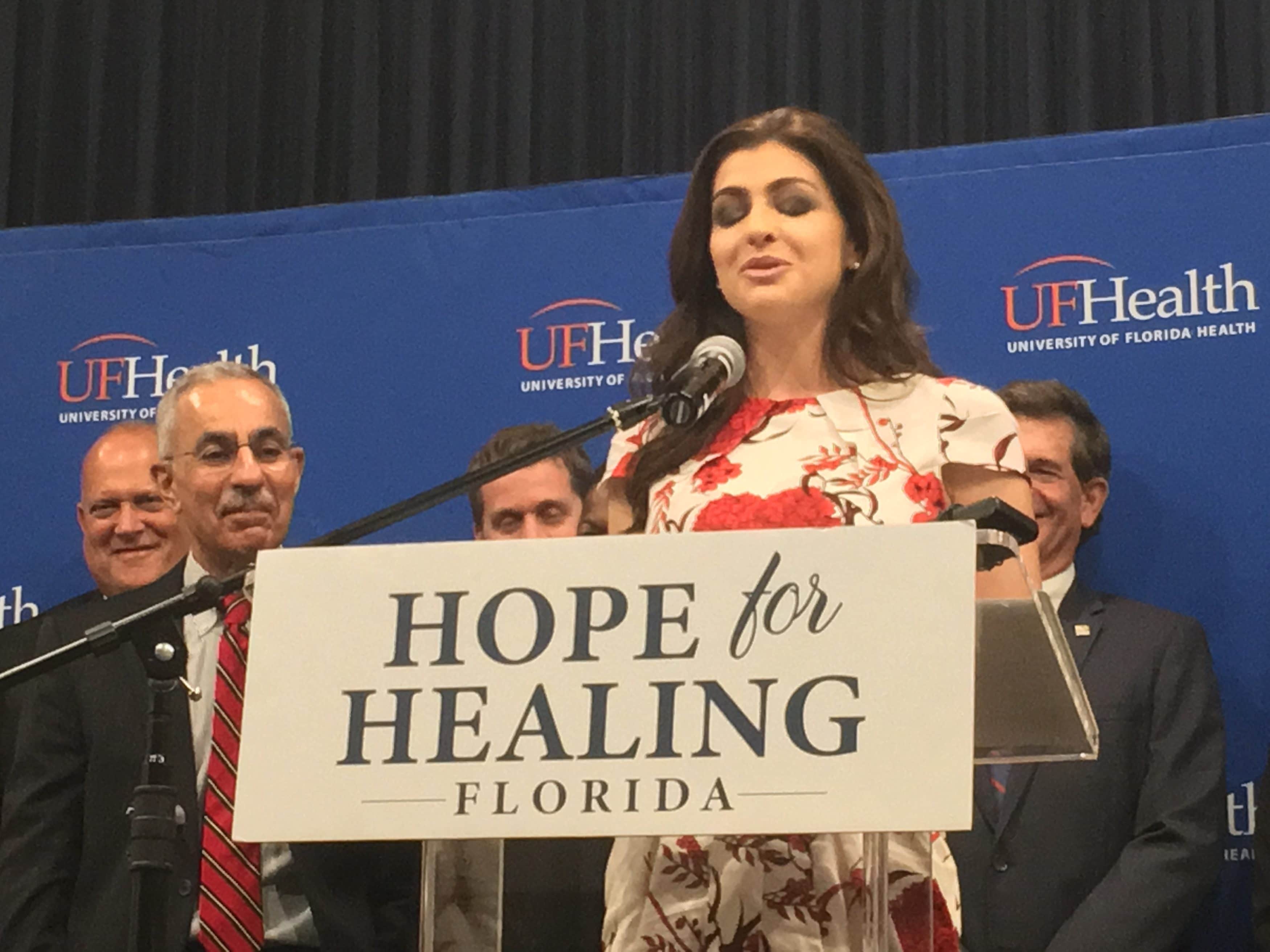 DeSantis consulted with community leaders during a Friday visit.
First Lady Casey DeSantis was back in South Florida Friday, as she visited the Fort Lauderdale campus of Broward College to hold a roundtable on the issue of neonatal care for women addicted to opioids.
DeSantis also announced the start of the "Babies Born Drug-Free" Community Initiative.
DeSantis discussed the issue in early October during a visit to Memorial Regional Hospital, where she announced a $58.8 million federal grant to help address the problem.
Babies born to addicted moms can deal with myriad health problems. Those can include muscle spasms, fever, pain and difficulty eating and sleeping.
The First Lady started Hope for Healing Florida to coordinate action at the state level on issues such as drug addiction and mental health. Friday's visit was part of that effort.
"How do we go into the individual communities and find the key stakeholders who can help implement this?" DeSantis asked.
"Because at the end of the day, I believe and a lot of people believe, is solutions emanate at the community level."
DeSantis said she wants the initiative to lead to local communities obtaining best practices to deal with this and other health issues.
On the issue of addicted mothers, that will be a two-part approach. First, DeSantis says officials are sorting out the best way to reach out to at-risk mothers and put them in touch with care.
Second, Surgeon General Scott Rivkees is working to communicate to hospitals best practices to help treat these cases.
That may require flexibility between municipalities.
"What might work in Broward might not necessarily work in Daytona or in Duval County," DeSantis said.
"But sometimes there's some really great things going on in Broward — as we're seeing, because this is a great community and they're doing some good work — that we should absolutely be harnessing that."
Gregory Haile, the President of Broward College, also attended Friday's roundtable to help take through local efforts to tackle the problem.
"A lot of it has to do with simply working with our hospitals, our medical providers," Haile said.
"Memorial Healthcare was in here today. They did a great job of talking about what their challenges were from the capacity perspective — whether it be from facilities or workforce. And so we work closely with them. Without hearing — much like the First Lady is — without hearing what those challenges are, we can't address them."
Haile said that could end with an altering of the school's curriculum to ensure the issue — and how to care for those addicted mothers — is given priority.
Rivkees detailed the scope of the problem within the state.
"In the state of Florida, we have 240,000 born a year," Rivkees said. "And 1,500 babies are actually born with opioid exposure."
Both DeSantis and Haile also praised the 211 system to assist struggling would-be mothers. That system provides care to people looking for health or mental health services. Haile formerly served as the chairman of 211 Broward.
"I had the chance to listen in on one call. It was a woman who needed food, needed a ride and wanted a job," DeSantis detailed.
"And so they were able to get her Meals on Wheels and get her a ride to AARP, [which] was going to help her with her resume. And at the end of that call, they put all those resources into one text and texted it to her so she had every piece of information. I thought that was pretty powerful, as we have so many people out in the community doing so many wonderful things, and many people going off in individual directions. How do we all put it together and then give people a centralized way to be able to find those resources?"
The 211 system has been in the headlines recently following a series of suicides on the Brightline tracks. State Rep. Mike Caruso filed a measure asking for $500,000 to increase public awareness for the 211 Palm Beach/Treasure Coast community helpline.
Brightline President Patrick Goddard also announced it would contribute $150,000 to the 211 hotline.
Friday, Florida Department of Children and Families Secretary Chad Poppell and Agency for Health Care Administration Secretary Mary Mayhew released statements alongside DeSantis to help promote the "Babies Born Drug-Free" Community Initiative going forward.
"A baby's first days in this world shouldn't be consumed by the trembling, heavy breathing, and inconsolable crying that's often the result of Neonatal Abstinence Syndrome," Poppell said.
"The First Lady's community initiative brings together local organizations and leaders who are on the front-lines treating these babies and helping their families to live healthy and thriving lives.
Mayhew added, "In our state, we see far too many mothers and children suffering from the repercussions of substance abuse. I commend the DeSantis administration for their attention to this issue, for their unwavering commitment to moms and children who need help, and I especially would like to recognize the First Lady for her continued efforts to transform and improve the existing resources we have for substance abuse and mental health outreach, treatment and prevention."