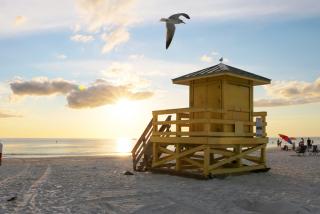 Sarasota Republican wants to allow local government to ban beach smoking.
State Sen. Joe Gruters wants butts off Florida beaches—at least cigarette butts.
"If you pop up an umbrella at the beach, there is nothing more disgusting than having a neighbor pop next to you and light up, providing second hand smoke," Gruters said.
Yet in Florida, state law not only allows smoking but prohibits local governments from barring the unhealthy practice in outdoor parks. Indeed, Gruters' home county, Sarasota, once had a smoking ban on beaches that attorneys learned in 2013 was illegal.
Since then, tourists have run the risk of running fingers through the fine white sand of Siesta Key only to discover burnt out cigarette butts.
But it's more than aesthetics to many coastal communities. The Sarasota Republican noted internationally acclaimed rankings by Dr. Beach take into account whether smoking is allowed. Siesta Key still managed to top the Dr. Beach rankings twice in 10 years, but its standing gets threatened by smokers. And the Sarasota beach isn't the only Florida show that counts on boosts from such listings.
"Florida can continue to dominate more if counties are allowed do do what they think is in their best interest," he said.
Gruters' bill this year differs from one filed last year, when he tried to pass statewide ban on beach smoking. The effort ultimately died in its first committee.
Now, Gruters simply wants to empower cities and counties to make their own call on whether to bar smoking. Already, it's seeing a more clear future. The Senate Community Affairs Community on Thursday passed the bill (SB 670) unanimously. The legislation now heads to the Senate Innovation, Industry, and Technology Committee.
Companion legislation (HB 457) filed by state Rep. Chip LaMarca awaits a vote in the House Agriculture and Natural Resources Subcommittee.
State Sen. Anitere Flores, who chairs the Senate Community Affairs Committee, lauded the legislation and reasoning behind it. "This is a fantastic bill," the Miami Republican said, while praising Siesta Key in particular.
She also noted Dr. Beach rankings are put together by Dr. Stephen Leatherman, a Florida International University professor based in Miami.
"That's another reason I find this bill awesome," Flores, a Miami Republican, said.