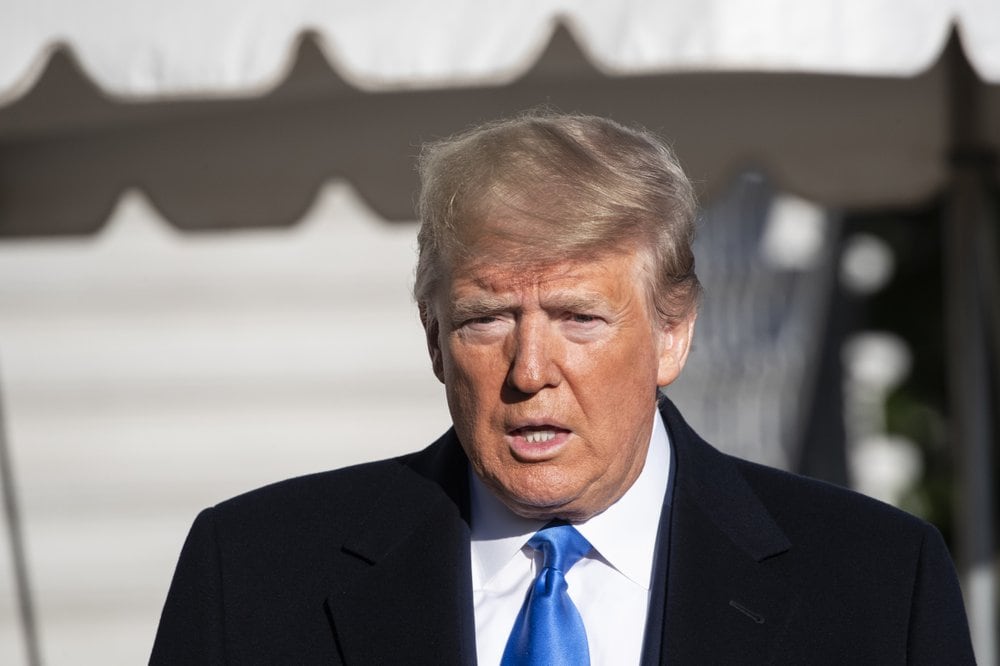 Abuse of power for allegedly pressuring Ukraine, obstruction of justice for allegedly covering it up
Two articles of impeachment against President Donald Trump, for abuse of power in allegedly pressuring Ukraine to aid his reelection effort and obstruction of Congress for allegedly covering it up, were announced Tuesday by Democratic leaders of the U.S. House of Representatives.
House Speaker Nancy Pelosi, Judiciary Committee Chair Jerrold Nadler, and Intelligence Committee Chair Adam Schiff declared, during an announcement Tuesday morning, that they would be filing their articles. Schiff said there is no option to wait, charging that Trump still is trying to undermine the integrity of the 2020 national elections.
Nadler's committee will take up the articles yet this week and vote on whether to send them to the full U.S. House of Representatives for a vote to impeach the president. Both votes are expected to be affirmative, as Democrats control both bodies.
"To do nothing would make ourselves complicit in the President's abuse of his high office, public trust, and our national security," Schiff said.
The first article charges that Trump violated his oath of office by soliciting and pressuring the country of Ukraine, while withholding approved military aid to that country. to announce investigations into the conspiracy theory that Ukraine was involved in undermining 2016 American elections, and into the activities of Joe Biden and his son Hunter Biden.
The second article charges that Trump obstructed Congress by refusing all White House and federal bureaucracy cooperation with the impeachment inquiry run mainly through Schiff's committee.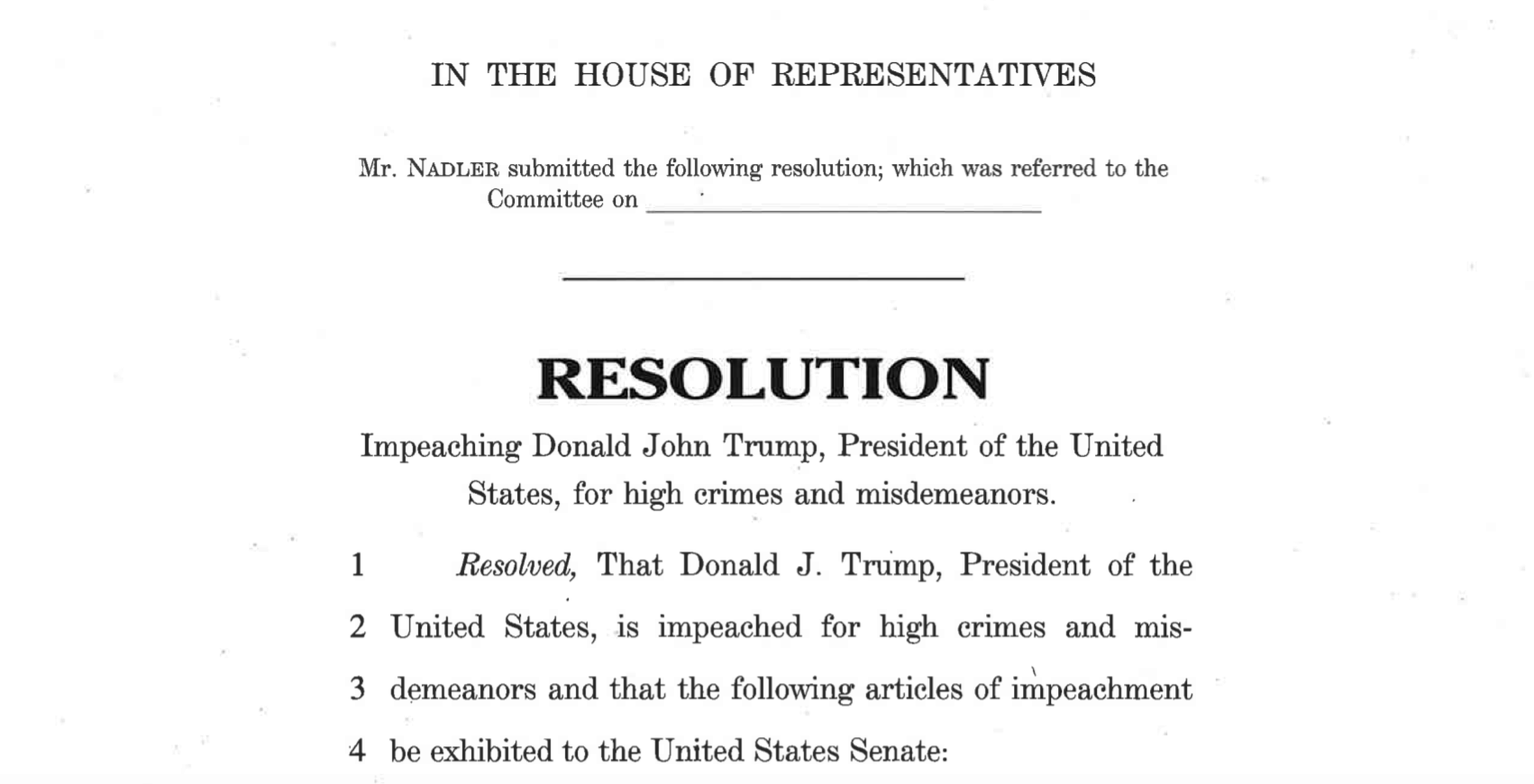 Trump responded with a series of tweets calling the articles ridiculous and declaring there "WAS NO PRESSURE" and "WITCH HUNT!" and "Read the transcripts!"
White House Press Secretary Stephanie Grisham issued a statement calling the articles "a baseless and partisan attempt to undermine a sitting President, Speaker Pelosi and House Democrats announced the pre-determined outcome of their sham impeachment – something they have been seeking since before President Trump was inaugurated.
"The announcement of two baseless articles of impeachment does not hurt the President, it hurts the American people, who expect their elected officials to work on their behalf to strengthen our Nation. The President will address these false charges in the Senate and expects to be fully exonerated, because he did nothing wrong," the statement added.
The Democrats expressed graveness that the matters are not baseless.
"The President's misconduct is as simple and as terrible as this: President Trump solicited a foreign nation, Ukraine, to publicly announce investigations into his opponent and a baseless conspiracy theory promoted by Russia to help his reelection campaign," Schiff said. "President Trump abused the power of his office by conditioning two official acts to get Ukraine to help his reelection. The release of hundreds of millions of dollars in military aid that nation desperately needed, and a White House meeting with an ally trying to fend off Russian aggression. In so doing he undermined our national security and jeopardized the integrity of our next election. And he does so still.
"The evidence is every bit as strong that the President obstructed Congress fully, without precedent, and without basis in law," Schiff said.
Pelosi called Tuesday a solemn day. She, Nadler, and Schiff spoke with grave, monotone seriousness in a 13-minute address to the nation.
Nadler said Trump's efforts in Ukraine have compromised America's national security and threatened the integrity of the 2020 elections. He said "when he was caught" Trump attempted to conceal evidence from Congress and the America people with "unprecedented, categorical and indiscriminate defiance."
They did not take any questions.
Trump's reelection campaign manager Brad Parscale also responded:
"For months, Nancy Pelosi said she wouldn't move forward on impeachment because it was too divisive and it needed bipartisan support. Well, it is divisive and only the Democrats are pushing it, but she's doing it anyway," Parscale said in a written statement. "Americans don't agree with this rank partisanship, but Democrats are putting on this political theater because they don't have a viable candidate for 2020 and they know it."
Schiff argued that Trump continues to seek to undermine the 2020 election, by continuing to ask Ukraine to move forward with the investigations he sought. Schiff noted that Trump's private, unofficial emissary Rudy Giuliani was back in Ukraine seeking to promote the 2016 conspiracy theory.
Trump's fiercest defender in Florida's congressional delegation, Republican U.S. Rep. Matt Gaetz of Fort Walton Beach, tweeted, "Democrats say @POTUS abandoned the national interest. That is false. 266,000 jobs created in November Half a million more manufacturing jobs in the Trump presidency. 700,000 construction jobs. We are doing better than ever before. #ArticlesOfImpeachment"
Trump's biggest critic in Florida's congressional delegation, Democratic U.S. Rep. Val Demings of Orlando, tweeted, "This is a sad day but a necessary day. President Trump put himself before our country. He is a clear and present danger to our next election and our national security. We have no choice but to act. We will uphold our oaths and #DefendOurDemocracy.
"The president has left us no choice. He is an ongoing threat to our election and our security. We are facing 'the fierce urgency of now.' We must #DefendOurDemocracy," Demings added in another tweet.
Both Gaetz and Demings are on the House Judiciary Committee, as is Democratic U.S. Rep. Debbie Mucarsel-Powell of Miami. She tweeted, "I've seen what comes from men in office who abuse their power, invite foreign interference into elections, obstruct any checks on their power & personally attack people who criticize their actions. We cannot allow this behavior from any President. Our democracy depends on it."
Democratic U.S. Rep. Donna Shalala, also of Miami, tweeted: "When debating what constituted impeachable offenses, founder George Mason asked: Shall any man be above justice? Shall that man be above it who can commit the most extensive injustice. The President violated his oath of office. With profound sadness I will vote for impeachment."