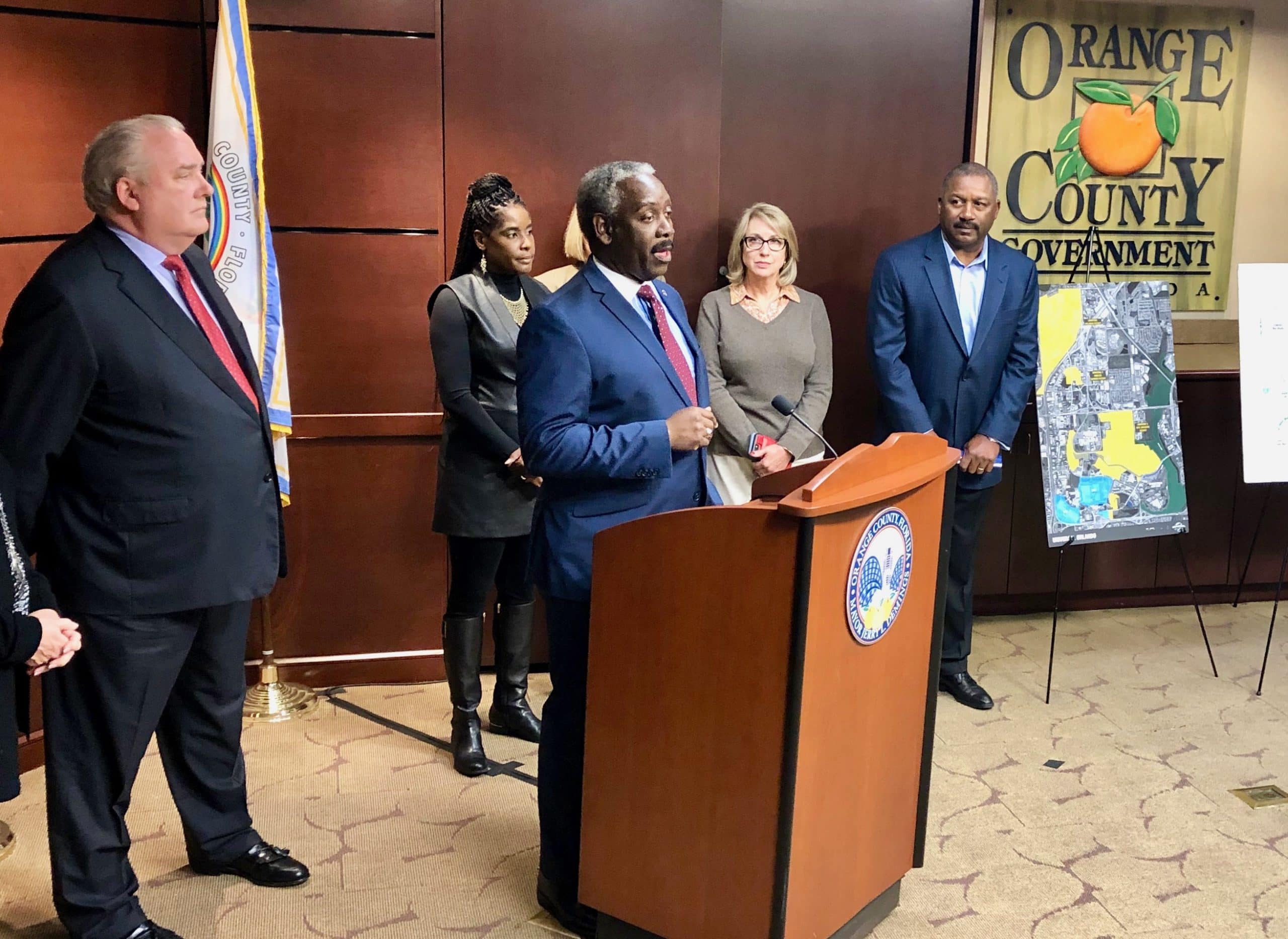 The announcement was light on details of how and when the housing would come.
Orange County and Universal Orlando Resort, on the verge of cutting a controversial road deal Tuesday, announced Monday that the theme park company would donate 23 acres near its planned new park to be developed as affordable housing and a transit hub in the International Drive corridor.
Orange County Mayor Jerry Demings and Universal Orlando Chief Executive Officer John Sprouls insisted the timing of the housing announcement is not related to the road deal, as they announced the first major breakthrough in Demings' efforts to address the major shortage of housing for low-income people, including those working in the tourism industry.
"We couldn't be more excited. While details are being worked out at this time, this will enhance our affordable housing plan to give residents options they need to live and work near employment centers," Demings said.
"Affordable housing is a major issue for the community," Sprouls said. "It's why we took the Mayor's invitation to be part of the affordable housing task force so seriously. … I am thrilled we're going to be able to make this land available for the critical needs of affordable housing.
Demings said the announcement is spurred not by the proposed deal between the county and the company to build a road extension to the new park, which will be considered by the Orange County Commission Tuesday, but by the formal unveiling of his Housing For All task force report, which also will be made to the commission on Tuesday. The land deal, Demings said, has been in the works for many months.
Nevertheless, the announcement comes at a time when the county and Universal could use some positive public relations. The road project, which will be paid for with $125 million mostly of special taxes of the International Drive Community Redevelopment Agency, is being attacked by community activists who say it is a mega-giveaway from the county to Universal.
Monday's announcement was light on details, and it was clear it was delivered long before negotiations were concluded.
Demings and Sprouls made it clear the method of property transfer is yet to be worked out, and actual plans for development are a long way off. Universal has not decided whether to outright deed the land to the county, offer a long-term lease, or set up some sort of partnership.
But the agreement will allow for development projected to have about 1,000 units, possibly all offered at below-market rent rates, aimed at providing housing for some of the thousands of people who work in the International Drive corridor for low wages. At that density, Demings said the project would "very likely" involve some sort of high-rise tower. He said the project also could include retail and other commercial activities.
"We want that property to be the type of property where anyone would love to stay, regardless of the price point," Demings said.
The plan also calls for 3 acres to be carved out to provide for a transit hub.
"As you know we see the two issues intertwined together, both transportation and transit and housing affordability," Demings said.
The property, just north of Destination Parkway, about a block east of the Hilton Orlando and a couple of blocks from the Orange County Convention Center and a couple of blocks south of the company's planned new theme park, Epic Universe. It is vacant and has a current market value of about $9.55 million, according to the Orange County Property Appraiser.
As the task force's report is formally presented, the Orlando Sentinel is in the middle of a major reporting project, dubbed "Laborland," spelling out just how difficult life can be for hundreds of thousands of people in Central Florida, where the median wages are the lowest of the 50 largest metropolitan areas in the country, where housing is expensive and in short supply, and where the public transportation system is so small that it is not unusual for bus commutes to take hours each way.
Demings praised the donation as a potential catalyst to prime other corporations in town to consider doing likewise. It was something the Housing For All task force had hoped for but was not sure could happen, said that panel's co-chair, LIFT Orlando Chief Operating Officer Terry Prather.
"The task force will be delivered to the commissioners tomorrow. There were three things that really stood out to me and we can see that happening right here, in this project. We talk about innovation. We talk about involvement, and we talk about incentives. This is all of that in one," Prather said.