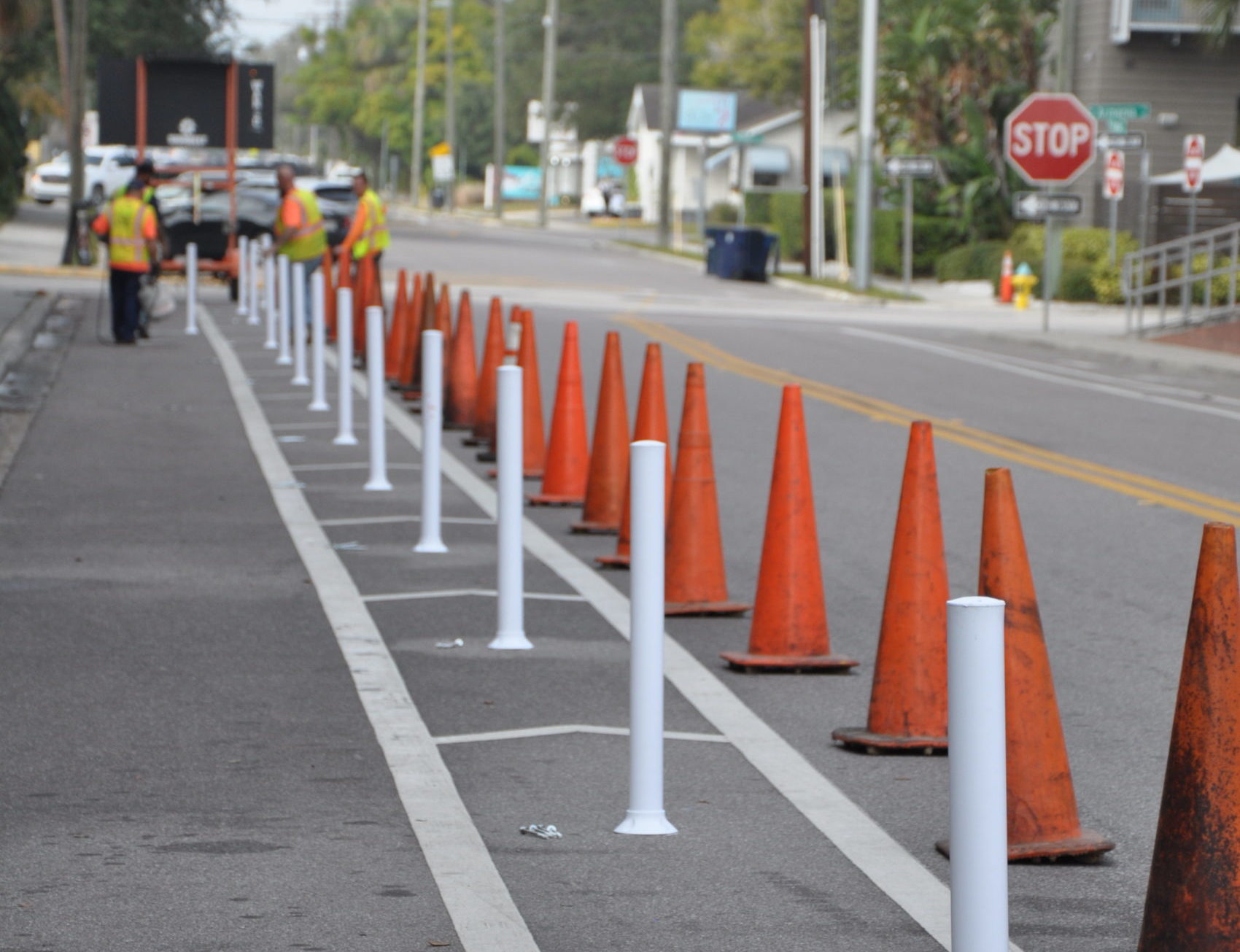 Barriers separate cyclists from cars.
Tampa Mayor Jane Castor is beginning a series of bike lane improvements to make cyclists safer when sharing the road with drivers.
Under Castor's instruction, the city is installing flexible delineators on Azeele Street near the SoHo Publix. Flexible delineators are white polls that can easily be installed along roads to create a physical barrier between cyclists and cars.
The city has already installed them on portions of Bayshore Blvd.
The delineators also discourage drivers from parking in bike lanes.
"As a police officer, I saw firsthand a family's devastation when I had to tell them their loved one passed away due to a distracted driver and that's why, as part of our Transforming Tampa's Tomorrow initiative, we made a commitment to Vision Zero," Castor said. "Tampa's residents and our visitors demand and deserve safe pedestrian, bike, multimodal lanes and sidewalks and our team is hard at work delivering just that."
The project is part of Castor's Transforming Tampa's Tomorrow initiative.
Riding a bike is technically safer in bike lanes, but many cyclists are afraid to use them because there is no buffer between them and passing cars.
The city plans to add buffers to bike lanes over the next several years including raised curbs. The delineators can provide a temporary fix until raised curbs can be installed.
The city is testing other locations for protected bike lanes.
Locations currently being studied include Cass Street and Green Spine in North Hyde Park, Floribraska Avenue in Tampa Heights and V.M. Ybor, Florida Avenue, Tampa Street and Brorein Street in downtown and the Beneficial Drive Bridge in Harbor Island.
The city is currently working within its existing budget, but might soon have access to additional revenue for transportation improvements under the All For Transportation tax residents and visitors are currently paying in sales tax. That revenue is on hold pending an appeal with the Florida Supreme Court seeking to overturn it.