Gov. Ron DeSantis and First Lady Casey DeSantis on Tuesday pledged their full support and reform initiatives for the more than 1,600 Florida state employees who have some of the most emotionally demanding jobs in the state, child protective services.
Speaking before a packed ballroom of more than 1,000 at Tuesday's Florida Child Protection Summit in Orlando, the Governor, the First Lady and Department of Children and Families Secretary Chad Poppell sought to assure the state's frontline warriors in the battle to protect Florida's children from abuse, neglect, abandonment, and endangerment.
The emotionally-stressful jobs have suffered tremendous turnover in recent years as the state has struggled to shore up recruitment, training, retention, and work-life balances for the more than 1,000 child protective investigators who go into homes and the more than 600 others involved in protecting children in cases of potential problems.
Gov. DeSantis received a strong ovation when he pointed out his proposed 2020 budget calls for an additional $97 million in funding. Though he offered no specific new iniaitives, he also stressed his desire to pursue reforms that would provide quality assurance and community-based care.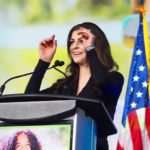 The First Lady, who has been leading many of the coordination efforts of social services in the DeSantis administration, roused the crowd by declaring she recognizes the work that they do.
"Ultimately I see signs of hope. I am very encouraged," she said, while relating some stories she had heard from children who overcame long odds.
"A common theme there, somebody at some point in their life took an interest in them, gave them value, gave them meaning, gave them hope. Took an interest in them even for a little while," she continued.
"We understand it's not easy. … But you do what you do because you care. And that means the world," she said. "And just so you know the Secretary, the Governor and I will work very hard to support your efforts because at the end of the day you're fighting for our kids and I can think of nothing better."