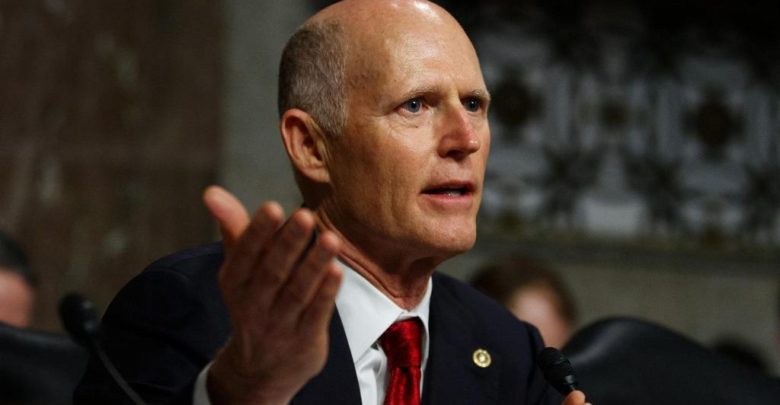 The shooting at Naval Air Station Pensacola killed three people and injured eight others.
Republican U.S. Sen. Rick Scott says military officers should be allowed to carry weapons on U.S. military bases after one of those bases was attacked earlier this month in Pensacola.
The shooting at Naval Air Station Pensacola killed three people and injured eight others. Authorities say it was conducted by 21-year-old Mohammed Alshamrani, a Saudi national who was going through naval training at the base.
Military bases do have law enforcement personnel on site that are allowed to carry weapons.
But those bases typically only allow military officers to have access to weapons during training exercises. Officers' personal weapons are typically banned entirely, with limited exceptions, while government-issued guns are locked up until needed for training.
Scott has already called for the U.S. to pause military training programs for foreign nationals. Now, he says the practice of gun-free zones needs to be reexamined.
"It defies logic that our men and women in uniform, who we train to operate multi-million dollar pieces of military equipment and trust to keep our country safe, are not allowed to carry firearms on U.S. military bases," Scott said.
"It's time for this policy to change. The terrorist attack at NAS Pensacola shows that it's more important than ever for our men and women in uniform to be in a position to defend themselves. I will work with the leadership of the Armed Services Committees and the Department of Defense to see what needs to be done to change this policy and allow military officers to carry firearms on U.S. military bases."
The change would need to be made at the federal level. The bases are considered federal land, putting them beyond reach of state laws which may allow concealed or even open carry of weapons.
And no law is required to shift the policy. The U.S. Department of Defense (DoD) cracked down on those weapons under a 1992 directive during the tenure of former President George H.W. Bush.
The DoD would have the authority to loosen those restrictions. And President Donald Trump has repeatedly promised to do exactly that in the past.
In Feb. 2018, following the Parkland shooting, Trump pushed the idea.
"We're going to look at that whole military base gun-free zone," Trump said, according to a report from Reuters.
"If we can't have our military holding guns, it's pretty bad."
Indeed, Trump floated the idea during his 2016 campaign, promising to take action on his first day in office. He also voiced support for removing the gun-free zones in July 2015 following the attack on Chattanooga military facilities that killed four people.
It's not clear how likely military leaders would be to go along with such a change.
Just days before attack on Naval Air Station Pensacola, two others were killed during a shooting at Pearl Harbor Naval Shipyard in Hawaii.