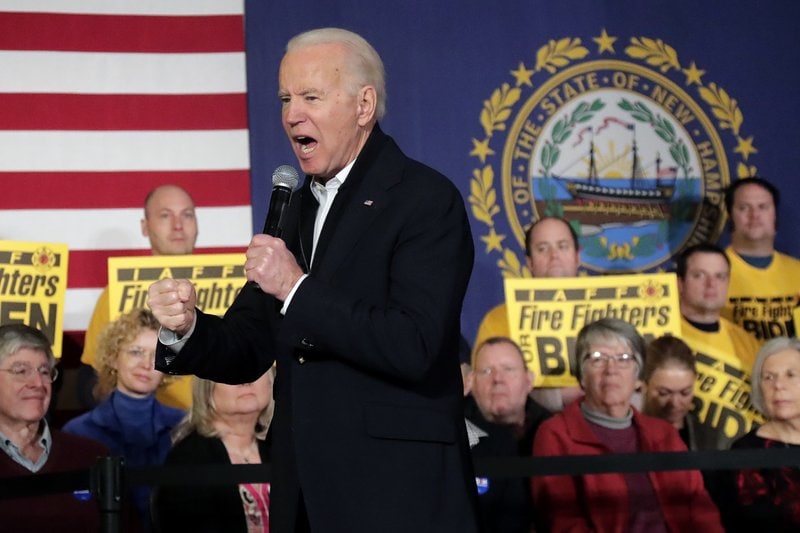 Biden has collected 50 endorsements from Florida leaders.
As vote-by-mail ballots begin going out to Florida voters for the March 17 presidential primary, former Vice President Joe Biden has gathered endorsements from 34 state lawmakers.
That includes five endorsements from African American lawmakers and brings his total Florida leader support to more than 50, Biden's campaign announced Thursday.
"As vote-by-mail gears up across Florida, we feel energized by the growing support we have across the state. These legislators are well-known, influential leaders that know Joe Biden is the candidate best-positioned to beat Donald Trump in the critical state of Florida," said Jackie Lee, Florida senior adviser for Biden for President. "Most importantly, this recent slate will help mobilize our supporters to vote, whether it's through vote-by-mail now, early voting, or in-person on March 17."
The five new endorsements include Reps. Bruce Antone, Dianne Hart, Geraldine Thompson, Delores Hogan and Fentrice Driskell. Hart and Driskell represent parts of Tampa, Antone and Thompson portions of Orange County and Hogan St. Lucie County.
"I am proud to join many of my colleagues to endorse Joe Biden for President, the candidate I know can win Florida and from there, the White House. Joe's character and distinct capability to connect with people of all backgrounds are the qualities we need in our next President, who will inherit a divided and polarized country," Antone said. "In Florida, the stakes are high. In the state Legislature, we are on the front lines fighting for better schools, the dignity of work, and most urgently, the right for all Floridians to vote. I trust Joe Biden to tackle these issues head-on and get things done."
Driskell said she supports Biden because she believes he will work well with Congress on issues important to Democrats and Americans.
"Health care, education reform, gun safety and climate change — we cannot wait for change. Joe Biden's achievable plans and proven track record of getting things done prove to me that he is exactly the leader we need to break the stalemate in Washington and deliver for the American people," Driskell said.
Other previous endorsers include former Sens. Bill Nelson and Bob Graham, and current U.S. Reps. Al Lawson, Frederica Wilson, Alcee Hastings, and Charlie Crist.
The campaign previously announced more than 1,300 endorsements from national, state, and local leaders, including current and former U.S. Senators and Representatives, Governors, state elected officials, community leaders, and national security professionals.
Biden's latest endorsements come as former New York City Mayor and billionaire Mike Bloomberg has already established firm footing in Florida. Bloomberg spent at least $11 million in just six weeks on television ads and is the only candidate,  including President Donald Trump, that has launched a Florida media blitz. Bloomberg also finished second in a recent poll among Florida Democrats.