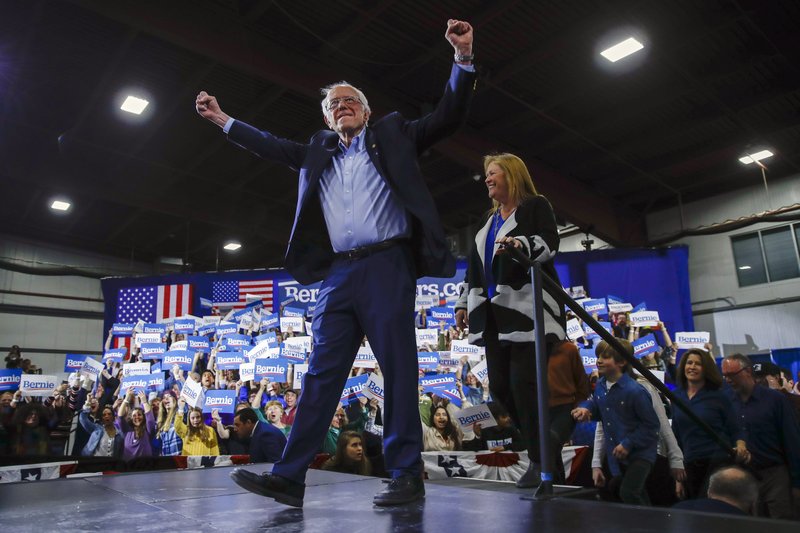 The delegate-rich state was a huge Super Tuesday prize.
Vermont Sen. Bernie Sanders has won California's Democratic presidential primary. The state has 415 delegates at stake, the biggest haul on the electoral map.
Sanders' campaign has long seen the nation's most populous state as a critical early contest and has had droves of volunteers organizing events across the state. Sanders lost the 2016 Democratic presidential primary to Hillary Clinton and was hoping for a comeback that would be a capstone moment for the state's progressive wing.
Sanders has also won Utah, Vermont and Colorado. Joe Biden has won Texas, Massachusetts, Arkansas, Minnesota, Tennessee, Alabama, Oklahoma, North Carolina and Virginia.
Utah has 29 delegates at stake.
Sanders has a deep well of popularity with the state's left-leaning voters.
The Democratic primary is open in Utah, so voters can cast a ballot regardless of party affiliation. Some in the Republican majority have not fully embraced President Donald Trump and moderates saw an opportunity to woo middle-of-the-road voters with a pitch that they offer the best chance to unseat the president.
Sanders has also won Vermont and Colorado. Joe Biden has won Arkansas, Minnesota, Tennessee, Alabama, Oklahoma, North Carolina and Virginia.
Sanders is expressing "absolute confidence" that he'll be victorious in his pursuit of the Democratic presidential nomination, despite losing many of the early Super Tuesday races to Biden.
Speaking to supporters in Essex Junction, Vermont, Sanders stuck to his standard criticisms of his Democratic rivals without naming them. He also promoted himself as putting together "an unprecedented, grassroots, multigenerational, multi-racial movement."
Sanders earlier won Colorado's Democratic presidential primary. The state has 67 delegates at stake.
It was Colorado's first presidential primary in 20 years, and Sanders' victory shows how much the Democratic Party can attract independents, still the largest voting bloc in a state that's moved further left in recent elections.
Colorado held presidential primaries from 1992 to 2000, then dropped them to save money. In 2016, voters approved reinstating primaries after complaining about the caucus system of thousands of precinct meetings to start choosing presidential candidates.
Sanders defeated Hillary Clinton in the state's 2016 Democratic caucuses, and he has maintained an enthusiastic base in Colorado ever since.
Vermont favorite son Sanders, who is seeking a big night in Super Tuesday voting across the country as part of his quest for the Democratic presidential nomination, also cruised to victory in his home state's presidential primary.
The Associated Press declared Sanders the winner over the other 12 candidates in Democratic primary shortly after the polls closed statewide at 7 p.m.
Sanders and his wife, Jane, returned home to Vermont to vote in Super Tuesday's presidential primary, with the U.S. senator telling reporters that he looked forward to doing well.
As he arrived at the polling place in Burlington on Tuesday morning, he told a crowd of reporters that his campaign is about defeating President Donald Trump, who he called "the most dangerous president in the modern history of our country" and creating an economy and government "that works for all and not just the few."
"We are putting together a multi-generational, multi-racial movement of people who are standing up for justice and to beat Donald Trump, we are going to need to have the largest voter turnout in the history of this country," he said. "We need energy. We need excitement. I think our campaign is that campaign."
Sanders is planning to hold an election night rally at the Champlain Valley Fairgrounds in Essex Junction.
Vermont's voting comes on the state's annual Town Meeting Day when most communities across the state are holding meetings and votes on local and school spending plans. Thirteen other states and one territory are also holding primaries on Tuesday.
"We are hearing poll locations are busy," Vermont Secretary of State Jim Condos said Tuesday before the polls closed, noting the actual turnout figures won't be available for several days.
There are 13 candidates on Vermont's Democratic primary ballot, including Sanders, former Vice President Joe Biden, U.S. Sen. Elizabeth Warren of Massachusetts, and former New York City Mayor Mike Bloomberg.
A number of the Democratic candidates whose names are on the ballot have already dropped out. Any votes already cast for those candidates who dropped out will be counted.
In 2016, Sanders won more than 85% of the Democratic primary vote in the race against Clinton.
Vermont has not seen the attention of the Democratic candidates that larger, more delegate-rich Super Tuesday states have gotten.
On the Republican side, Trump is on the ballot along with former Massachusetts Gov. Bill Weld and perennial candidate Roque "Rocky" de la Fuente.
Any Vermont resident can vote in either the Democratic or Republican primary. When voters arrive at a polling place, they are required to ask for either a Democratic or Republican ballot, but choosing one ballot or the other does not mean the voter is a member of that party.
The polls closed at 7 p.m.
As of Thursday, there were just over 484,000 registered voters in Vermont, up about 1,000 over 2016, said Secretary of State Jim Condos said.