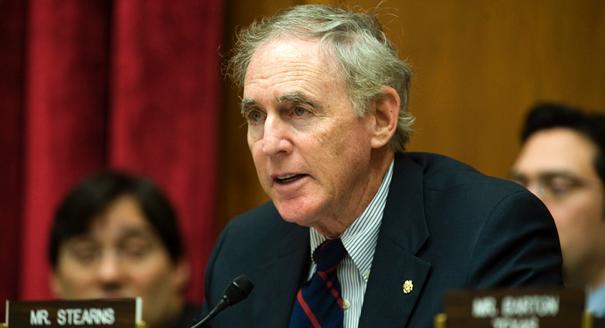 It's not the first time Stearns has dabbled in zombie campaign activity.
Former Republican Congressman Cliff Stearns might have used some leftover campaign cash to put invest in the stock market.
Stearns, who held Florida's 6th Congressional District running from Daytona Beach to Southern Duval County, allegedly invested $209,776 from his campaign account into T. Rowe Price and The Vanguard Group investment firms, according to Federal Elections Commission records. Dave Levinthal, editor-at-large for government watchdog group The Center for Public Integrity, first reported the findings.
The FEC data showed the funds were expended March 31 and were noted as "losses."
Stearns, of Ocala, held the Congressional seat from 1989 to 2013 and lost the seat to Ted Yoho in the 2012 election after redistricting.
FEC regulations say leftover campaign funds cannot be used for "personal use." But such funds can be used for contributions to charities and political committees. Stearns still has about $1.3 million in surplus campaign funds.
Stearns has had a run-in with FEC regulators before. He agreed to pay a $6,900 fine and reimbursements in 2019 after the FEC ruled he used surplus campaign money to pay for expenses at the National Republican Club of Capital Hill in Washington, D.C., where he is a lobbyist. He also used some excess campaign funds for a hotel stay in Jacksonville, the FEC investigation concluded.
The Stearns case was hailed by some critics as an example of progress toward ending "zombie campaigns," which refers to outstanding finances from defunct campaigns.
"This is great news," Brendan Fischer, Director of Federal Reform for the Campaign Legal Center, said of the Stearns case and FEC ruling a year ago. "This is an additional indication that the FEC is beginning to take the zombie campaign phenomenon seriously."
In late 2019, the FEC was still showing vigilance on zombie campaigns when it sent dozens of letters to former members of U.S. Congress who are acting as lobbyists, notably including Stearns.
"… [B]e aware that committee assets, including cash-on-hand, may not be converted to personal use," the FEC letters warned former lawmakers, intimating additional investigations could be forthcoming if necessary.