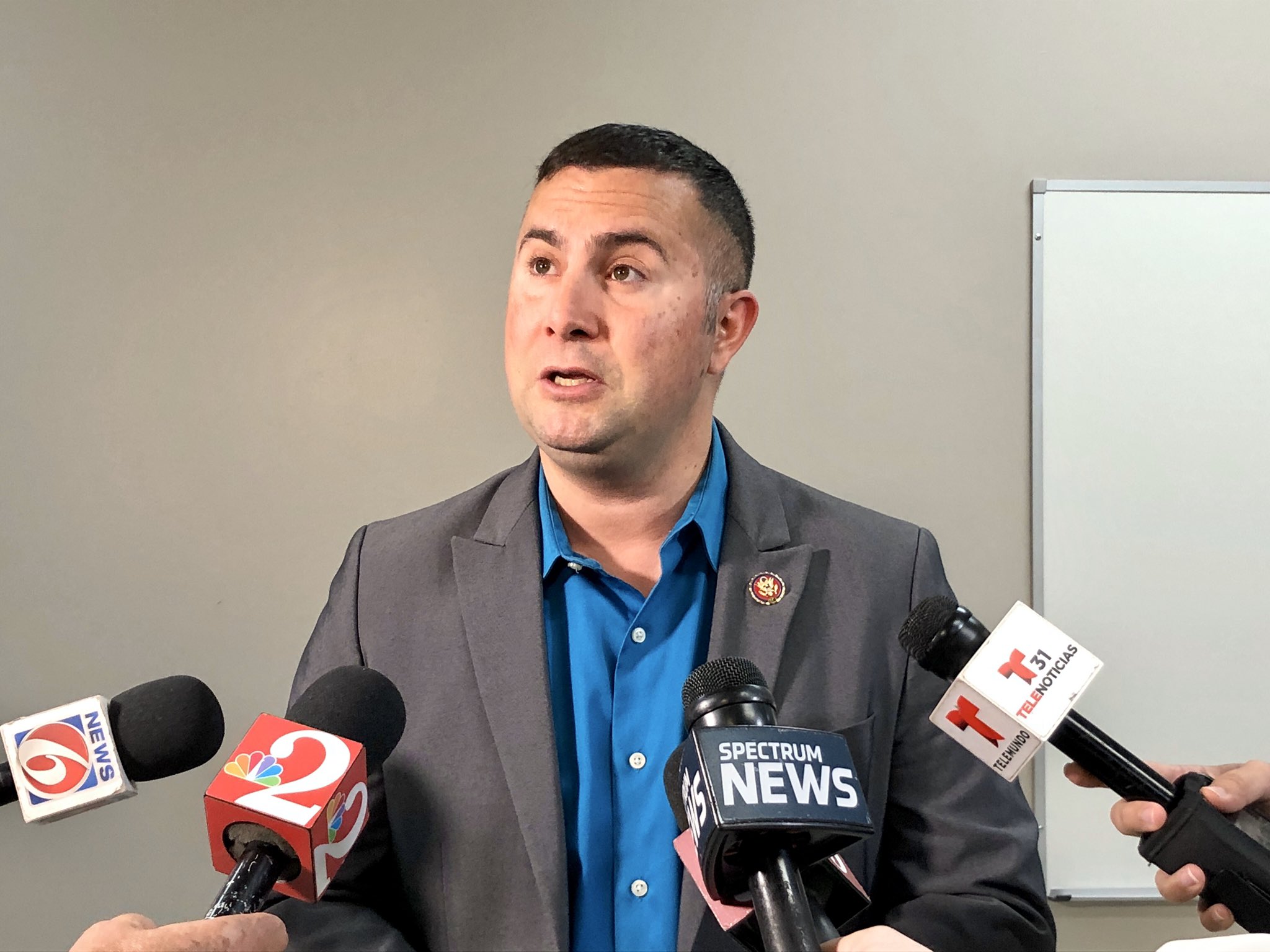 President Trump is Puerto Rico's worst nightmare, the group alleges.
After bashing President Trump's response to Puerto Rico's disasters and relief requests as a "nightmare," Rep. Darren Soto and Democratic allies said Wednesday they have assurances Joe Biden is including island aid.
Soto, Puerto Rico territorial Sen. Carmelo Rios, and some community leaders within the stateside diaspora on Wednesday contended Biden is committed to ending "second-class citizenship" treatment for Puerto Ricans on the island.
They also said they have assurances from Biden and his campaign of additional support for the hundreds of thousands who have fled Puerto Rico's economic crisis, hurricanes, and earthquakes, many to Florida, particularly to Soto's Florida's 9th Congressional District centered in Orlando and Kissimmee.
Those comments were made in an overtly partisan press conference hosted via Zoom Wednesday by the Florida Democratic Party.
They addressed whether the Puerto Rican diaspora may be significant in the 2020 presidential campaign. It's a bloc that has grown tremendously in the past five years, particularly in the I-4 corridor that traditionally influences Florida's political swing. But it's also is a bloc that, while largely Democratic or independent in voter registration, historically has been unreliable in turning out to vote.
Soto, Rios, Marcos Vilar, the executive director of Alianza for Progress, and Natascha Otero-Santiago, vice president of the Democratic Hispanic Caucus of Florida, expressed deep resentment for how the Trump administration responded to the 2017 tragedies of Hurricane Irma and Hurricane Maria, which caused 3,000 deaths on the island, more than seven months of widespread electrical power outage, and prolonged hardship.
A pattern of continued neglect, they contend, is being repeated with little response to the series of earthquakes that have hit the island this year, and now for limited relief the island is getting in the coronavirus crisis.
Soto contends Puerto Rico is part of a Trump vendetta, and that his administration still is "slow-walking" aid, with less than half of the $42 billion hurricane disaster relief appropriated by Congress having reached the island yet. They also say he is refusing to act on proposals for earthquake relief, and is providing far less than needed for coronavirus relief.
"President Trump is Puerto Rico's worst nightmare," Soto said.
Trump Victory Spokesperson Emma Vaughn strongly disagreed.
"The Trump administration has pushed pro-growth economic policies that have created millions of jobs and maintained a focused and meaningful aid approach to Puerto Rico," Vaughn stated. "Despite the best efforts of Democrats, the facts are clear: President Trump has led a dedicated multi-billion-dollar relief effort."
Soto said the contrast "couldn't be clearer" between Trump's Puerto Rico efforts and what Biden has pledged.
"Vice President Biden has vowed to speed up recovery for Hurricane Maria relief, pass earthquake relief, treat Puerto Ricans as equal citizens, and respect their decisions in future elections on statehood," he said.. "We absolutely need a change in leadership in this country, and in Central Florida and in Florida. But it is life-and-death, literally, in Puerto Rico."
Rios said he and other allies on the island have been working with the Biden campaign on crafting a platform for Puerto Rico.
The platform will be unveiled in a week or so, he said, and will cover island development, renewable energy, health care, and other issues.
"It is the first time that I can recollect that Puerto Ricans living on the island have developed a platform that a future president, Biden, would use with Puerto Rico," he said.
Soto said Biden is committed to expediting the still-stalled hurricane disaster relief, pushing forward and signing the earthquake relief bill that the Democratic-led House of Representatives approved this year that has not been considered in the Republican-led Senate, and supporting the equality of relief measures included in the Democrats' new coronavirus package, the "Heroes Act," which Speaker Nancy Pelosi unveiled Tuesday and wants to bring to a House vote Friday.
Soto said the Democrats' congressional Hispanic Caucus recently met with Jill Biden and she offered her own assurances and empathy for what Puerto Ricans have gone through.
"So I have absolute confidence that we can see the treatment that Puerto Rico deserves when they are facing crises under a Biden administration," Soto said.