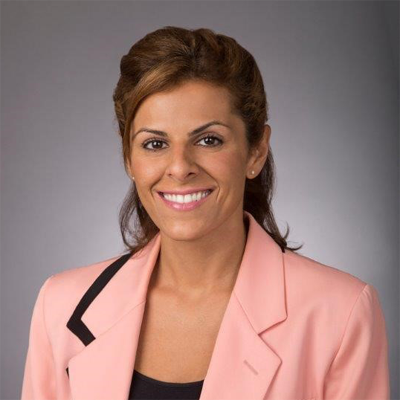 Makki's pro-Trump ad appeals to the President's base.
Congressional candidate Amanda Makki began running ads on Fox News this week highlighting her commitment to conservative values.
Makki is running in Florida's 13th Congressional District in a crowded GOP primary in which Republicans are hoping to unseat incumbent Democrat Charlie Crist in November.
"Conservative Amanda Makki earned the American Dream. Makki escaped a brutal regime that persecuted Christians. She worked her way through college and served in the Pentagon after 9/11," the ad begins. "In Congress, Amanda Makki will stand with President Trump to secure our border and protect Florida families from crushing taxes. Charlie Crist and Nancy Pelosi want to turn America into a socialist country. Together we can stop them."
Makki is the top fundraiser in the GOP field with nearly $750,000 raised as of the end of March. But she faces stiff competition from military veteran Anna Paulina Luna who seeks to claim the far-right wing of the vote and is running as a staunch Trump ally.
Makki's add seems to address that by emphasizing commitments and talking points Trump supporters value like low taxes, a secure border, and protecting Americans from an alleged socialist take over.
In just 30 seconds, Makki plays on the GOP right's Christian ideologies and "pull your self up by the bootstraps" sensibilities.
"I know the American Dream because I've lived it. My family and I legally immigrated to the U.S., my mother delivered Yellow Pages to help put my father through school where he ultimately became a surgeon, and I couldn't be more grateful for the opportunities afforded to me and my family by this country," Makki said of the ad.
"We can never let Democrats in Congress turn America into a socialist country!"
Also running are perennial candidate George Buck, former attorney Sheila Griffin and political outsider Sharon Barry Newby. Two other candidates, Matt Becker and Nicolas Sacramento, dropped out of the race before qualifying.
Luna has raised nearly $370,000, as of March 31. Buck, who is also trying to claim the Trump lane, has raised more than $600,000. Griffin and Barry Newby haven't cracked six-figures.
None of the fundraising matches Crist, who has raised nearly $1.8 million for his reelection.
Once a conservative district, CD13 now leans left after redistricting included parts of South Pinellas County, including the liberal downtown St. Petersburg.
To view the ad, click on the image below: