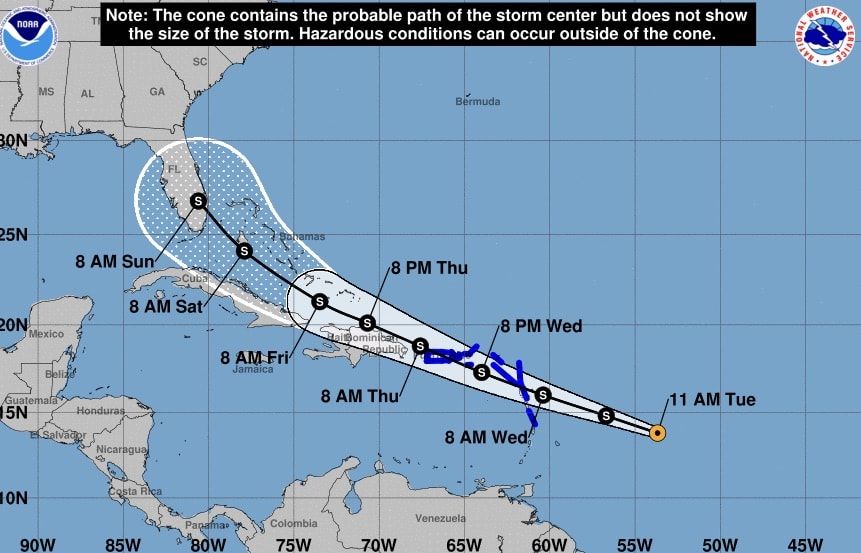 Impacts from the storm may be felt in Florida as soon as Saturday morning.
The National Hurricane Center expects tropical storm cyclone in the Atlantic Ocean to develop into Tropical Storm Isaias within the next 36 hours and threaten landfall over Florida, according to a Monday advisory.
The advisory prompted tropical storm warnings for Puerto Rico, the British Virgin Islands and the Leeward Islands. The NHC warned the islands may experience heavy rains, life-threatening flash floods and mudslides.
As of the 11 .m. update, the system was recorded as 585 miles east-southeast of the Leeward islands and traveling west at 23 mph with maximum sustained winds of 40 mph.
"Given the current structure of the system, only gradual strengthening is predicted during the next day or two, however the system is expected to become a tropical storm when it is near the Leeward Islands on Wednesday," the NHC advised.
Current NHC projections estimate Isaias may impact Florida as early as Saturday morning but warn the track and intensity of the storm remain uncertain.
"It cannot be stressed enough that since the system is still in the formative stage, greater than average uncertainty exists regarding both the short-term and longer-term track and intensity forecasts," the NHC advised.
Florida Division of Emergency Management Director Jared Moskowitz is encouraging Floridians to ready their hurricane supplies ahead of possible landfall.
"Time to get your 7 days of Hurricane supplies," Moskowitz tweeted. "I hate giving good people bad news."
If developed, Isaias will become the earliest storm to be  listed with an "I" on record, underscoring the 2020 hurricane season's above-normal activity.
A U.S. Air Force Reserve reconnaissance aircraft will be deployed Monday afternoon to investigate the system's intensity and gather more details.
The NHC is urging residents of Hispaniola, Cuba, the Bahamas and Florida to monitor the storm's progress and forecast over the next several days.