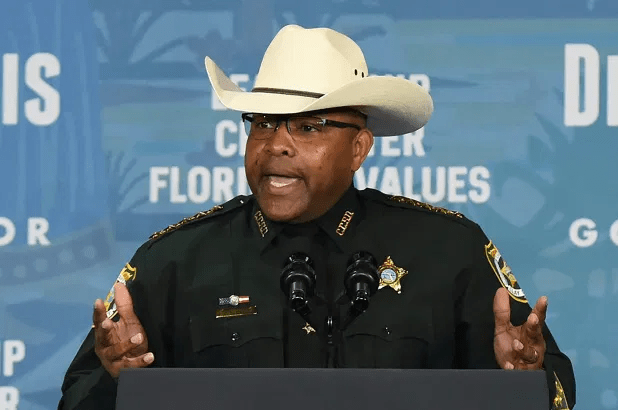 Sheriff Daniels was suspended, facing four counts related to obstructing an investigation.
Gov. Ron DeSantis on Saturday filled a temporary void in command at the Clay County Sheriff's Office, tapping the FDLE's Matt Walsh as interim sheriff.
Walsh will replace Darryl Daniels, suspended Friday amid charges related to tampering with evidence and making false statements to investigators.
Until Friday, DeSantis had not chimed-in on the developments in Daniels' case, which was opened more than a year ago.
The Sheriff famously stumped for DeSantis in 2018, serving as a validator of the Governor's commitment to law and order in his successful campaign against Democrat Andrew Gillum. He performed a similar function for Attorney General Ashley Moody in her run the same year.
For more than a year, Daniels has been under investigation over claims he compelled subordinates to carry out a false arrest of a woman with whom the Sheriff was having an affair. At all times he continued to serve in office, even as questions mounted.
The interim sheriff, who could serve through the end of the year, is not one of Daniels' challengers on the ballot Tuesday, when the Sheriff faces five Republicans on the ballot, with another one a qualified write-in.
Daniels, after slow fundraising in July, got somewhat more traction with donors in the final stretch of fundraising in August, raising $7,435, with a contribution coming in from Kent Stermon, a political ally and DeSantis booster. Daniels raised nearly $99,000 in his campaign, good for third in the field.
Michelle Cook, who raised $171,325 in her run, and Mike Taylor, who raised $111,298, had more money to deploy. But with early voting and vote by mail well underway, there are open questions about whether even a suspension by the Governor and four charges on obstruction of an investigation can deny Daniels a second term.
Public polling in April showed that Daniels' scandal, which was close to a year old already, didn't matter to voters.
A crowded field and the prerogatives of even lapsed incumbency may create an interesting conundrum for the rule of law in Northeast Florida come Tuesday night.