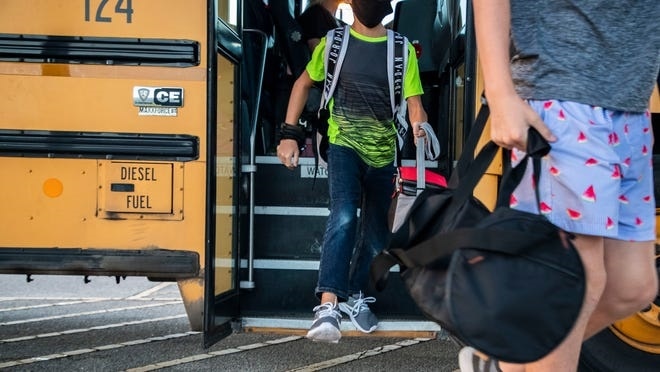 The district is not reporting how many, if any, classes have been quarantined.
Three days into the opening of brick-and-mortar schools, Hillsborough County schools have reported 20 coronavirus cases — 16 students and four staff.
The school district released a COVID-19 dashboard on Monday to let the public monitor the spread of coronavirus within the school system. The district has reported 170 cases since July 31.
The county saw six cases on Monday, when schools in reopened — all were students. Tuesday, the dashboard showed seven students and two employees had tested positive, and, as of noon Wednesday, three students and two employees also reported positive.
The dashboard also includes a list of the impacted schools with number of students and employees that have tested positive for COVID-19.
Students and employees listed in the dashboard since reopening have each been on campus, except for four of the six students listed in Monday's report who were not on campus, since it was the first day of school, said district spokesperson Tanya Arja.
The dashboard is updated automatically every hour from 7 a.m. to 7 p.m. seven days a week.
Individuals who were in contact with a confirmed case on campus must be quarantined, required to stay home for 14 days. However, the district is not yet releasing quarantine information publicly, Arja said, but families of students who must be quarantined have been contacted.
Hillsborough County School Board member Karen Perez has voiced her concerns about schools having to shut down quickly because of quarantine requirements. Perez has been vocal about the district's need for transparency in positive cases within the county school system. With these numbers, she worries schools will quickly have to shut down.
The district is looking to finalize threshold rates that will require schools to shut down. Right now, the board estimates the threshold will be between 15% to 20% of the school quarantined to require a school to shut down.
While the district just opened classrooms on Monday, the school year started online in the county last week, on Aug. 24. What the district called a "Smart Start Week," this online start was designed to get students comfortable with e-Learning, especially if the student will have to move to online classes if forced to quarantine.
Hillsborough was originally poised to start the first four weeks of the school year online, but the state rejected two proposals that would have delayed brick-and-mortar learning.
The district's plan quickly changed following a letter from Corcoran to Superintendent Davis. The letter rejected the district's delayed reopening, threatening to withhold funding if the board did not follow the emergency order.
After Davis met with Corcoran, the state and district compromised: Hillsborough would start the school year as planned on Aug. 24 online, but transition back to brick-and-mortar classes Monday.
Schools that have been impacted since starting brick-and-mortar classes on Monday are listed below: 
— Davidsen Middle School, 1 student [spelling is correct]
— Freedom High School, 1 student
— Kimbell Elementary School, 1 student
— Steinbrenner High School, 1 student
— Tampa Palms Elementary, 1 student
— Valrico Elementary School, 1 student
— Bloomingdale High School, 1 student
— Burns Middle School, 1 student and 1 teacher
— Citrus Park Elementary School, 1 student
— Eisenhower Middle School, 1 student
— Marshall Middle School, 1 student
—Stowers Elementary School, 1 student
— Tampa Bay Tech High School, 1 student
— Buchanan Middle School, 1 student
— Gaither High School, 1 employee
— Riverhills Elementary School, 1 employee
— District Office, 1 employee