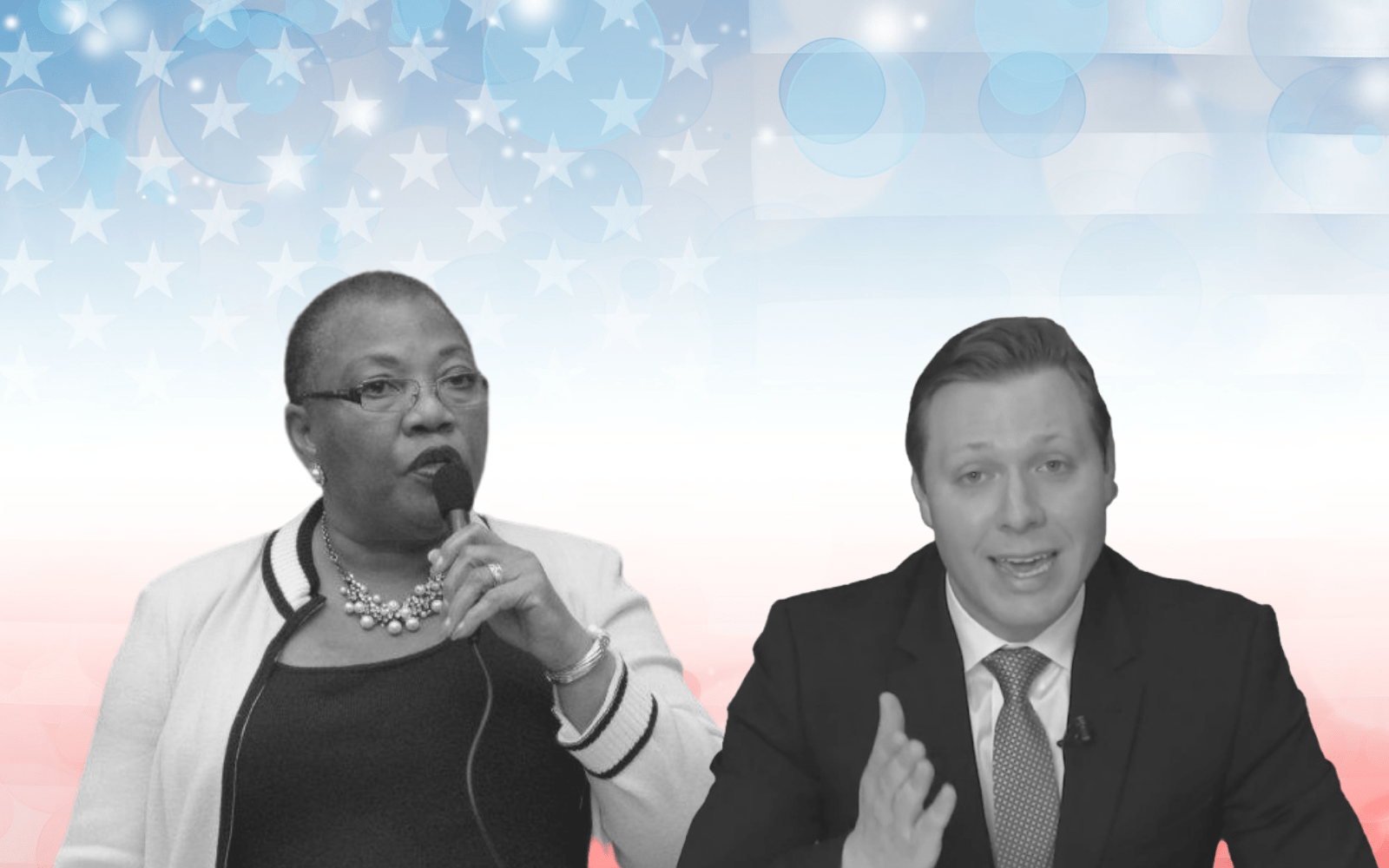 Thompson wants state to offer more help to individuals; Portigliatti to businesses.
Economy-wise, there may be no district in Florida more directly hit by the coronavirus crisis than House District 44, home to the largest concentration of theme parks, resorts and hotels in the state.
Offering their own approaches and priorities to fix the health and economic impact, Democratic Rep. Geraldine Thompson and Republican business owner Bruno Portigliatti are battling for that challenge.
For Thompson, the impacts on small businesses, workers, students, families, housing, and health care are exacerbations of chronic problems that already had needed more attention before the coronavirus crisis crashed much of the economy. Now, more than ever, she says, the district needs an advocate for such things as issues ranging from livable wages to expansion of health care access, public education support to investment in affordable housing.
Many, many people are looking for help, she said.
"COVID is the thing uppermost on everyone's minds," Thompson said. "With all the uncertainties on when we're going to be able to get back to our routines, it has caused a lot of anxiety."
For Portigliatti, the priority is getting the economy safely rebooted. Then many of the other issues can be addressed in a healthy environment. That makes the election more critical, he says, made worse, because many people do not believe they're being represented.
"It's the economy, economic opportunity, it's jobs. It's having a leader that can represent them in an effective way, that can actually listen to them in Tallahassee, and most importantly report back. That's what's missing in District 44," Portigliatti said. "It's economic opportunities, it's reopening our markets in a safe way. It's jobs. It's safety as well. People are concerned about public safety."
HD 44 covers most of southwestern Orange County. It takes in lower-income communities on Orlando's southwest side, some of the most affluent areas in Central Florida, in Windermere and Bay Hill, all or parts of the suburbs of Oakland, Ocoee and Winter Garden, and almost the entire tourism corridor of Orange County, including Walt Disney World, Universal Orlando, SeaWorld Orlando, and International Drive.
The voting populous is evenly split, with Republicans holding a 1-point advantage in voter registrations, according to the latest book closing available through the Florida Division of Elections.
Until Thompson won in 2018, the district had been represented by Republicans for decades.
Both parties have invested heavily in this race and likely will continue to do so. Democrats think Thompson is someone who can hold it, while Republicans think they could and should take it back, and see Portigliatti as a rising star. With the tourism corridor, the district is a fundraising prize, one of the biggest power bases in Florida.
The Florida Democratic Party has poured $15,000 in cash and $36,000 in in-kind contributions into Thompson's campaign. The Republican Party of Florida has provided $36,500 in in-kind contributions to Portigliatti's.
Each of them had minor challenges in the Aug. 18 primaries and won easily, though both spent some campaign money doing so.
Overall, through Aug. 21 reports on file with the Florida Division of Elections, Portigliatti had raised $138,000 and had $78,859 left in the bank. Thompson had raised $90,000 and had $64,288 left.
Thompson has served eight years in the Florida House of Representatives, the last two years representing HD 44. She also spent four years in the Florida Senate. She is among the most well-known political figures in Central Florida. She boasts that she has "cross-cultural competency," to be able to bring people together. She likes to say she is as well known and accepted by the largely affluent, primarily White residents of Windermere as she is by the largely impoverished, primarily Black residents of Parramore [which is not in HD 44, but whom she previously represented.]
She touts appropriations she has brought back to the district for such things as expanding water and sewer systems. Yet Thompson's role largely has been guided by Democratic concerns for people struggling in a low-wage tourism and service economy. She talks about building "an economy that works for everybody," demanding livable wages, a new state unemployment system and increasing benefits, investment in affordable housing, racial equality, and "re-engineering our justice and criminal justice system here, beginning with law enforcement."
She is not calling for defunding police. But she advocates reforms that include a statewide database, coordinated by the Florida Department of Law Enforcement, of complaints against law enforcement officers to "red flag" officers; rolling back "qualified immunity" that protects police from lawsuits; requiring counseling and training on policing bias; clearer guidelines for state attorneys to act in cases of police brutality; and repeal of the state's "stand your ground" law.
Thompson bristles at Portigliatti's suggestions that she is a career politician. She notes that before she ran for office she founded and continues to run the Wells' Built Museum of African American History and Culture in Parramore. The museum was built into what had been the abandoned Wells' Built Hotel, one of the historic African American businesses for Blacks during Florida's segregation era, and which boasted a historic list of Black guests through that era.
"It took a lot of business acumen to be able to save it, to be able to reap part of the tourism industry that drives the economy here in Central Florida. I didn't walk into a family business. I built a business from the ground up and that continues to operate today," Thompson said. "And as a former educator, one of the things I had to deal with, unfortunately routinely, is have students come to Valencia [College] with credits from some non-accredited institution like my opponent runs and finding out they were not worth the paper they were printed on."
Portigliatti is a lawyer and business owner. He runs several family businesses including the private Florida Christian University in Orlando. It is regulated by the Florida Department of Education and has memberships in several Christian university associations, but is not accredited by the major regional college accreditation associations.
Businesses are trying to reopen but things are not getting back to normal, Portigliatti pointed out. They need help, possibly a new wave of loans. They need assurances. They need as much deregulation as possible. Business and professional licensing reduction need to be expanded.
"We have to incentivize businesses now and give them the resources they need. Give them the tools so they can prosper, they can thrive, they can open up without barriers, and without the fear of frivolous lawsuits too. Right? That's a concern in a lot of business owners' minds," Portigliatti said. "It's: OK, if I open up, COVID is still around. What would happen? What would happen if one of my staff catches it? What would happen if someone in the public comes and alleges he got it in my restaurant and my store."
He contends he has the leadership skills that are critically important now and contends Thompson does not.
"Folks here are concerned about their livelihood, they're concerned about economic opportunity, they're concerned about safety, they're concerned about upholding law and order, improving the education of their children, addressing the overcrowding of schools, opportunities for career opportunities for our children and obviously infrastructure," he said.
"Our voters are a lot more concerned about who will effectively represent them in Tallahassee, who has the leadership skills, who has the appropriate level of business experience that we need at the moment, especially after COVID, to deal with these challenges," Portigliatti continued. "To make sure we open up our economy that we stabilize again, and that businesses can hire again, and families can thrive again."
He ran for the HD 44 seat when it opened for a special election in 2017, losing in the Republican primary. Thompson then flipped the seat in 2018.
Portigliatti believes law enforcement should be fully supported and funded, and that a "serious conversation needs to take place" to address concerns of minority communities. He is Brazilian American and had served as a chair of Orlando's Minority Business Enterprise Certification Board, helping minority businesses win government contracts.
There needs to be more listening and thoughtful discourse, he said, which leads to the response — "What do we do?"