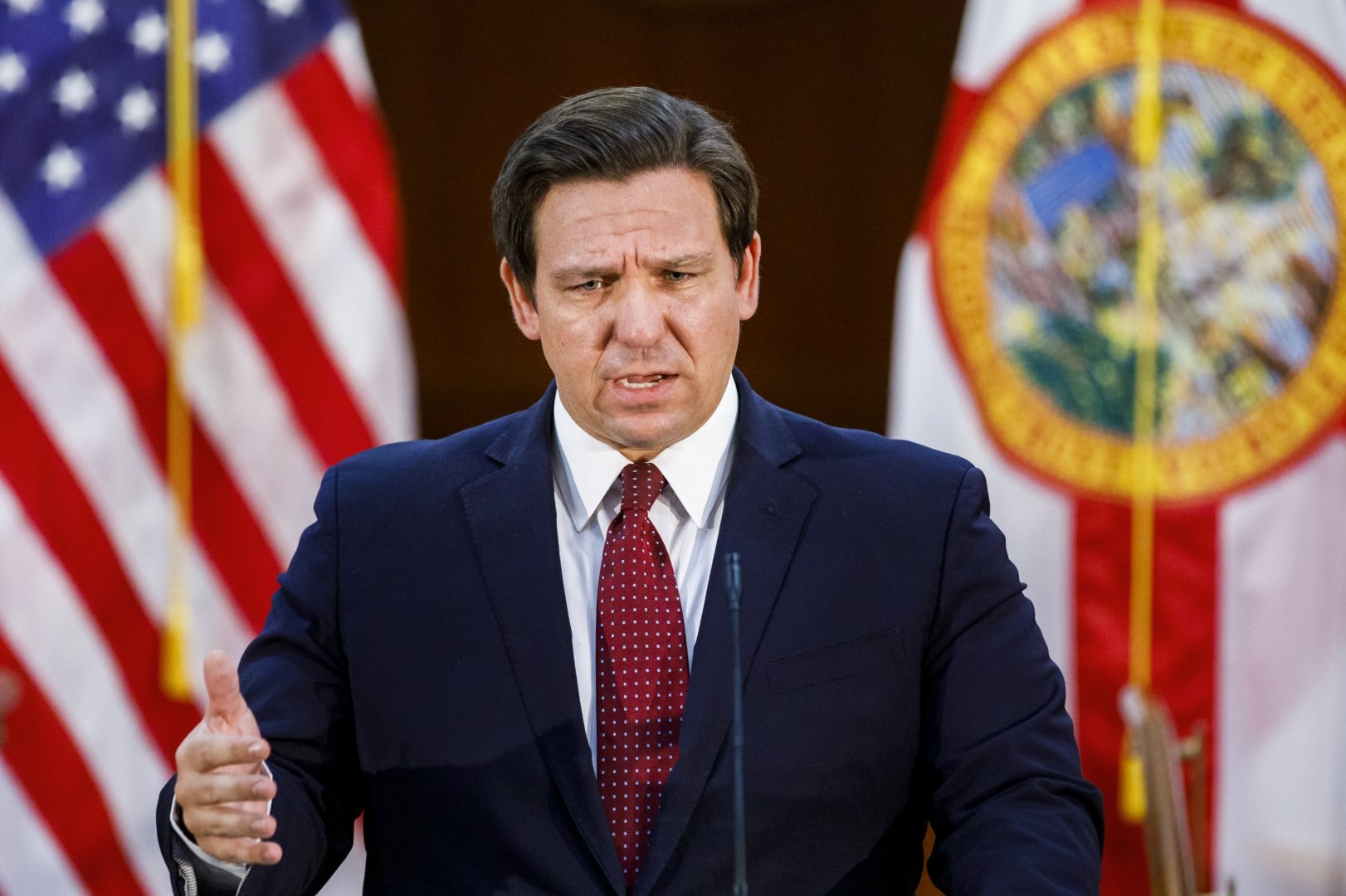 The Governor's proposed bill would stiffen penalties, create new criminal offenses and halt grants to jurisdictions that slash law enforcement funding.
In response to increased protests, which have spawned violence and looting in parts of the country, Gov. Ron DeSantis and leading lawmakers standing beside law enforcement officers unveiled a plan cracking down on violent demonstrations.
The proposed legislation, titled the "Combatting Violence, Disorder and Looting and Law Enforcement Protection Act," creates new offenses targeting violence at protests, increases penalties and implements other hard-line actions. One "citizen and taxpayer protection measure" would prohibit state grants and aid to local governments that slash law enforcement budgets, a direct counter to the "Defund the Police" movement.
"If you defund the police, then the state is going to defund any grant or aid coming to you," DeSantis told reporters.
That legislation will be a focal point of the 2021 Legislative Session, DeSantis said, standing beside Senate President-Designate Wilton Simpson and House Speaker-Designate Chris Sprowls.
The rise in protests, which followed George Floyd's death at the hands of Minneapolis police, have brought mostly peaceful demonstrations, but violent actions as well. Leaders of both parties have denounced violent protests, but Republicans and President Donald Trump have made combating violence central to their law and order message.
DeSantis called the current moment "a really, really sad chapter in American history" with morale at a low in law enforcement nationwide.
"Recently in our country, we have seen attacks on law enforcement, we've seen disorder and tumult in many cities across the country," he said. "You'll have situations where buildings will be in flames and on TV, even though sometimes the news will say it's peaceful, you see the flames behind there."
Certain violent actions at protests could draw felonies under the proposed bill. Damage to property or injury to people by a group of violent demonstrators would be a third-degree felony, as would obstructing traffic during an unsanctioned or violent protest.
Drivers fleeing a "mob" would not be liable for injury or death.
Florida hasn't had violence or looting like in Kenosha, Minneapolis, Portland and other cities named during the news conference. But Tallahassee, including outside the Historic Capitol Building, has seen unsanctioned protests that block roadways or lead to violent responses from motorists.
Sprowls, a former prosecutor, said Florida's leaders wouldn't follow the same path as New York City, Los Angeles or Chicago.
"Downtown Manhattan looks more like an illustration of Gotham City than it does the heartbeat of America's financial sector, and yet the officials in those states, the elected officials in those communities, have abdicated their number one responsibility to empower their law enforcement officers to defend their neighbors," he said.
On top of his nod to law enforcement, DeSantis credited civil rights era Floridians for inspiring protests that were "legitimately non-violent" in the state.
"Non-violence to them, you talk to some of these African American pastors, that's like a fish in water," the Governor said. "It just goes hand-in-hand, and so we absolutely recognize that and appreciated that at the time, and I think that that's been overall the way that it's gone."
Destroying public property, including monuments, would be a second-degree felony under the proposal. Participating in a violent or disorderly assembly to harass or intimidate a person at a public accommodation, such as a restaurant, would be a first-degree misdemeanor.
"You see these videos of these innocent people eating dinner, and you have these crazed lunatics just screaming at them and intimating them," DeSantis said. "On a public accommodation, you're not going to do that here in the state of Florida."
The packaged bill would also stiffen jail penalties, including creating a six-month mandatory minimum sentence for striking an officer, including with a projectile, during a violent or disorderly assembly. Other heightened offenses include traveling from out of state to participate in such a protest.
"If you look at some of the people who have been involved in this violence, these are people that will come from all across the country. If there's any type of issue, they all of a sudden show up in all of these places," DeSantis said. "We're going to figure out who's organizing and who's funding that and hold them accountable."
Additionally, he is interested in tracking funding for violence protesters.
"There're cities where there are just bricks just dropped off on a city corner. Where's that coming from?" DeSantis questioned. Where are you getting — who's funding just dropping bricks so people can go grab bricks?"
Communities need to have clear and consistent penalties to maintain law and order, the Governor added.
"I look at what goes on in Portland, and they'll have people, they'll arrest them — these are all scraggly-looking antifa types — they get their mugshot taken and then they get released," he said. "It's like a carousel. On and on it goes. That's not going to happen here in Florida."
DeSantis spent early Friday afternoon to law enforcement office leaders, including Polk County Sheriff Grady Judd, a former Florida Sheriffs Association president. Judd arrived at the press conference armed with visual aids for "slow learners" on the difference between peaceful protests and riots, looting and violence.
"If you loot, the next thing that you can try to steal is something off of your food tray at the county jail, because you're going to jail," he said, eliciting chuckles from the officers behind him. "That's a guarantee, and we're going to enjoy taking you down there."
Safe communities are the basis for good schools and a good economy, Judd added.
Education Commissioner Richard Corcoran in a tweet praised DeSantis for announcing the campaign. He also encouraged the other 49 states to follow the Governor's lead.