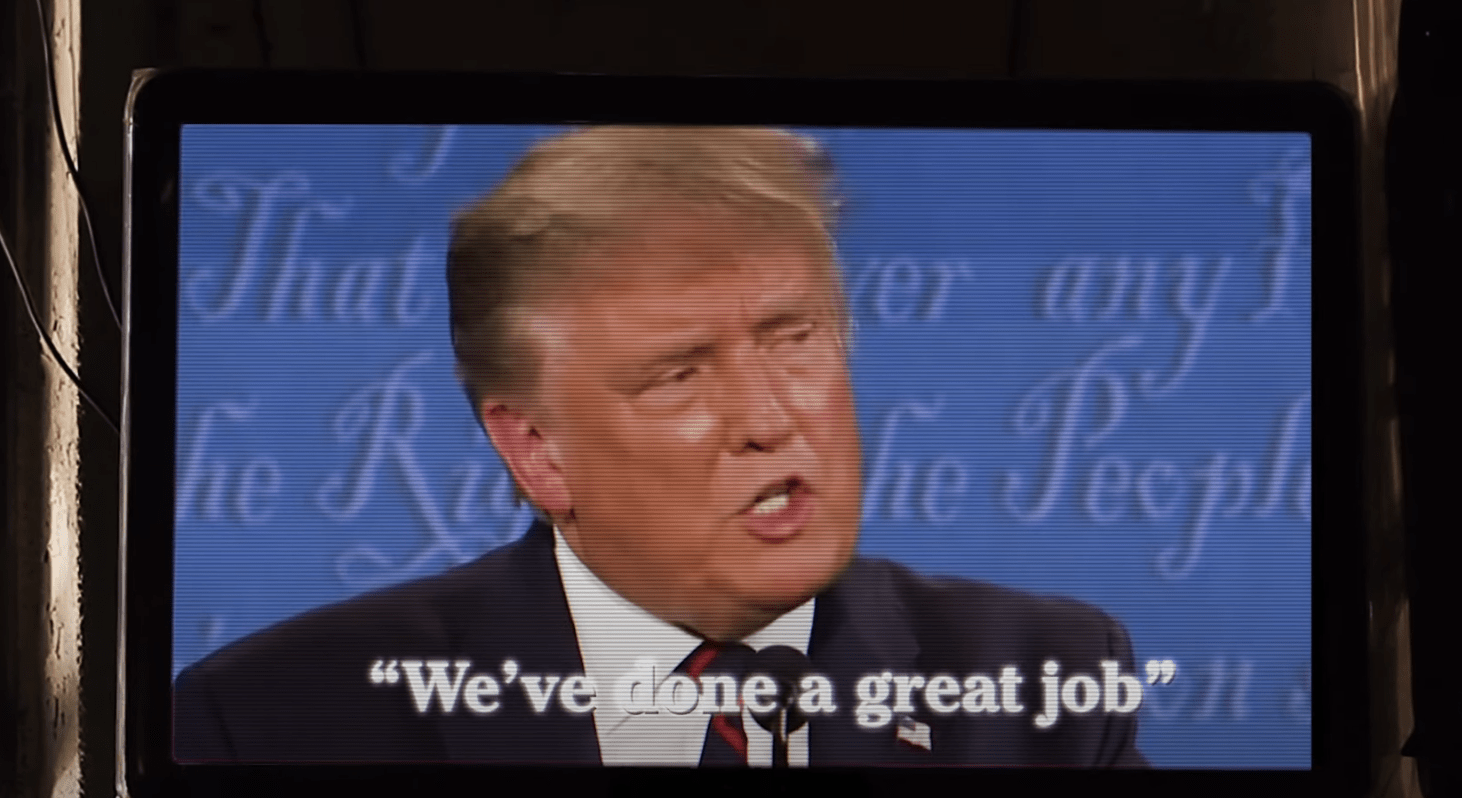 'Great job? It's catastrophic.'
The Democratic National Committee is launching a new ad in the Tampa Bay area hitting President Donald Trump on his COVID-19 response.
The ad, entitled "Had enough?" begins running in the Tampa market Thursday and is part of a six-figure ad buy, according to the DNC.
The ad includes ominous data points about the virus including deaths and job losses. It comes the day after Vice President Mike Pence squared off with Democratic Vice Presidential nominee Kamala Harris Wednesday night in the pair's first and only debate before the Nov. 3 election.
Pundits widely believe Harris' strongest points in the debate came in the first 15 minutes when she hit Trump and his administration over their failed COVID-19 response. Harris honed in on Trump misleading the public by not informing them about the virus' risks in January when he was first briefed.
The ad begins with an image of Trump at the first Presidential debate last week, saying, "we've done a great job."
A narrator then takes over, repeating Trump's quote, but as a question, rather than a statement.
The narrator then calls out "more massive layoffs" with an image on the screen of an airstrip and text pointing out "40,000 workers brace for mass layoffs," with a citation from The Associated Press on Sept. 3.
The ad then mocks Trump over his claims that "disinfectant, where it knocks it out" could help treat COVID-19.
"400,000 small businesses gone forever, millions out of work" the narrator continues in an ominous tone.
The ad also includes audio veteran journalist and author Bob Woodward recorded in one of many interviews with Trump in which he says he "wanted to always play it down," referring to the novel coronavirus. Woodward's tapes revealed Trump knew how dangerous the virus was, but didn't share that information with the American public, instead repeatedly downplayed the virus.
The ad draws on emotion, saying loved ones have been forced to say goodbye to dying family members by phone. It also highlights the more than 200,000 Americans who have died as a result of COVID-19.
The and ends with a clip of Trump again saying his administration has done a good job.
"Great job? It's catastrophic," the narrator concludes. "Had enough?"
Florida is one of the top battleground states in play for both candidates and both are targeting the Sunshine State heavily. While Hillsborough County is an easy win for Biden thanks to its robust Democratic voter advantage, surrounding areas in the region like Pasco, Pinellas and Polk counties are either a toss-up or leaning toward Trump. That makes the voter-rich region ripe for Biden to earn more votes.
Former Vice President Joe Biden has consistently held a narrow lead over Trump in the polls, with one outlier Wednesday showing Biden up 11 points over Trump, a prognostication few take seriously.
Whether Biden's lead holds come Nov. 3 will largely depend on voter turnout. With Trump convalescing at the White House with COVID-19, Biden's campaign and its supporters are drawing attention to the virus as a key campaign talking point. The campaign and Democrats have long criticized Trump for his administration's handling of the virus, but Trump's positive diagnosis, and the sweeping outbreak resulting in Washington, has brought the issue to center stage yet again.
"Every day, Floridians are paying the price for Donald Trump and Mike Pence's incompetence and total failure to respond to the coronavirus," said Democratic National Committee Chair Tom Perez in a release accompanying the new ad. "Floridians have lost their jobs, their lives, their loved ones, and any sense of normalcy. That's not a 'great job.' It's a devastating betrayal of Trump and Pence's responsibility to keep people safe. Floridians have had enough, and they're putting this failed presidency to an end."