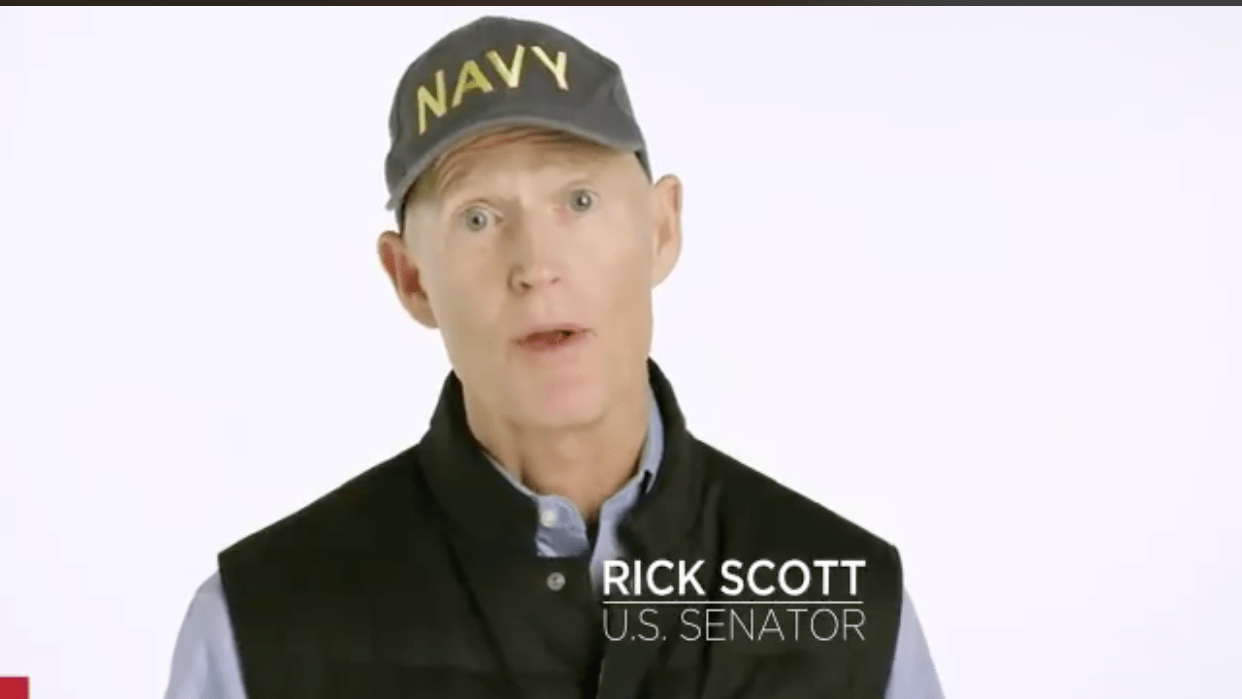 Scott invoked the man who ended Apartheid in condemning American protesters.
U.S. Senator Rick Scott invoked the man who brought down South Africa's apartheid system Monday, in condemning today's "immoral and unjust radical left protesters."
The Senator, wearing his trademark Navy hat made famous when he was Governor, released the video Monday via his campaign twitter account.
"After being wrongfully imprisoned for 26 years, Nelson Mandela didn't try to burn down South Africa," Scott counseled. "He spent his life focused on making it better."
The Senator went on to invoke other figures of peaceful change from bygone eras.
"Martin Luther King never talked about building businesses, looting businesses, or killing police," Scott added. "Mandela and King tried to bring people together … they sought to promote fairness, advance the cause of morality, and justice."
Scott invoked Ronald Reagan's name briefly before issuing a call to action that some will interpret as a potential opening salvo in the 2024 presidential race.
"We will not surrender America to fascist punks or woke elitists who despise everything we stand for," Scott vowed, recycling previous phrasings on this subject.
"If you're not mad, it's time to get mad," Scott says in closing, with a call to donate to his political committee.
The latest video release continues a season of tough talk for Scott.
The Senator has urged an operational aggressiveness in the face of local level insurrections, including the deployment of federal forces in urban theaters.
"The federal government has a responsibility to protect our country from anarchy," Scott asserted this summer, as protests boiled over on American streets.
The Senator isn't the only Florida politician who sees law and order rhetoric as central to his political future.
Gov. Ron DeSantis is pushing for a so-called "Combating Violence, Disorder and Looting and Law Enforcement Protection Act."
That bill, which will be an early Session priority, would enhance penalties for protesters and slash state funding for subsidiary governments moving to "defund the police." It would also issue stronger penalties for "rioting, looting, and violence," and other "disorderly" actions.
I'm not the kind of politician that yells and bangs on the table to get attention. But I'm mad, and I'm going to tell you why. Watch my new digital ad and RT if you agree! pic.twitter.com/57dCrbTG3m

— Rick Scott (@ScottforFlorida) October 26, 2020