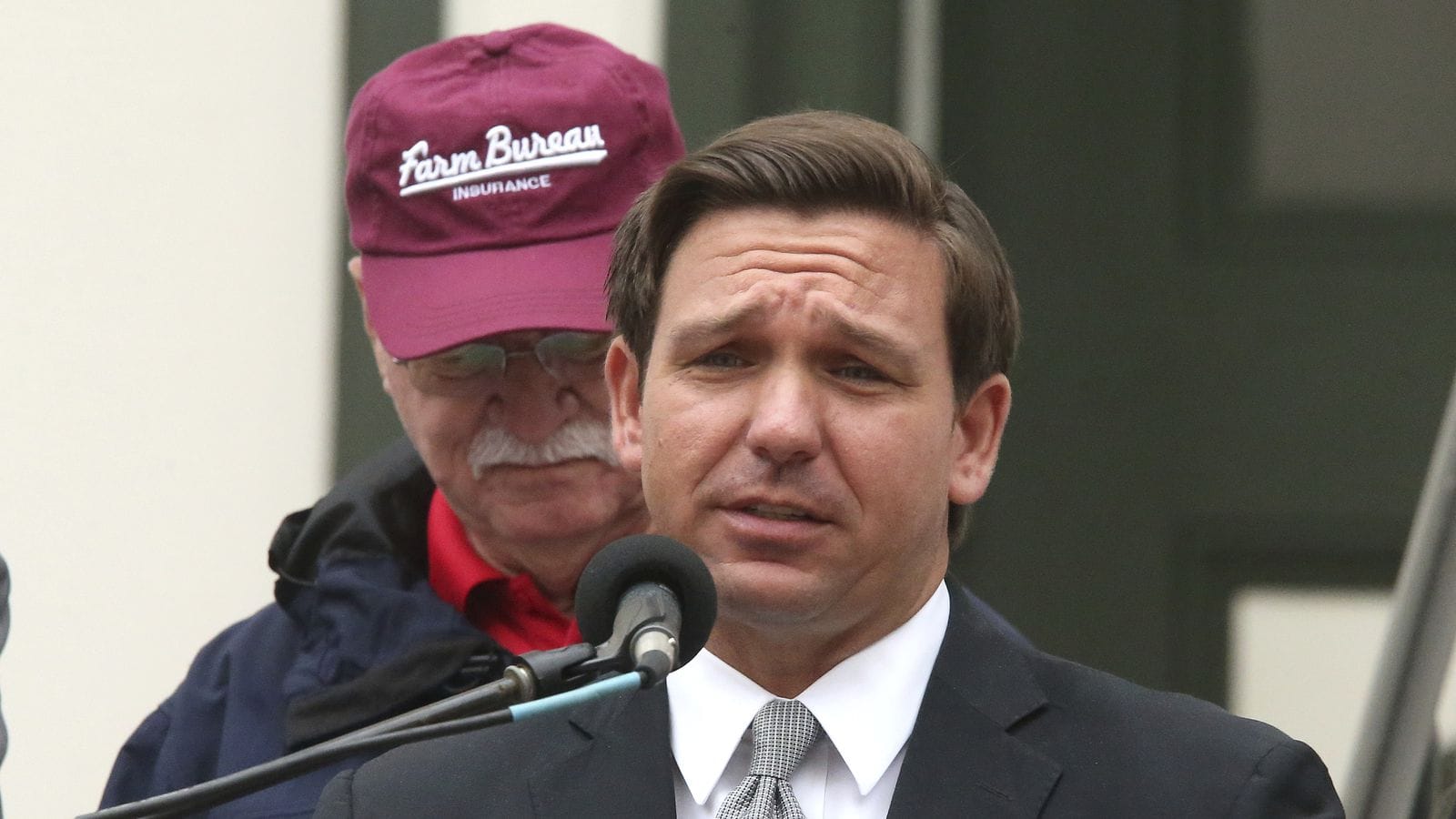 Florida Man changed the Governor's address to that of a Youtube personality.
The Florida Department of Law Enforcement arrested a Naples man this week who confessed to changing Gov. Ron DeSantis' voting address to West Palm Beach.
When the Governor attempted to vote in Leon County Monday, he discovered his voting address had been changed without his consent. The Governor fixed his address that day and was still able to vote early.
DeSantis attempted to vote early at Leon County Courthouse that afternoon, but a poll worker told him his address had been changed, according to WINK. Similarly to anyone who changes their residence within the state, the Governor submitted a form to change his address back to his proper address.
An FDLE investigation traced back to a Naples man, Anthony Steven Guevara, whom officers arrested at his home Tuesday.
Guevara confessed to changing the Governor's address to a villa southwest of Palm Beach International Airport that WINK reported was the home of a YouTube personality. Guevara also searched the names of other officials but didn't change their addresses.
Like the Governor, Guevara is a registered Republican.
DeSantis received no special treatment, says Leon County Supervisor of Elections Mark Earley. Particularly with the high college student population, poll workers frequently help voters change their addresses from their hometown to their new address.
Fred Piccolo, the Governor's communications director, called the incident concerning, but assured the Supervisor of Elections and Secretary of State's offices have systems in place to catch large-scale database tampering. There was no breach to the state's voter database.
"Our systems are secure. There has been no breach to the Florida Department of State's systems," Secretary of State Laurel Lee said in a statement. "The Florida Department of State wants every voter to have confidence in the integrity of our elections network."
Although Earley said voters should check their registration to make sure their information is correct, he said they should not be concerned about a fraudulent change happening to them.
"I think what's been demonstrated here is that the ability to correct the change is very simple," he said. "Certainly I would warn anybody that thinks this is like a prank phone call, let's just see who we can mess with. It's a third degree felony."
Florida Statutes allow a voter to change their address with only their name and date of birth or voter registration number, publicly available information. That simple criteria to change an address was designed for the convenience of the voter, Earley said.
"Certainly in this instance, I think it highlights that this is easy to do," he said, "but there are many things that are illegal that are very easy to do that have penalties that follow them, like in traffic situations in general."
Earley was sure the process would be reviewed, but stressed that ease versus security is a balancing act.
"We have a lot of people moving around our state, and if you make it very difficult to change addresses, then it becomes very difficult for people to do an address change and vote," he added.
Guevara was still in custody at the Collier County jail Wednesday morning, but was released by the afternoon on a $5,000 bond. The suspect is charged with one count of altering voter registration without consent and an additional count of unauthorized access to electronic property.
His next court appearance is scheduled for late November.
The arrest came amid massive scrutiny of voting systems heading into Tuesday's general election. Last week, federal officials acknowledged that foreign disinformation campaigns aimed at sowing confusion and distrust have targeted voters in Florida and elsewhere. They accused Iran of sending threatening emails to voters and warned that Russia has collected voter information that could be used to interfere with the election.
The Leon County elections office was able to locate the IP address — the numerical label assigned to each device connected to the internet — in which the registration change was made.
"I am proud of the quick and detailed work of our agents on this case and appreciate the hard work of the offices of State Attorneys Amira Fox and Jack Campbell," Florida Department of Law Enforcement Commissioner Rick Swearingen said in a prepared statement, referring to the state attorneys in Collier and Leon counties.
"FDLE is committed to ensuring the voting rights of Florida citizens are protected, and we will continue to work with our local, state and federal partners in ensuring the security of our elections."
Through Comcast, the IP address was identified Tuesday as belonging to a woman in Naples, and a search warrant was executed.
First Lady Casey DeSantis told reporters Tuesday that she would likely return her vote-by-mail ballot in-person on Election Day. Her and the Governor's address is listed as the Governor's Mansion.
"We encourage voters to check their voter registration for accuracy," Lee said. "Every eligible Florida voter will have the ability to cast a ballot and every ballot will be counted. We are working hard to ensure the safety and security of every voter."
____
The News Service of Florida contributed to this post. Republished with permission.