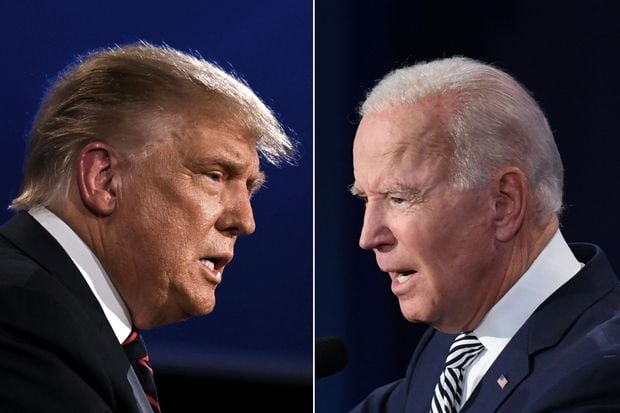 Democrat holds a one-percentage point lead with a GOP-heavy turnout model.
Whatever happens in the rest of the country, Florida remains deadlocked heading into the presidential election Tuesday.
In its final survey of the presidential cycle, St. Pete Polls finds Joe Biden up one percentage point in the Sunshine State.
If the election were held today, 49% of likely Florida voters would bubble for Biden and 48% would pick Donald Trump.
The poll, taken Oct. 29-30, found 75% of respondents have already cast their ballots. Of those who already voted, Biden leads 55% to Trump's 43%.
But expect a shift on Election Day as day-of votes come in. About 64% of voters still planning to vote want the President reelected to a second term.
Pollsters say they made sure to include a heavy Republican sample, lest shy Trump voters be ignored, something frequently attributed to a skew in 2016 polls.
"This model ended up favoring Republicans by about 1% more than our statewide polls for the last several months before last week's poll. We also used education level quotas for the sample of respondents," wrote pollster Matt Florell in a memo.
About 49% of poll respondents voted for Trump in 2016, while 43% picked Hillary Clinton, a wider margin than Trump's ultimate 49% to 48% victory in the state. About 4% of those polled went for a third-party candidate four years ago and 4% didn't vote or wouldn't disclose their choice.
Yet Biden still leads, albeit with less than 50% support in the state, and by a margin within the poll's 1.9% margin of error.
The pre-election poll shows Biden winning 50% of independents, while 47% go for Trump. The challenger also does a better job keeping his own party's voters in line, winning 84% of Democrats while just 82% of Republicans stick with the President.
Trump does win with White voters, about 58% of whom support the Republican while just 40% support the Democrat. But every other racial demographic breaks for Biden, who wins 85% of Black voters to Trump's 10% and 48% of Asian and Pacific Islander voters to Trump's 43%.
Biden wins only 51% of Hispanic voters to Trump's 46%. But in this pool of voters, Trump won Hispanic respondents over Hillary Clinton four years ago by almost one percentage point, so that's actually an improvement for the Democrat. Biden also wins over more of the Miami media market than Clinton did, according to the poll.
Most political observers believe the performance of both camps in densely populated South Florida will be what decides the race. While it's a given Democrats will win in Miami-Dade County, the margins matter when it comes to determining state results.
Trump holds a four-point lead over Biden among male voters but the former Vice President leads with women 51% to 47%. Biden wins all age groups under the age of 70, but that's countered significantly by Trump leading among those 70 and older by a 13-point margin.
Still, the largest age group included in the sample, 50- to 69-year-olds, broke for Biden 50% to Trump's 48%. The same voters went for Trump over Clinton 49% to 43%.
Most pundits agree Trump must win Florida to have any viable path to a second term. With 29 electoral votes at stake, Biden wants to take the state as well but has more courses to the White House if he falls short in Florida.
StPetePolls 2020 State President October30 F6JZP by Jacob Ogles on Scribd