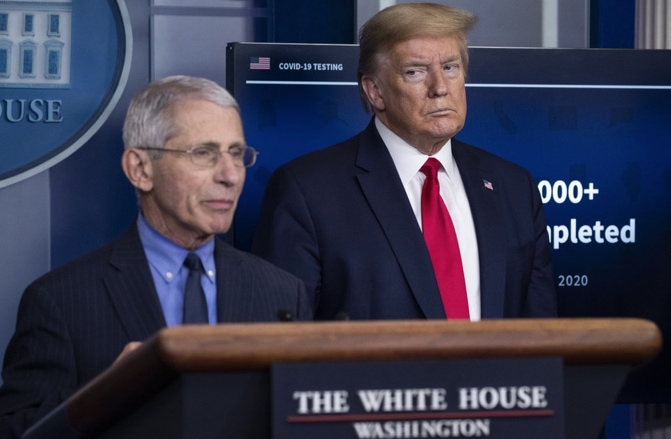 Was the President joking?
In Opa-locka Monday morning, President Donald Trump suggested that Dr. Anthony Fauci, an advisor on the White House Coronavirus Task Force, may be on the way out.
In response to a "Fire Fauci" chant twenty minutes into the speech, Trump perhaps made news or a joke, saying "Don't tell anyone. But let me wait until after the election."
Trump added that Fauci's "been wrong on a lot."
The President had offered sharp critiques of the doctor before, with the two frequently diverging on strategy. But Fauci's comments Friday represented a new flashpoint. It's the most direct Trump has been in suggesting he was serious about trying to remove Fauci from his position. He has previously expressed concern about the political blowback of removing the popular and respected doctor before Election Day. Trump's comments come after Fauci leveled his sharpest criticism yet of the White House's response to the coronavirus
"We're in for a whole lot of hurt. It's not a good situation," Fauci told The Washington Post on Friday. "All the stars are aligned in the wrong place as you go into the fall and winter season, with people congregating indoors. You could not possibly be positioned more poorly."
In response, a White House spokesperson called Fauci's comments "unacceptable."
White House spokesman Judd Deere said Trump always puts people's well-being first and charged that Fauci has decided "to play politics" right before Tuesday's election. Deere said Fauci "has a duty to express concerns or push for a change in strategy" but instead is "choosing to criticize the President in the media and make his political leanings known."
Trump, in recent days, has stepped up his attacks on Joe Biden for pledging to heed the advice of scientists in responding to the pandemic. Trump has claimed Biden would "lock down" the nation once again. Biden has promised to heed the warnings of Fauci and other medical professionals but has not endorsed another national lockdown.
"People are tired of hearing Fauci and all these idiots," Trump said of Fauci earlier this fall.
"Every time he goes on television, there's always a bomb. But there's a bigger bomb if you fire him. But Fauci's a disaster," Trump said.
Fauci incurred the President's ire by saying that he was not surprised that the President's rallies led to him getting the novel coronavirus.
"I was worried that he was going to get sick when I saw him in a completely precarious situation of crowded, no separation between people, and almost nobody wearing a mask," Fauci said of the President last month.
Of course, the back and forth between the President and the doctor goes back almost as long as the domestic pandemic itself.
Back in April, President Trump retweeted a message that said "Fire Fauci," irked by Fauci's suggestion that stronger mitigation techniques would have made a difference in fighting what the President calls "the China plague."
"It's very difficult to go back and say that. I mean, obviously, you could logically say that if you had a process that was ongoing and you started mitigation earlier, you could have saved lives. Obviously, no one is going to deny that. But what goes into those kinds of decisions is complicated," Dr. Fauci said in the spring.
Trump's aggressive approach to Fauci carries some risks this close to Election Day,
A Kaiser Family Foundation poll in September showed 68% of Americans have a great deal or a fair amount of trust in Fauci to provide reliable information on the coronavirus. That compares with 52% of Americans who trusted Biden to do that and just 40% for Trump.
___
Information from the Associated Press was used in this report.