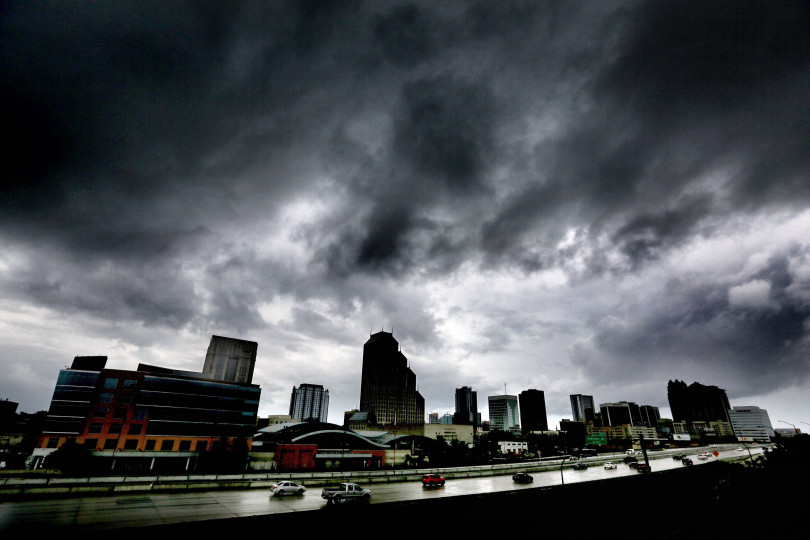 Eta is the 28th named storm of the 2020 Atlantic Hurricane Season.
Tropical Depression Eta began its path toward Florida on Friday after leaving dozens dead in Central America, demolishing homes and causing deadly mudslides in the region.
The storm is forecast to strike Cuba late Saturday and then travel through the warm Caribbean waters over the next 48 hours toward South Florida. While unlikely, the National Hurricane Center warned the storm could regain hurricane strength while moving toward the Sunshine State.
Regardless of its status, Eta is projected to deliver heavy rainfall, wind and possible flooding to Southwest Florida and the Keys as early as Sunday.
"Tropical storm or hurricane watches will likely be issued later today or tonight for a portion of this area," the NHC said in its latest advisory.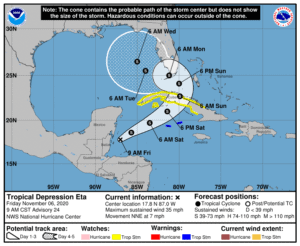 As of Friday, Eta is located roughly 80 miles east-northeast of Belize City in Central America. The storm is producing 35 mph maximum sustained winds and is traveling 7 mph north-northeast.
Meanwhile, a tropical storm warning has been issued for the Cayman Islands. The Cuban government has also issued a tropical storm watch for select provinces. A tropical storm watch means that tropical storm conditions are possible within the area in the next 48 hours.
"Interests elsewhere in Cuba, the northwestern Bahamas, the Florida Keys and southern Florida should monitor the progress of this system," the NHC further advised.
Chief Financial Officer Jimmy Patronis on Thursday also urged Floridians to monitor forecasts and create a disaster plan.
"Don't wait until landfall is imminent, it may be too late," Patronis said.
Eta is the 28th named storm of the 2020 Atlantic hurricane season and made landfall in Nicaragua as a Category 4 storm. The National Hurricane Center estimates that parts of Nicaragua and Honduras received 15 to 25 inches of rain, with 40 inches in some isolated areas.
A typical hurricane season runs from June 1 through Nov. 30.