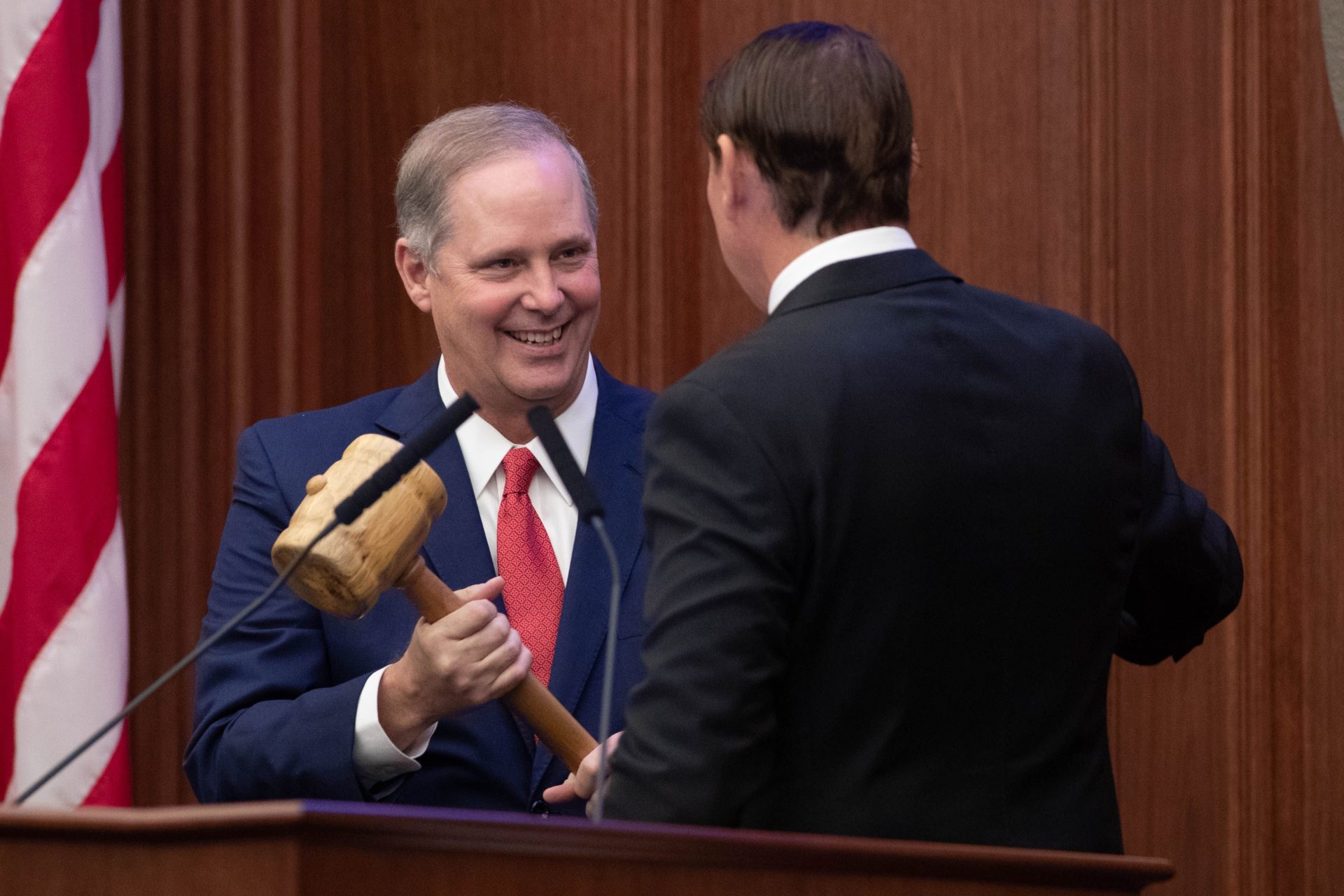 Florida faces more than $5 billion in budget shortfalls over the next two years.
With Florida's state Senators gathering Tuesday to formally select their leader, Wilton Simpson has finally taken over as Senate President.
Simpson focused on the COVID-19 pandemic and the need to "tighten our belts" with regard to the state's budget as a result of the pandemic's economic impact.
"None of us who were here last Session could have predicted what we are facing today," Simpson said. "Our focus will be different because the world is different."
Simpson paused to remember the lives of the more than 17,000 Floridians who have died with COVID-19. Gov. Ron DeSantis was on the Senate floor for Simpson's designation ceremony, and Division of Emergency Management Director Jared Moskowitz was in the Senate gallery as a guest.
"Nobody signs up to be Governor during a pandemic or disaster," Simpson said, thanking DeSantis and Moskowitz.
"I am convinced your early actions to protect our elderly and our most vulnerable populations helped avoid thousands of deaths in Florida," he added.
President Pro Tempore-designate Sen. Aaron Bean introduced the incoming President, who is endearingly known as an egg farmer.
"There's more to Wilton than just eggs," Bean said.
Outgoing Senate President Bill Galvano recalled the first time they met, sitting in the back of Simpson's pickup truck in Trilby to avoid the rain. Galvano called his relationship with Simpson one of the "great friendships of his life," adding that Simpson is a man of action and a natural leader.
"I have every confidence you are prepared to lead the Florida Senate in spite of unique issues you are facing that have not been faced before, and maybe especially because of those unique issues," Galvano said.
With the COVID-19 pandemic continuing, and even resurging in Florida, the pandemic's impact on the state budget will permeate the 2021 Session.
"Over the last several years, we voted many times to set aside money to prepare for a rainy day," Simpson said. "Senators, it's raining."
The Legislature's budget experts have lowered the estimate of General Revenue for this fiscal year $3.4 billion. Next fiscal year will see a $2 billion shortfall.
Lawmakers will need to make structural changes to the state budget, Simpson told Senators.
"We are going to tighten our belts," he said. "There will be things that we did in times of plenty that need to be eliminated in these times of lean. We have less revenue, therefore we will have less government. That does not mean all we will do is cut the budget these next two years."
Simpson also alluded to his experience in farming, taking the moment to emphasize the need to scrutinize the budget.
"Let's take them out by the roots. Let's get this budget field cleaned and plowed for the growth and prosperity that are ahead," Simpson said. "You and I may not see the results in our two years, but we will make the difficult choices now that will impact Florida for generations to come. That is our calling. That is our duty. That is the assignment that Floridians have given this Senate."
The new President later told reporters that he would ask senators to look deep into their budget priorities. He recalled one appropriations committee years ago that asked for Senators to defend their budget items.
"Very few folks actually came up and defended their budget items," Simpson said. "I suspect if that happen this year, that's going to be one of those things that don't stay in the budget."
Senators will look to the 2008 Session for insights on how to balance the state budget amid an economic shortfall.
The President largely avoided giving specific examples of budget areas that lawmakers could thin. However, he noted that Florida's K-12 expenses are now 10 times what they were in the wake of the Great Recession.
"Clearly that is a place where we spend a lot of resources when we had times of plenty, and now we're in times of lean and it's something we're going to have to look at," he said.
On the flip side, the President addressed legislation that could raise state revenue without raising taxes or fees, which now constitutionally requires the two-thirds of both the House and Senate.
"I do not believe that we need to increase any fees or taxes," Simpson said.
He named revisiting gaming compacts as an opportunity to raise hundreds of millions per year. A Wayfair bill could draw in sales tax revenue from online sellers with no physical presence in Florida.
The new President also shot down recreational marijuana as a possible revenue source.
And he was receptive to tort reform, which businesses have pushed for since the beginning of the pandemic to protect against coronavirus-related lawsuits when they take all necessary precautions. However, Simpson turned down the possibility of blanket liability protections.
"I cannot image that we are going to let people off the hook for negligence," he said.
The Senate will convene a committee to review executive orders and responses to executive orders, the President added.
While emphasizing the need for budgetary and policy reviews, he backed the Governor's decision to keep the state and economy open even in the face of cases rising for a third time.
"If we had been better prepared with the full knowledge of how to handle a pandemic as a state, maybe we would not have had to completely lock down even in March," Simpson added.
He called the Governor's approach, which was to reopen earlier than most states, both measured and appropriate.
"We have the flu every year that kills thousands of Floridians every year, and we certainly don't shut our economy down because we lose thousands of our citizens to a flu every year, and that's just as big a tragedy," Simpson said.
Last week, state health officials made more than 40,000 COVID-19 diagnoses among Florida residents after weekly cases increased throughout October. Officials also raised the pandemic's death toll by 397 that week. As of Monday, 889,864 people have tested positive in Florida and 17,775 have died.
Despite the increasing outbreaks, Simpson rejected the idea that the Sunshine State was entering a dark winter.
"I don't believe we're going to a dark winter. That's not a phrase I would use," Simpson said. "I believe we're going into an elevated level of COVID in the last few weeks and it's going to continue to elevate as we have more community spread."
During the Organizational Session, Senators also approved the body's rules, which allow for increased meeting flexibility, and agreed to joint rules with the House.