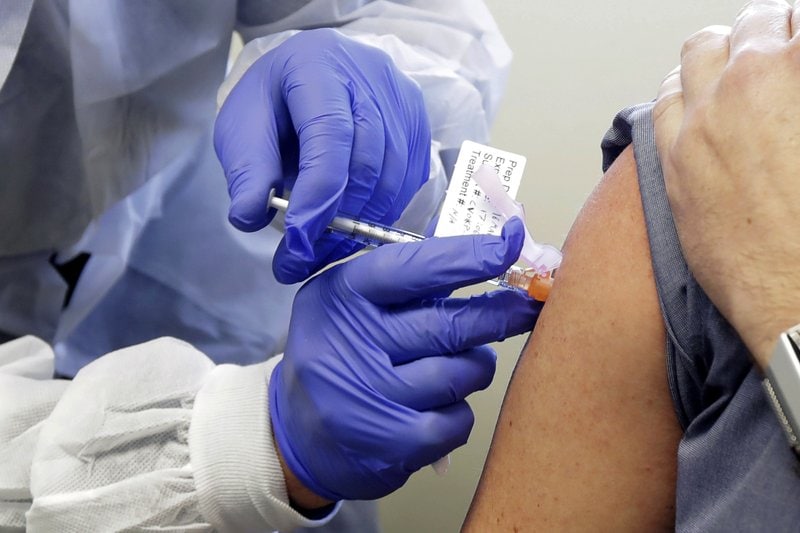 Hurricane season begins June 1, leaving health officials roughly five months to act.
State Fire Marshal Jimmy Patronis wants the Federal Emergency Management Agency (FEMA) to ensure that utility workers can access the COVID-19 vaccine before the 2021 hurricane season.
Utility workers are classified as "1b essential workers," meaning they're ranked second in line to health care professionals and long-term care facility residents. In a letter to FEMA Administrator Pete Gaynor, Patronis encouraged the agency to help prioritize utility workers with the White House Coronavirus Task Force and the U.S. Centers for Disease Control and Prevention (CDC).
Hurricane season begins June 1, leaving health officials roughly five months to vaccinate the nation's lineworkers.
"For those that may not live in communities that are more prone to hurricanes, I cannot overstate how important our linemen and women are to Florida. Moreover, policy leaders must understand that utility workers are often deployed to other states to respond to major weather events," Patronis wrote.
"Thus, if the nation finds itself in a situation where we have major weather event that impacts Texas, Florida, Louisiana or New Jersey, we will have utility workers deployed throughout the entire nation – and if they're not protected from COVID-19, it will impact our ability to get our hospitals, schools, shelters, gas stations, etc., back online to support recovery efforts."
Patronis, who doubles as the state's Chief Financial Officer, noted the intensity of the historic 2020 hurricane season. The record-breaking season saw 30 named storms, 12 of which made landfall in the United States.
Patronis also emphasized the unique, specialized skills utility workers possess.
"If one segment of this critical population of utility personnel goes offline with a rash of COVID cases, this could cause catastrophic staffing issues to Florida's utility services and power sources, including our state's five nuclear power plants," Patronis contended. "This cannot happen during an emergency."
Earlier this month, Patronis sent a letter to CDC Director Dr. Robert Redfield urging the agency to reconsider guidance that excludes firefighters from the first wave of COVID-19 vaccinations.
Patronis noted that 90% of Florida's 38,000 firefighters are EMT or paramedic certified.
"Frankly, treating our heroes as though all they do is shoot water from a truck demonstrates an incredible lack of understanding of what is expected of today's professional firefighters," Patronis told the CDC Director.
Shots-in-the-arm began Monday in Florida quickly after the arrival of Pfizer's FDA-approved COVID-19 vaccine.
Gov. Ron DeSantis was present at Tampa General Hospital when the first shot there was administered to Vanessa Arroyo, a 31-year-old registered nurse.
Florida expects to receive 179,400 Pfizer vaccines in the first wave. Those doses are prioritized for long-term care residents and health care workers.
While the Governor coined the moment a "game-changer," it may be weeks if not months before Florida's general population and other essential workers can access a vaccine.
DeSantis, on Monday, reassured residents that more vaccines beyond Pfizer's are on the way.
He suggested Moderna's COVID-19 vaccine could receive Food and Drug Administration approval by Friday and arrive in Florida by week's end.
Those roughly 365,000 doses, however, would likely be allocated for the elderly living outside long-term care facilities.
DeSantis said the state's general population will have access to the upcoming Johnson & Johnson vaccine.
Johnson & Johnson's vaccine is expected to receive FDA approval as soon as January. Notably, unlike Moderna and Pfizer, it requires only one dose and is more easily stored.
Vaccine availability, supply lines and storage requirements are also determining factors in the federal and state vaccine triage list and timeline.
A copy of Patronis' letter to FEMA is available below: