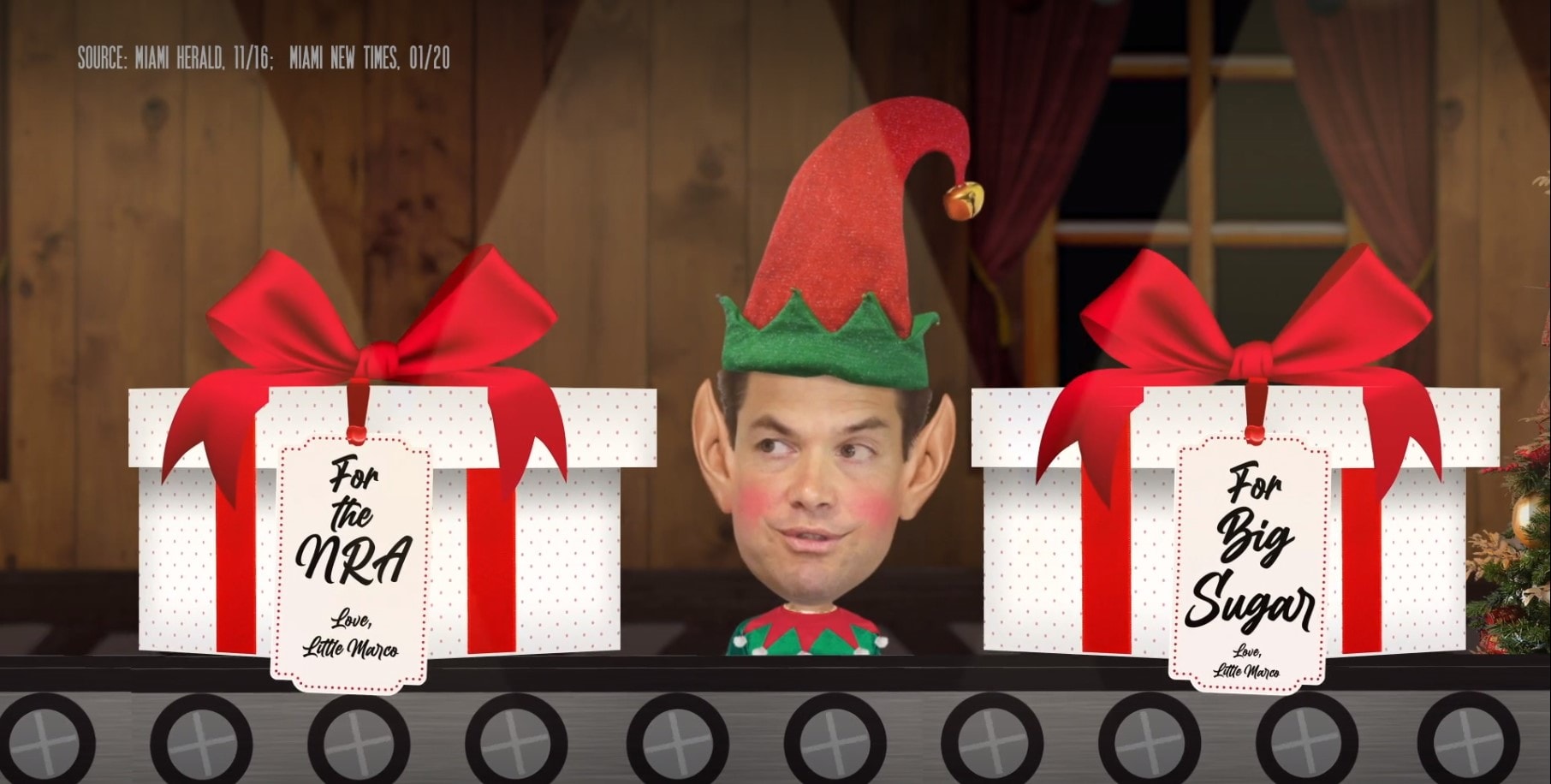 Cartoon ad shows Senator delivering sick seniors, out-of-work Floridians lumps of coal.
What does Sen. Marco Rubio deserve for Christmas? Animated scorn and lumps of coal, according to a Super PAC intent on his 2022 defeat.
It's no surprise Florida's senior Senator didn't make the nice list for Retire Rubio, a political committee re-launched in November by Democratic strategist Ben Pollara and dedicated to the Miami lawmaker's defeat. It's holiday flair that's sure to turn heads in a new ad. It depicts "Little Marco the Elf" preparing special interest giveaways.
The ad combines a narrative that twists the cadence of Clement Clark Moore's "The Night Before Christmas" into a sardonic parody while backdropping it with animation that could be described as JibJab meets left hook.
"'Twas the night before Christmas up at the North Pole," a narrator recites, "Little Marco the Elf was writing a scroll."
"With gifts for the naughty while the nice would get coal,
You could be on his list if you paid him a toll."
The Senator gets depicted as a Christmas elf who stands less than shoulder high to Washington lobbyists like the National Rifle Association's Wayne LaPierre. The title "Little Marco" plays off a dismissive nickname President Donald Trump gave the Senator when the two sought the Republican nomination for President in 2016.
Substance-wise, the ad shows the Senator ensuring interests like Wall Street banks receive their rewards this holiday season, while he and Senate Majority Leader Mitch McConnell fail to reach a deal on COVID-19 relief.
It should probably be noted the Senate appears on the verge of a deal, but as the ad hit the internet Thursday morning, no such a legislative package had materialized.
"He got gifts for Big Sugar, the NRA too,
And gave seniors free trips straight to the ICU.
He gave those who bankrolled him his heart and his soul,
While us normal Floridians got nothing but coal."
The 42-second ad pivots past the holiday season at the end, showing voter registration drives in effect as Democrats prepare for the 2022 cycle. Rubio will be up for reelection to a third term as Senator in 2022.
"But bad news for him, now we're in control,
So let's fire Little Marco and get rid of that troll."
See the ad here.