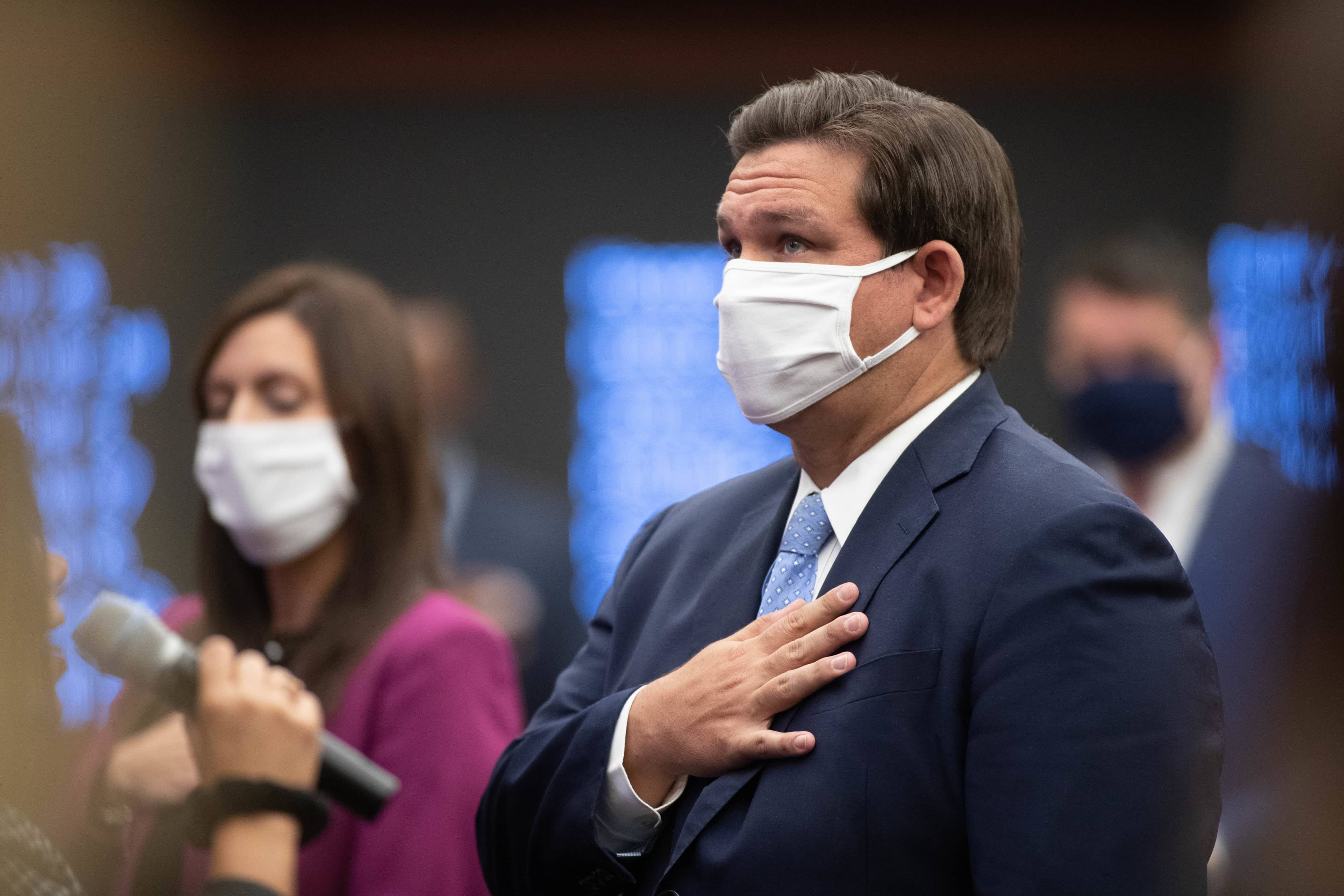 The Governor will wait 'a couple more months' for his turn.
As the COVID-19 vaccine rollout enters week two, Gov. Ron DeSantis says he won't cut in line to get a shot.
Health officials are currently only administering the vaccine to health care workers and the residents and staff of longterm care facilities. Future distribution phases will make the vaccine available to the elderly and those facing greater risks before making the vaccine available to broader segments of the population.
"I am not stepping in line with anybody," DeSantis said, entertaining one last question before departing a Monday press conference in Biscayne Bay. "I'm less than 45. I'd imagine it would take me a couple more months. I will do it, but I'm not going to step in front."
Hospital administrators, too, should follow his lead, the Governor added. The intended health care recipients should be frontline workers that have contact with high-risk patients. That includes nurses, ICU doctors, emergency room workers and even food service workers.
"I would definitely say it's more that tip of the spear version, and the reason why is just because that's going to help keep our hospital capacity up."
Others in positions of authority have taken flak for jumping ahead of health care workers. West Virginia Republican Gov. Jim Justice, 69, became one of the first top elected officials in the country to receive a coronavirus shot last week.
Utah Republican Gov. Gary Herbert dispelled rumors that political leaders will receive vaccine favoritism. The governors of Ohio, Missouri, Montana, Nebraska, Tennessee and Washington similarly have said they will wait for their turn.
Republicans and Democrats in Congress have received the vaccine, including Florida's Sen. Marco Rubio and St. Petersburg Democrat Charlie Crist. Vice President Mike Pence, Second Lady Karen Pence, House Speaker Nancy Pelosi and Senate Majority Leader Mitch McConnell received their first doses Friday while President-elect Joe Biden is expected to get his shot Monday.
Rep. Brian Mast, a Stuart Republican, sharply criticized Pelosi for the decision to allow members of Congress to receive treatment before the vast majority of Americans.
"Leaders eat last; it's one of the first lessons a solider learns as early as basic training. Speaker Pelosi apparently never learned this lesson — asking Americans to wait to get vaccinated while Congress cuts the line is the opposite of leadership," he said in a statement.
A Centers for Disease Control and Prevention panel is weighing whether to issue an advisory that people 75 and older and essential workers receive the vaccine in the next distribution phase. That proposal received blowback, including from DeSantis, who joined in Monday by calling that recommendation "a huge mistake."
"The problem with that as I see it is a 22-year-old service worker would get a vaccine over a 74-year-old grandmother," he said. "I don't think that that's an appropriate calculation of the relative risk there."
Added the Governor: "If you're trying to mitigate based on age, certainly you'd want to vaccinate based on age."
Already, DeSantis says people are more eager to get vaccinated after seeing their colleagues get shots. As people get the vaccine and turn out OK, more people come for their dose.
"I think what you'll see as more and more days go by and people realize that it's safe, then I think you'll see even more people sign up for it," the Governor said.
Florida should have 750,000 vaccine doses by the end of the month and 1.5 million to 2 million by the end of January. On Monday, 61,000 Moderna vaccines arrived with 300,000 more expected Tuesday.
On Monday or Tuesday, the state is expected to receive 120,000 doses from the second shipment of Pfizer vaccines, 80,000 fewer than anticipated but a relief after DeSantis indicated those vaccines might not arrive at all.
___
The Associated Press contributed to this report.